I originally reached out to the Founder and Chief Eternal Optimist Christine Tippens of Goods that Matter to find out more about her clever button design. Expecting to hear about her creative background or how the button pins would be sold in their store I was pleasantly surprised at the information that was sent back in reply.

In her response she talked about why she started her own business to ultimately give back, how she strives to find renewable and sustainable products to sell, and how I could refer to her as Tippy instead of Christine– deal. Tippy is described as a "social entrepreneur, designer, and educator." She believes in clean business practices which includes finding products made with renewable and sustainable resources. Tippy's mission overall is to create a better environment we all live in which includes teaching other people, businesses, and their customers about eco-friendly products and procedures.
Can you tell me a little more about the formation of Goods that Matter?
I was inspired to start the company after I designed a product to raise funding for clean up after the BP Spill in 2010. This launch product, BirdProject soap, is a black, bird-shaped soap with a smaller, white ceramic bird in its center. This was my way as a product designer (as I'm not an emergency vet or scientist) to give back and to help those that could directly help with the aid and restoration needed in this huge environmental disaster.
I think of these as "the little birds that can"; they continue to be our most popular product and we have donated $23,000 from the sale of BirdSoaps alone. From there, I realized that I had found the niche that I had been looking for in starting my own product design company. The formula that I discovered was: poetically designed product + eco friendly materials + made in the u.s. + raise funding and awareness for social and environmental needs.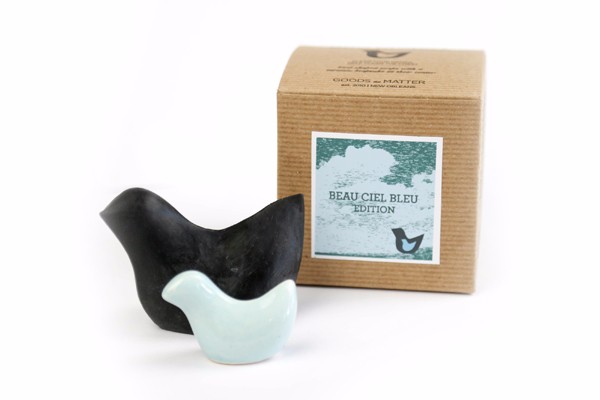 We do a lot of research for each cause and the learning helps build the details for each new product. Each year, we create at least three new products that give back to a new/unique partner cause. Currently some of the products that we offer are: letterpress notebooks that give back to education, blankets and scarves that give to disaster relief, cards that give to animal rescue, kitchen towels that give back to ocean cleanup, and solid (bees-wax based) perfumes that give to pollinators.
Goods that Matter is proud to be the first Benefit Corporation in the state of Louisiana and to have donated almost $26,000 to date (and counting)!
How important was it to you and your team to source regionally and use sustainable, clean energy, recycled materials?
Sourcing regionally and using sustainable materials, produced via clean energy is at the heart of our business. Our society generates so much waste and creates so many toxic products, as a product designer and an environmentalist, it truly hurt me to be contributing to that in my previous work life. I remember a co-worker saying, "I've never heard somebody talk about their soul so much" when I would say at work, this hurts my soul. I believe that the things that we use and need in our daily lives can be made beautifully and of high quality, without being such a jerk to our environment.
I was so thrilled to find your custom made buttons that are produced so beautifully! U.S. made recycled steel, recycled content paper, & in a building with eco-friendly insulation, geothermal heating & built reclaimed materials. (Insert love eyes & high fives emoticons) All of these details checked off all of the boxes for me, thank you for what you do!
Has living and working in New Orleans impacted these practices as well?
Living and working in New Orleans does impact our sustainable practices beneficially despite being so up close to the big oil industry which massively contributes to wetland loss and environmental disasters.
New Orleans as a mid-size, tropical city offers good quality of life in: ease of cycling, great city parks, and it's location along many bodies of water. There are more and more businesses with a focus and commitment to sustainable materials and practices. New Orleans is also committed to the importance of community, a phrase that I've often heard here is "The rising tides floats all boats." It's a warm and very human city, one that welcomes collaboration and cherishes treating each other well.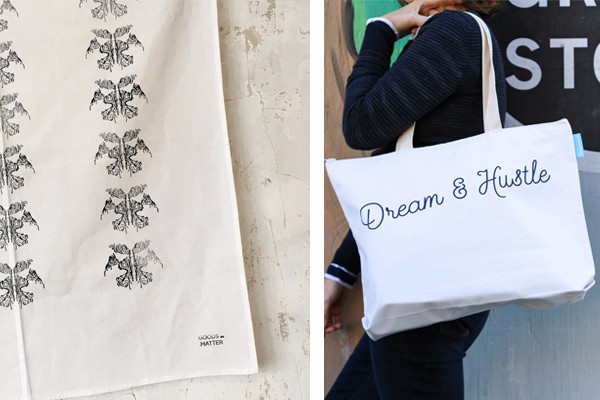 I also think that being so close to rising sea levels, disappearing wetlands, and big industry helps to keep these values that some might view as idealistic at the forefront. I see these needs as very real daily and as important to help to create beneficial change for.
"Dream and Hustle" - How did you come up with the saying? And what does it mean to you personally?
Thank you so much! Dream and Hustle is my mantra. I've come up with it along the way in the past 6 years of running Goods that Matter. The first iteration was 'Dreams Matter', found on one of the notebooks in the series that gives back to the 'I Have a Dream Foundation' a national education group.
I think that around year 3 or 4, I started saying Dream & Hustle in my head when I would be getting ready to head to the studio. Thinking to myself, you can't only dream, you've also gotta hustle. I find this mantra encouraging and motivating to do both sides of the dream and the hustle each day.
As someone with a mostly creative background, the business side of the business has been a real learning experience for me, I feel like I've received multiple graduate degrees in the past few years. I've had to put in so much Hustle to learn the things that I don't know to help make my Dreams become real.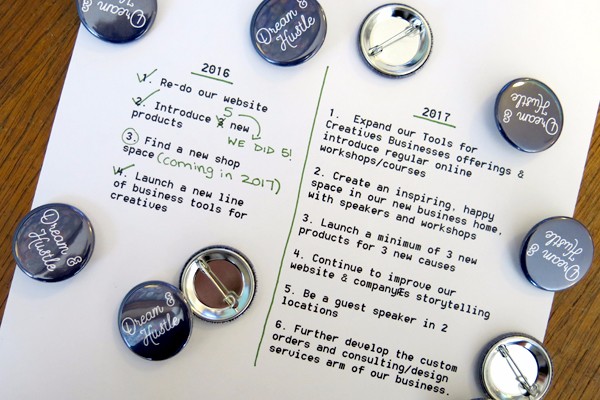 Tippy has not only created a business in which she can be proud and confident of its practices, but she has built a community in which she gives back not only monetarily but with the knowledge for others to begin their own projects. In 2016 Tippy launched a new line of business tools exclusively for self-employed creatives.
Tippy Tippens continues to live by her mantra and to inspire others to do the same. If you would like to feel inspired before you sit down and make your own buttons, wear the badge from Goods that Matter to remind yourself to push towards your own goals everyday. The Dream & Hustle pin backs will be included in every purchase from Goods that Matter as "lagniappe" -- a New Orleans custom meaning "something a little extra" or will be available for individual purchase for $3 each.
Read More