Gold buttons are great for promoting all sorts of things, but it's not everyday that we get to make a gold button order to be used in promoting actual gold. Then again, it's also not everyday that residents of a seaside town get to dig for gold, either, but that's exactly what's happening at Folkestone Beach in southeast England.
German artist Michael Sailstorfer buried 30 gold pieces worth $16,000 in the sands of Folkestone, U.K.'s Outer Harbor beach in a piece dubbed "Folkestone Dig." Part of the Folkestone Triennial, the piece opened to the public late last week and residents, visitors and others were invited to dig for their own piece of treasure.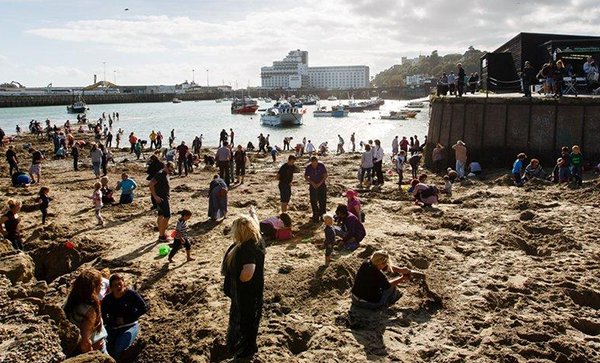 Photo via BBC News
Folkestone Dig was commissioned by Bristol-based Situations, an organization working to change perceptions about public art. Situations director Claire Doherty told the Guardian, "So often public art funding is spent on a static sculpture," but as with the Folkestone piece, "a temporary project can have as much impact in the collective memory as something that has been there a long time."
Designer Alex Synge explained that he joined the project when Situations staff first approached him, he was "sworn to secrecy" about the project. As details emerged, he was asked to create a button that read "I dig Folkestone," a button that would have, Alex explained, "a simple, fun double-meaning."
Alex said folks at Situations, "suggested doing the badge with a gold finish for obvious reasons, but then I remembered that Busy Beaver made actual 24k gold buttons, and thought that this would be the perfect opportunity to get some made. They loved the idea so we went for it, putting in an order with rush shipping to make sure the badges would cross the Atlantic in time for the project launch."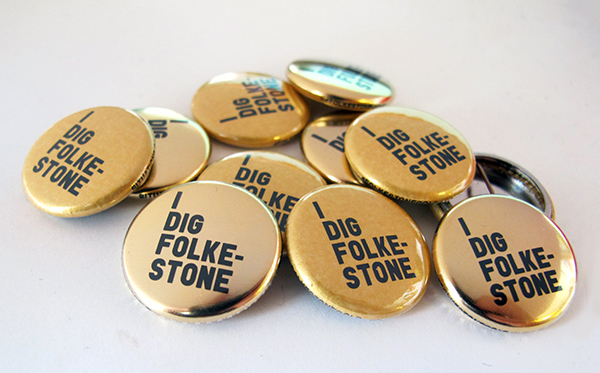 Alex designed a pair of buttons, a very limited edition 24k gold version (mirroring the 24k gold bars hidden in the sand), and another larger batch of buttons made using our metallic gold paper option. Alex explained that in his design, Folkestone was originally hyphenated "purely to maximise space on the badge face, and to make the type as big as possible." He ended up liking how the layout isolated the word "stone" and, he said, it had an unexpected connection to the actual dig: "Little did I know that many people would chance upon something solid while digging, only to find out that it was a stone rather than a piece of gold."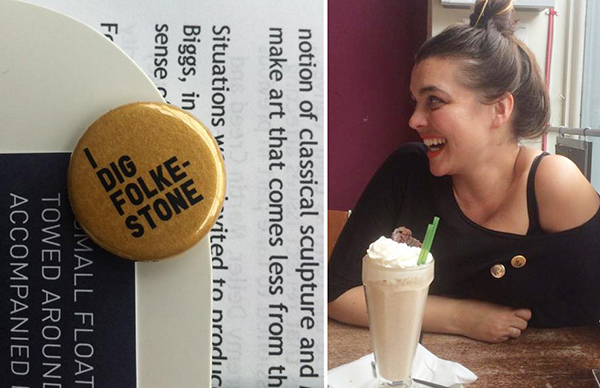 Folkestone Gold Buttons in action: left, via Riya Patel and right, via Situations
Part of the fun of the Folkestone Dig project is that no one will ever know for certain whether all the gold bars have actually been discovered. It's possible that determined treasure hunters will continue the dig for years to come with hopes of finding their own piece of gold.
Triennial curator Lewis Biggs told the Guardian, "The piece lasts forever because no one will ever know if all the pieces have ever be found or not. A lot of people won't admit to having found one even if they have. Would you? We see no end to the artwork. It is meant to be a lot of fun."
Read More