Enamel pins aren't a new invention, even though it might feel like their popularity came out of nowhere! Their origins began in China where they started perfecting their enameling techniques during the Ming Dynasty. Lapel pins have been utilized and loved in a variety of cultures that have all brought their own techniques and inventions to the art.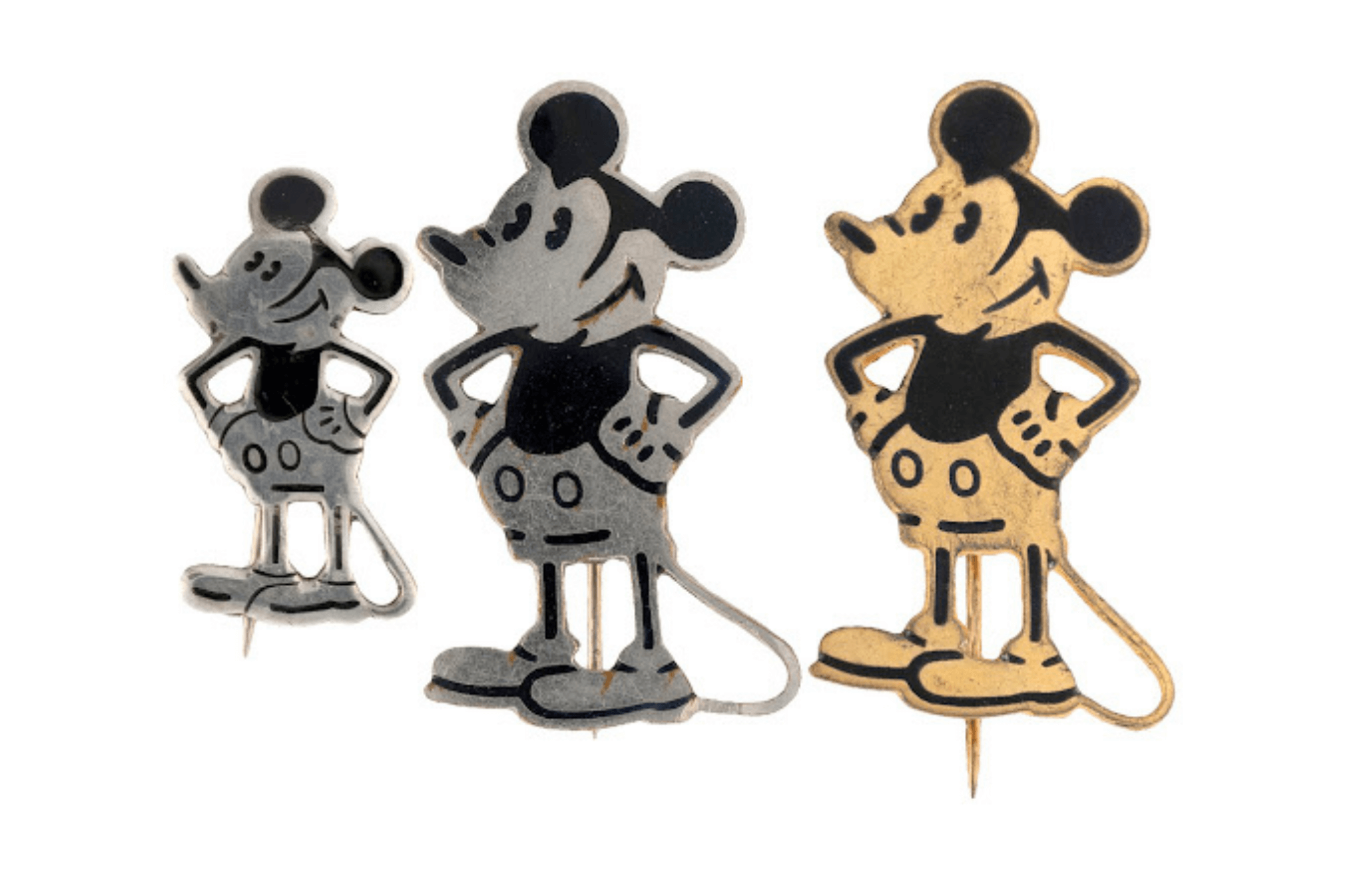 Enamel pins really began to build steam and more widespread popularity in pop culture during the 20th century. Pins were made for a variety of social and political causes but also for many beloved cartoon characters. Comic strip icons were perfect muses for enamel pins due to their outlined nature. Most of these vintage enamel pins were made out of hard enamel.They were created using custom molds where liquid enamel was deposited, hardening after being exposed to heat.
We also have corresponding buttons for many of these characters in our Button Museum as well!
Check out some of our favorites below! Photos courtesy of our friends at Hake's Auctions.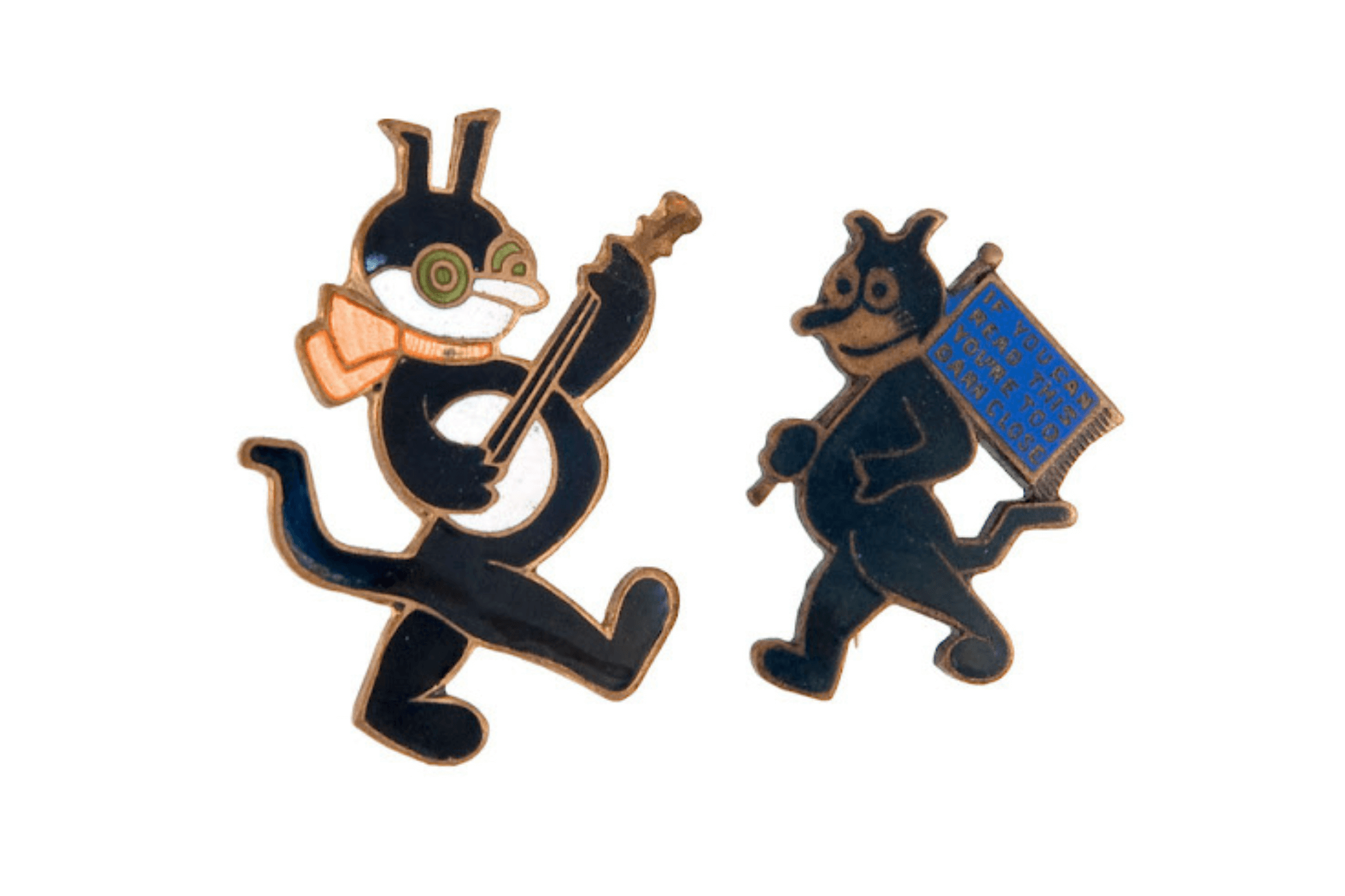 Krazy Kat was a popular comic strip that ran from 1913-1944 that was created by George Herriman. This strip was very influential and was beloved for its surrealist and sometimes poetic language. There were many enamel pins made of this character, capturing Krazy Kat in all of its forms! In some cases, Krazy Kat even had bejeweled eyes!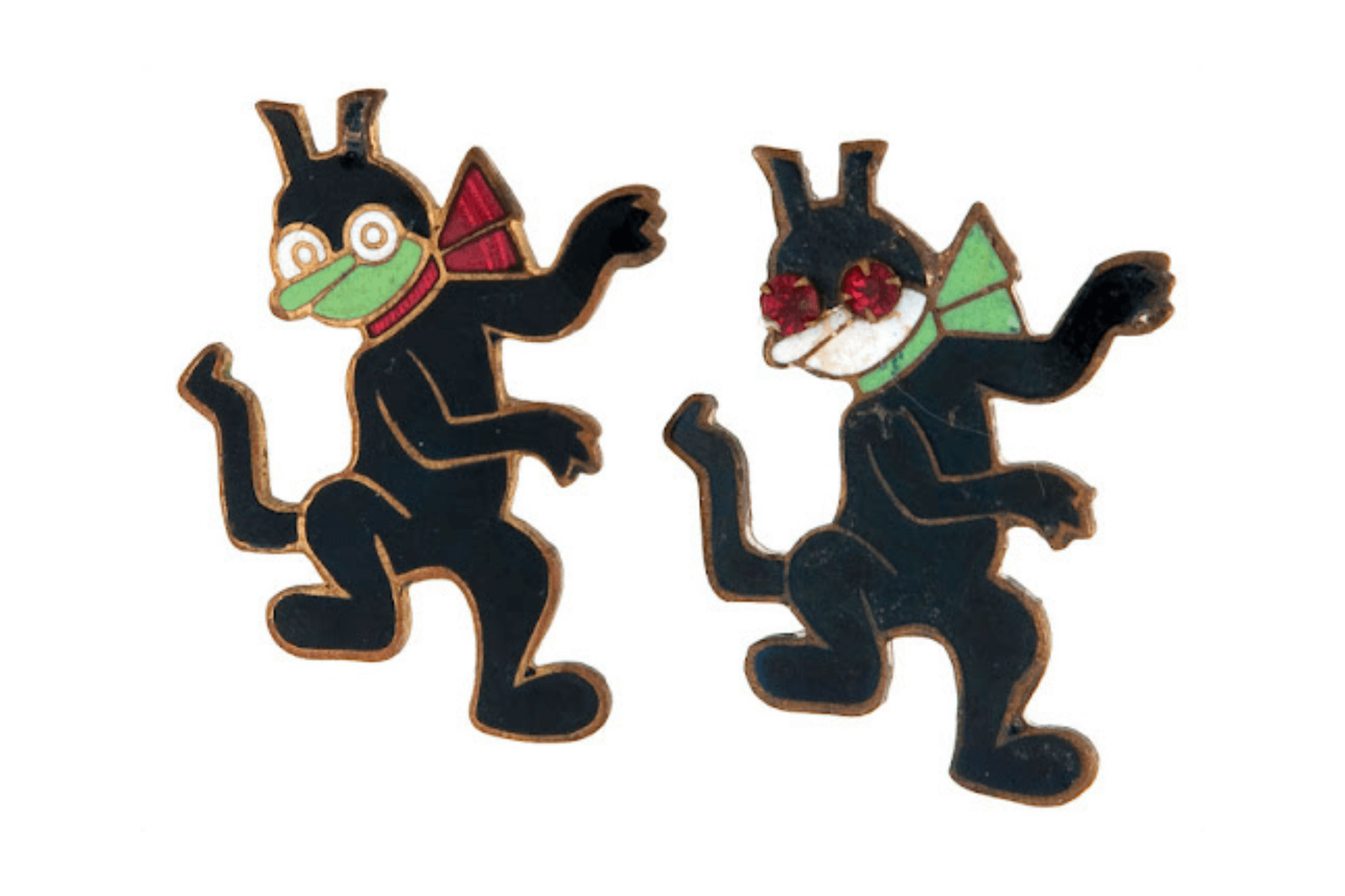 Popeye the Sailor Man first appeared in a comic strip called Thimble Theatre in 1929, which was created by Elzie Crisler Segar. Popeye became even more popular once he was animated in cartoon shorts adapted by Max Fleischer, who invented the rotoscope and was behind other beloved animated characters like Koko the Clown and Betty Boop. Here he's seen with Olive Oyl and Wimpy on this original backing card.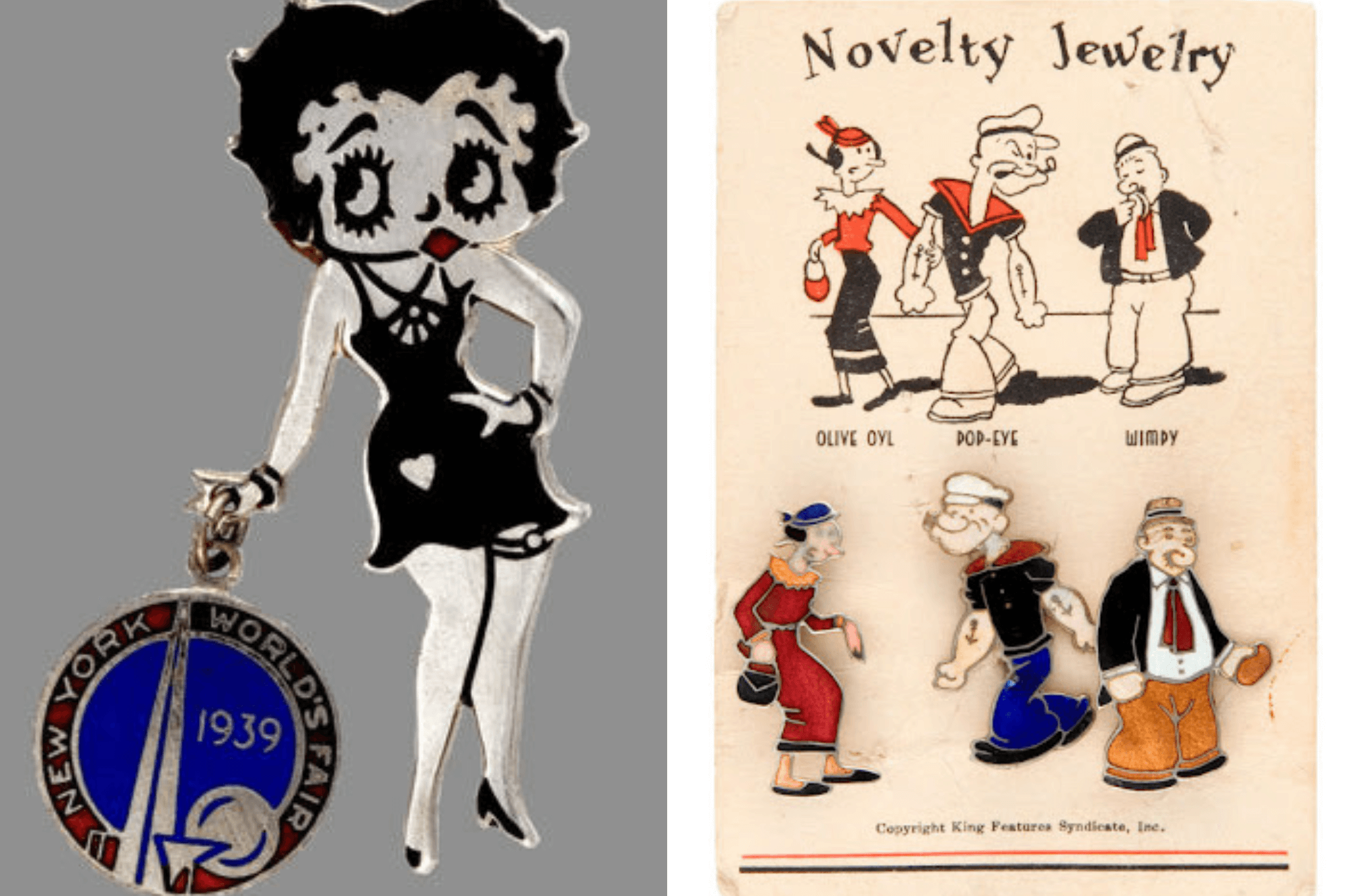 Betty Boop was one of the most famous cartoon characters of the Great Depression age. She was created by Max Fleischer and was a caricature of a jazz age flapper. Fleischer was behind some of the first cartoons to have sound and was incredibly influential in the medium of cartoon animation. Many elements that were still used today could be tied to him. Betty Boop has become an icon and her likeness was used in a variety of different ways. In all of these pins of Betty, they most likely used the same mold, just changing her accessories and the color of her dress.
Felix the Cat was a character created in 1919 by Pat Sullivan and Otto Messmer and was the first fully animal character in American animation history. Just like most of the other characters seen in this blog, Felix also started as a comic strip character and then moved to be in cartoons following the popularity of Mickey Mouse. In this pin that features two cats, they're still able to capture the whimsy of the comic by adding the question mark, making the pin rather expressive. We also have this great Felix the Cat button in our Museum.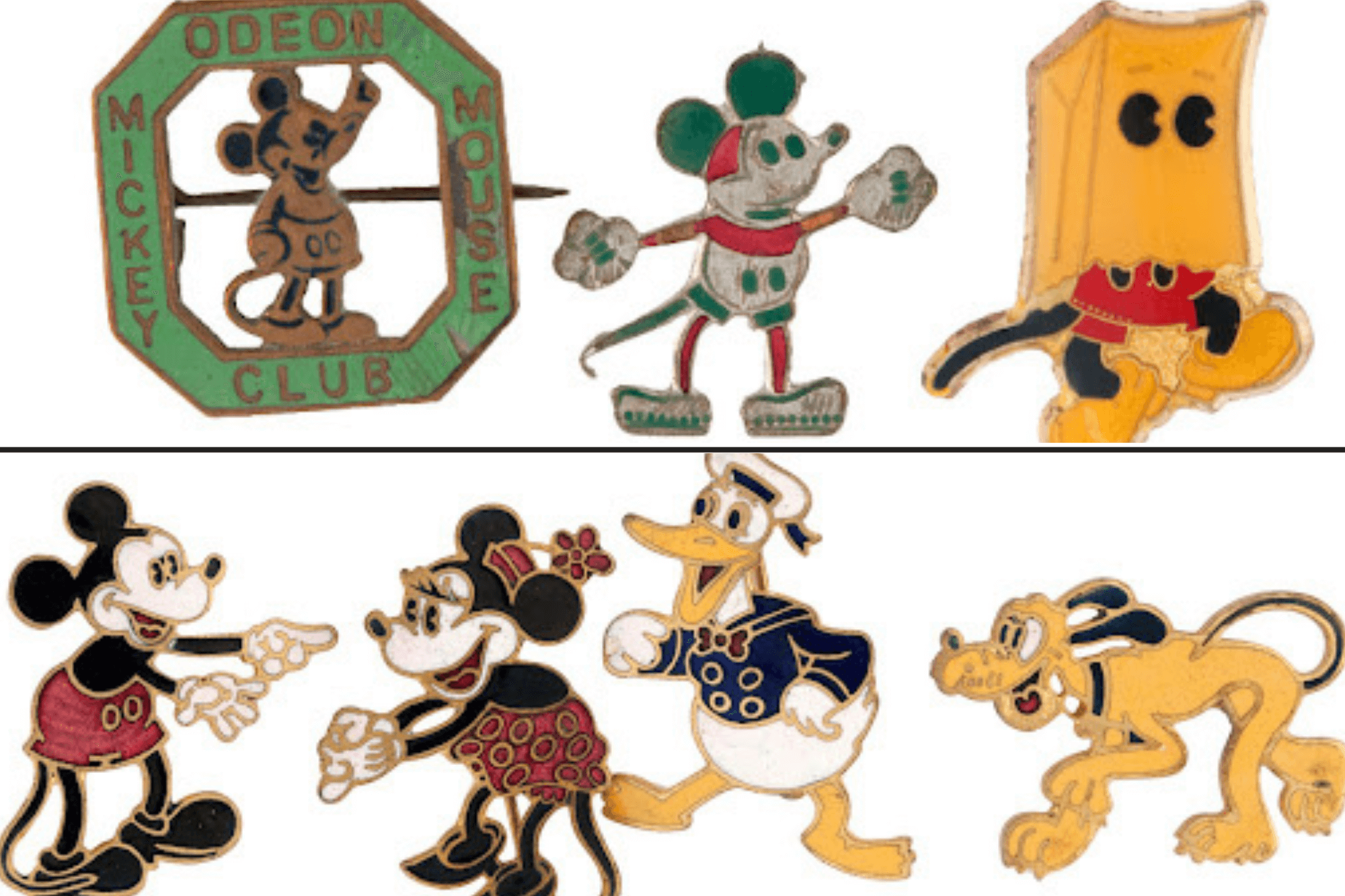 These mice need no introduction! Mickey and Minnie Mouse are some of the most recognizable cartoon characters of all time. These awesome vintage Disney enamel pins that would be an awesome addition to any fan's collection. Mickey Mouse was created by Walt Disney as a replacement for Oswald the Lucky Rabbit since he was owned by Universal Pictures. Other characters like Minnie Mouse, Donald Duck, Goofy, Daisy, Pluto etc. have followed and contributed toward the flourishing Disney empire.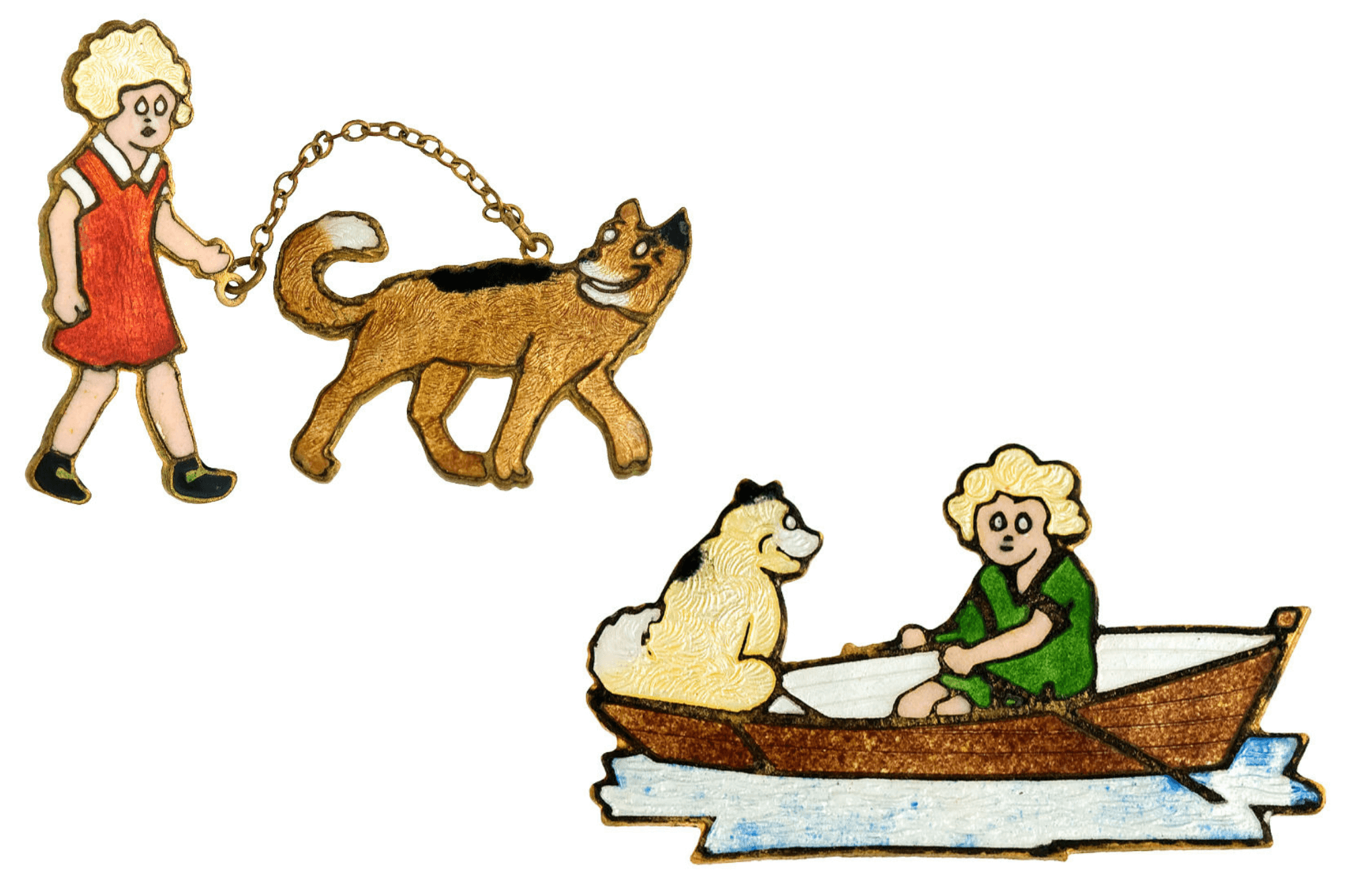 Little Orphan Annie first started as a comic strip in 1924, it covered a lot of political discourse like organized labor and FDR's New Deal, so it appealed to a variety of audiences. The character's popularity grew after it was adapted into the Broadway musical, Annie, which premiered in 1977. Annie was usually teamed up with her beloved dog, Sandy, and the two are even together in both of these pins. One of the pins also had a cute chain detail to keep the two connected as if they were going on a walk. One of the Betty Boop pins had a similar detail. We also have some Little Orphan Annie buttons too!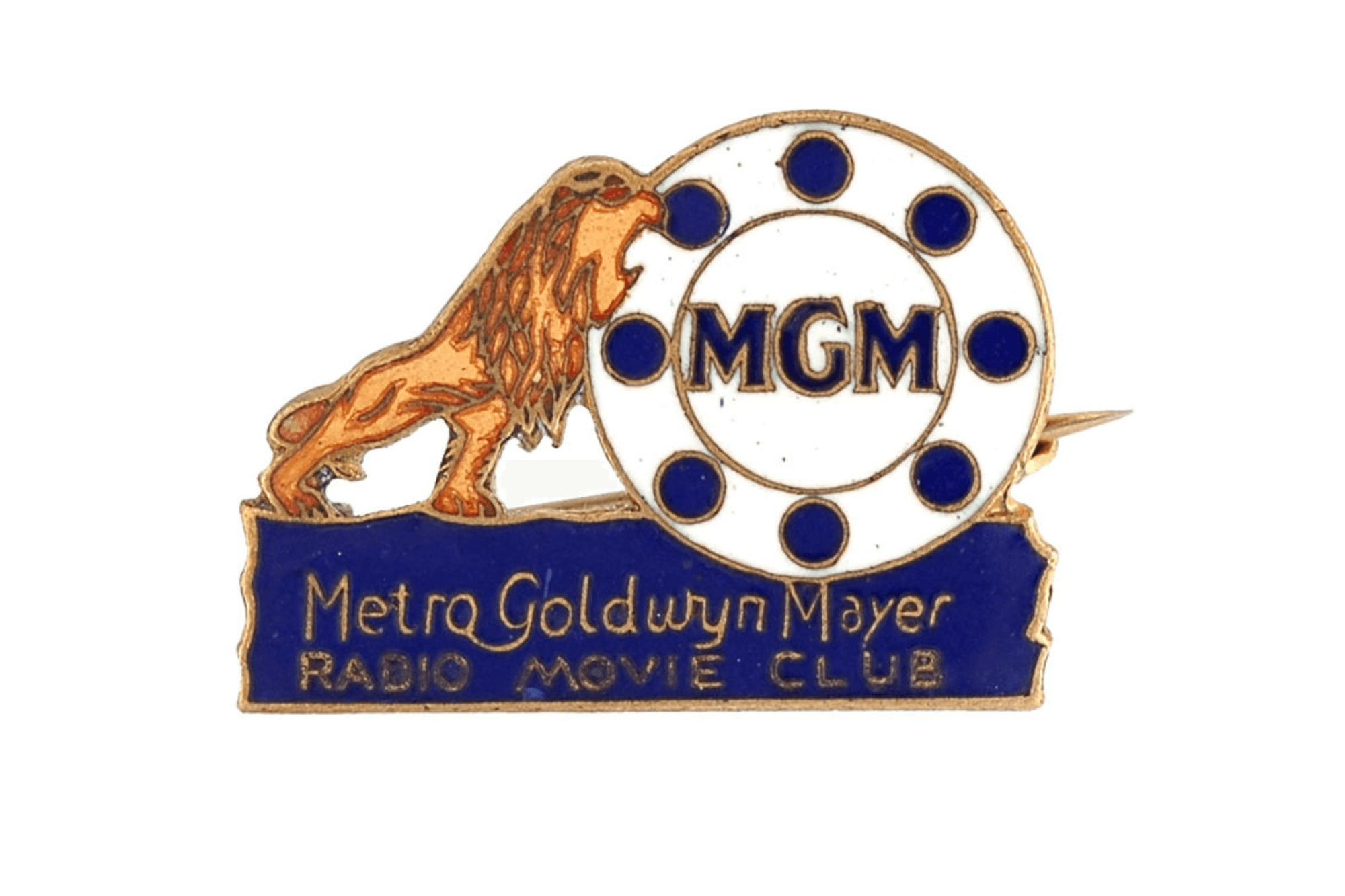 Metro-Goldwyn Mayer Studios, a film and television production company best known for their roaring lion logo, also made enamel pins. It was the dominant movie studio from the silent era into the late 50s. They produced some of the largest and most iconic movies from the 20th century, and had many of the most coveted Hollywood stars as contract players and dominated the industry.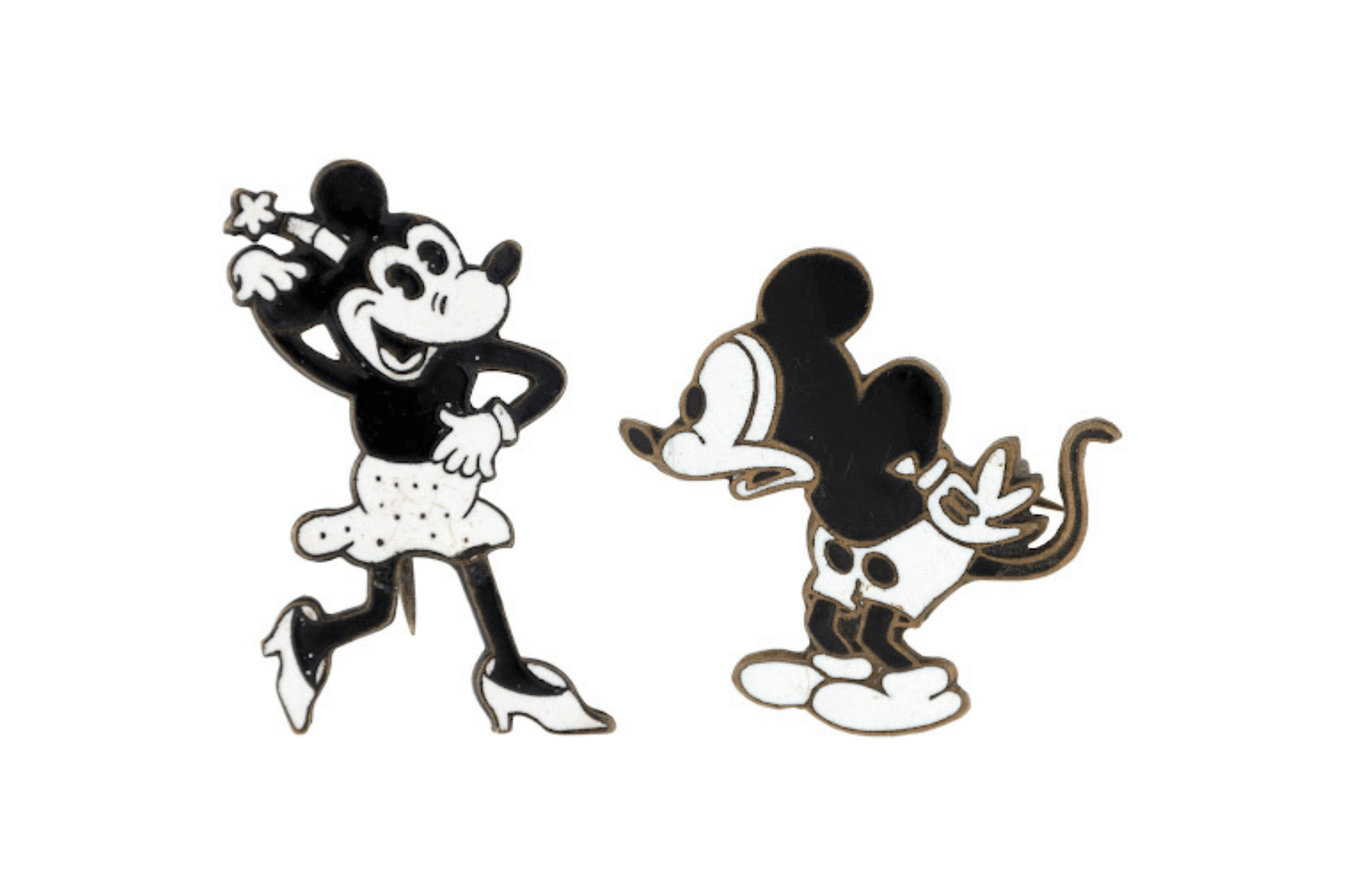 Many of these characters can still be seen in enamel pins today. It's cool to see these pillars of popular culture are still loved even almost a hundred years later. For example, check out these fun Pokemon enamel pins! Also, the process of enamel pins hasn't changed all that much. Your very own pins will be a part of the same craftsmanship that has been perfected for centuries.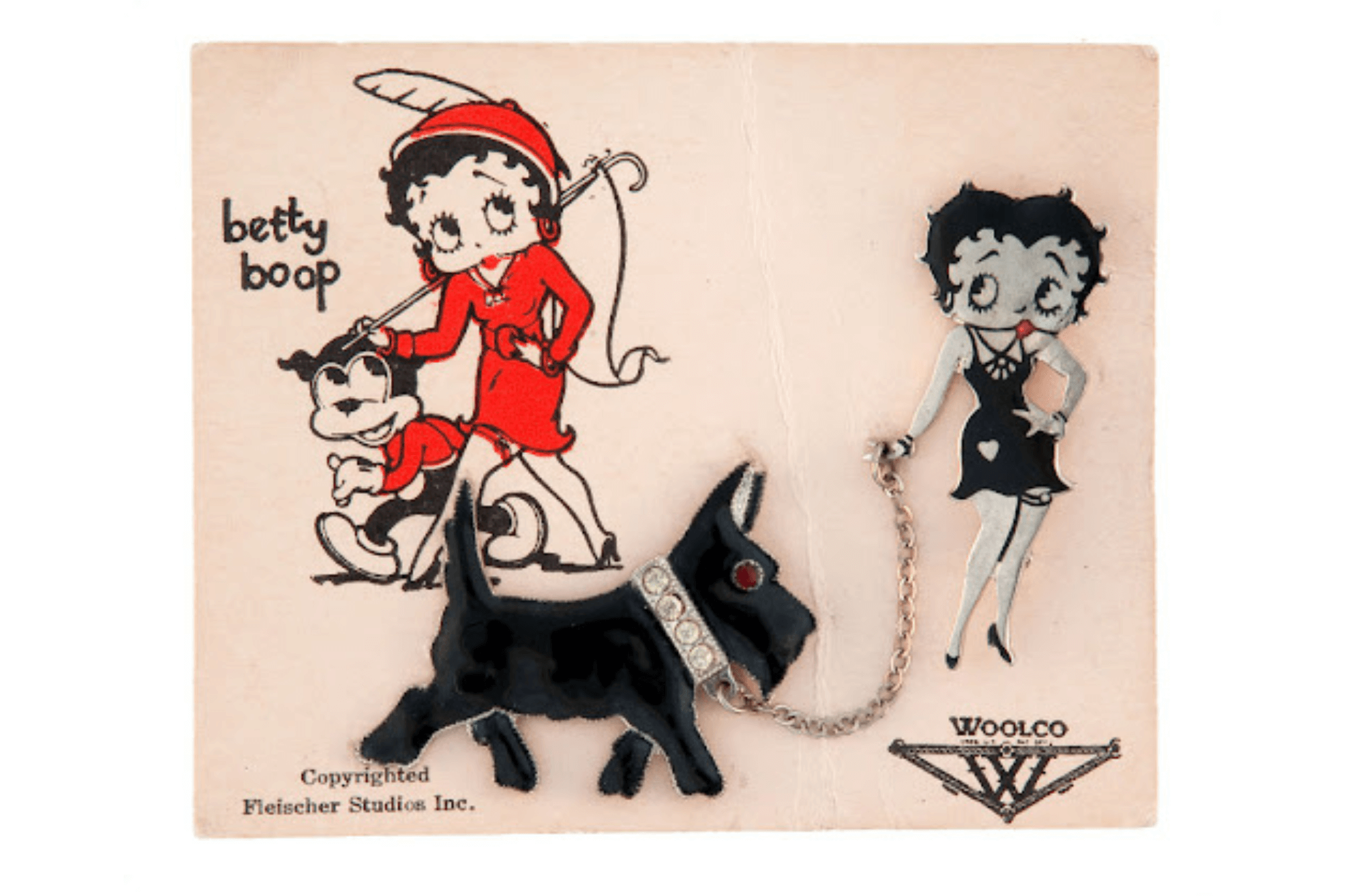 Have these pins got you inspired to make your own custom enamel pins? We can even package your enamel pins like the Popeye or this Betty Boop pack. Reach out today and let's get your order placed!
Read More