The enamel pin trend is stronger than ever. Artists are designing eye-catching, humorous, and nostalgic custom enamel pins to be worn on lapels, jean jackets, and backpacks. But the creativity can extend beyond the artwork of the pin itself: creative enamel pin packaging will make your pins stand out and really seal the deal on your next sale.
Since enamel pin packaging isn't very different from packaging your classic pinback buttons, we've come up with 5 ways to take your lapel pin packaging to the next level: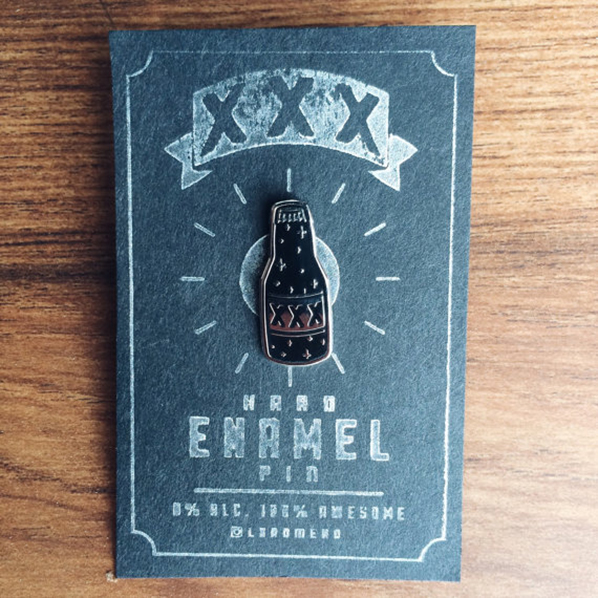 1. Create a Flat Pack
One of Busy Beaver's standard button packaging options, the Flat Pack, is an affordable and easy-to-design option for enamel pins, too. The standard flat pack size is 2x3", about the size of a business card. This size is a great place to start, but don't feel confined! Go ahead and completely customize the product by playing with the length or height.
Artist Luis Romero's uses the Flat Pack style of packaging and primarily utilizes Instagram to announce his newest pin designs. He starts by dropping a couple images of the pins to begin pre-sales and then publishes a post of the pin design on its packaging to push that tentative buyer from, "Do I want this?" to "I need this now!"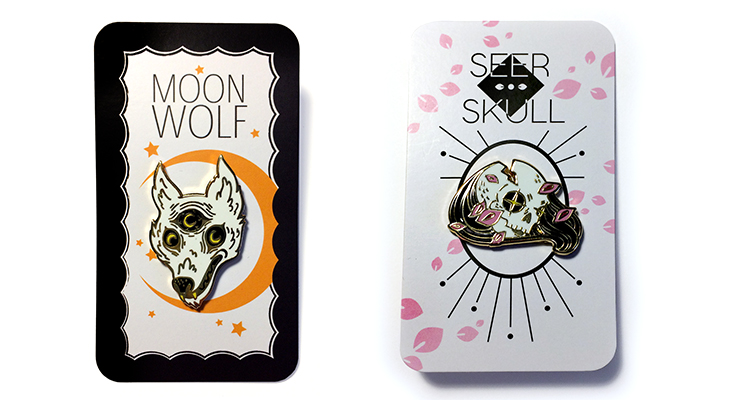 2. Round Those Corners
Even the slightest difference in your package design can attract new customers. Details like rounded corners on your backer card can make your pin packaging stand out from the other square counterparts.
Illustrator Nicole Goux utilizes the corner backer cards for displaying her pins. The overall shape of the card lends itself well to the flowing lines of her illustration style.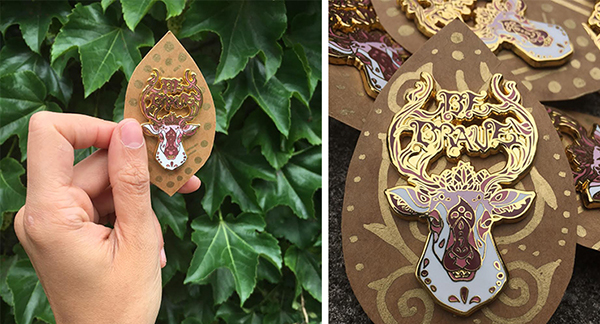 3. Make Limited Edition Packs
A great way to make each and every pin a limited edition is to customize each individual backer card. Instead of printing a batch of cards, use each backer card as a blank canvas to illustrate one-of-a-kind drawings.
Take one out of creator Ali Cantarella's book: since metallic inks can be expensive to print she instead created a backer card for her pins that she could customize individually with a metallic gold sharpie. Each one is different from the other, making them all unique pieces of art.
---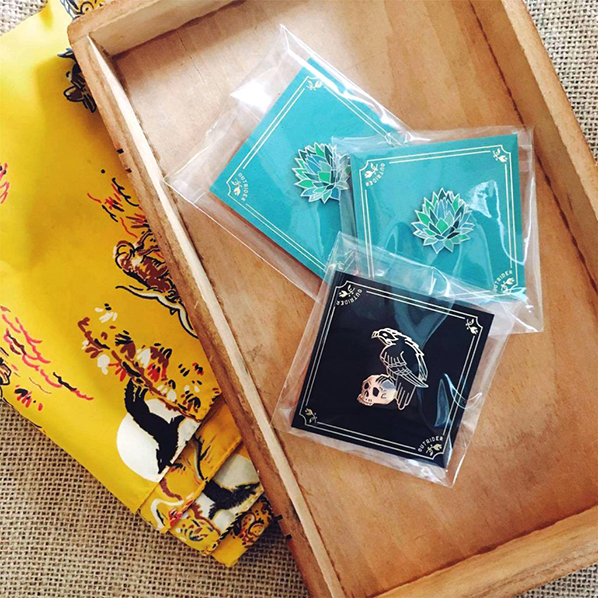 4. Bag Them
Branding and pin expert Ryan Lynch of Outrider Design packages all his pins on 2x2" backer cards with an adhesive cello bag to assure the pins to scratch each other on their way to and from shows. The cello bags add a layer of protection and give the product a polished look.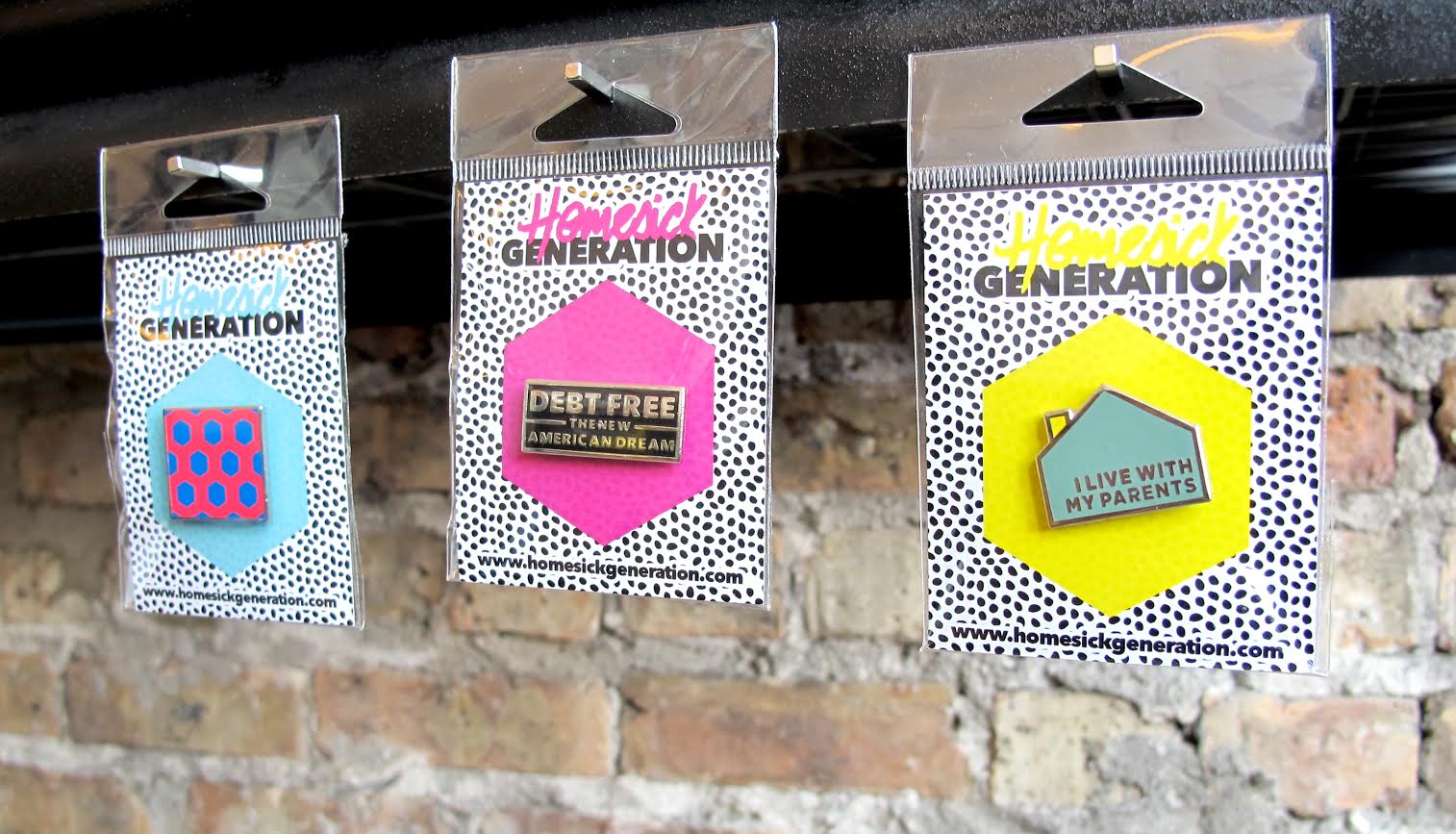 5. Make Them Retail Ready
The Display Pack is one of Busy Beaver's best packaging options for those retailing their custom made pins. The Display Pack is simply a Flat Pack with a cello bag protecting the pins. The Display Pack bags also feature a hang-hole, making them the perfect pack for hanging in a retail space.
Homesick Generation's pins are packaged as Display Pack, which means their enamel pins are retail-ready for any show, convention, or pop-up shop!
Learn how to make enamel pins, see how our customers use enamel pins, or order now!
Read More