Planned Parenthood was formed in 1916, but now, nearly one hundred years founded it was founded, the health organization is on people's minds more than ever. During the current election cycle, the organization has been subjected to increased scrutiny, but in turn has also found almost boundless enthusiasm and support for their work from millions of people across the country. In response, Planned Parenthood of Illinois (PPIL) came to Busy Beaver to create a number of buttons to help keep up positive momentum and to educate people about their services.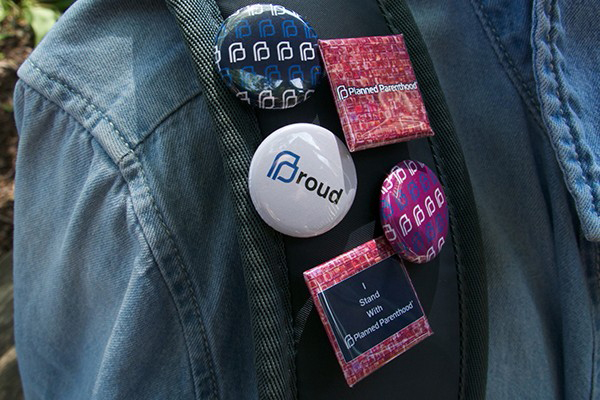 Busy Beaver first entered PPIL's radar when current Manager of External Affairs Julie Lynn was working in the organization's fundraising department. "I actually came across the owner of Busy Beaver, and realized she had been a supporter of ours for a number of years. I started doing some research and I realized how cool [the company] was. Then, I was lucky to be in the position here where I could do some kind of collateral marketing, and buttons were my first stop," she said.
Although Lynn brought her own designs to Busy Beaver, she relied on the company's expert staff to tweak each one to make them just right, and was impressed with the results. "I am not a designer so I prefaced every order with. "make this better," and they did. They had suggestions for ways that it would look better on a button, whether to make it a circle or a square, whatever it was they were always super helpful."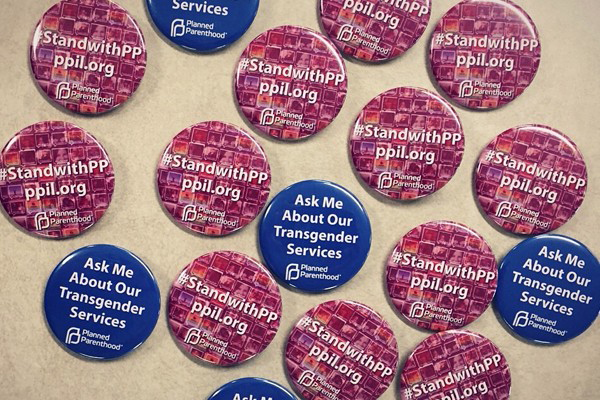 The first Busy Beaver button she commissioned was in response to the #StandwithPP campaign that went viral on many social media platforms in the summer of 2015. The design had a collage of one hundred individual Facebook profile pictures that had been outfitted with a pink overlay to show their support for the campaign. "There were just so many [supporters] and I thought it would be a neat way to thank our supporters, to have 100 or so images on a button," said Lynn. "The reason I picked the button is because it's such an easy way to do it. It's not a t-shirt, it's not a bag. It is something you can put on anything and it is subtle but still makes a statement. I love wearing it and have people compliment it, and then I just give it to them. It's something I think is really cool about them. Whenever we go places we always take a handful with us because someone is going to want one."
Since then, PPIL has created an array of buttons in various designs and for various reasons. Chief among them is to use the buttons for political advocacy. In January, 2016, Busy Beaver donated buttons for a fundraising event for Planned Parenthood Illinois Action (the political arm of Planned Parenthood of Illinois). "I designed the button and it said '1973 #Roe43,'" Lynn said. "They made it for us, and they were awesome. People were really excited about it and it was fun to give them away."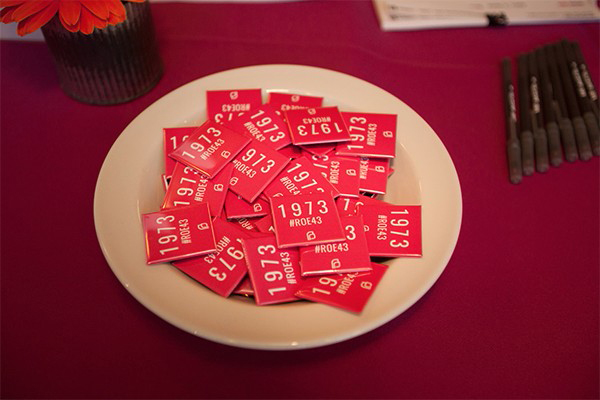 Not only have buttons helped Planned Parenthood of Illinois start conversations in the political arena, but since they introduced new designs at their area clinics, they have prompted dialog between clients and staff linked to personal health matters. "We offer transgender services, so all of our staff wear blue buttons that says, 'Ask Me About our Transgender Services.'" Lynn said. "Last weekend I went to the LGBT Prom at Lakeview High School, and I was wearing one of the trans buttons and so were a couple of other people I was with. A lot of people aren't aware that Planned Parenthood offers that service. And we do offer trans hormone therapy at three of our health centers in the state. The button started the conversation with people that might not have known that we could have that conversation with them."
In an era where digital promotion reigns supreme for many organizations, Lynn is finding out firsthand just how effective buttons can be in spreading the word about Planned Parenthood's work. "People get excited and it is also kind of stylish to stand for an organization like Planned Parenthood in a way. People are starting to get more awareness about the work that Planned Parenthood does probably because it is an election year, and people like to tell their friends."

Read more about how to fundraise for your cause.
Read More