At Busy Beaver we believe that buttons can be used to affect social change. That is why, every year, we team up with an organization or an individual to curate a 1-inch button artist series to help raise awareness and funding for a chosen cause. We call this event the Button-O-Matic Artist Series. Last year's series cultivated 11 impactful designs and helped raise funds to be donated to Everytown for Gun Safety.
For 2018, we partnered with One Tail at a Time, Chicago's leading dog rescue service. Ten artists from around the country each created a heartfelt pin design to go along with the series' them "Paws and Pin-backs". The new series will be available to the public for the first at the Opening Reception tomorrow, November 15th. If you weren't already excited to collect all the pins, just wait until you read the meaning behind each artists' button!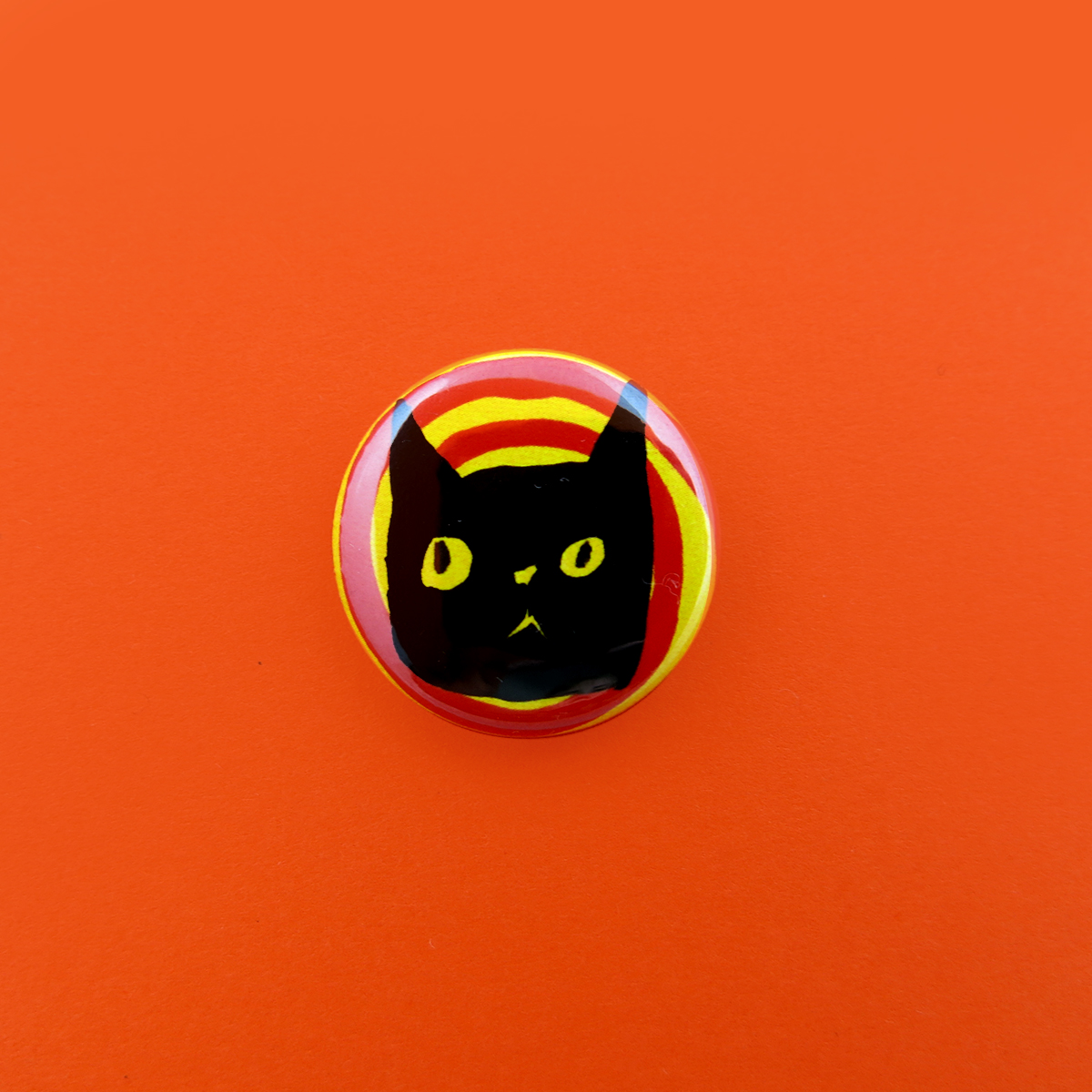 A graduate of Massachusetts College of Art and Design, the pin Colleen designed was inspired by her "weirdo black cat", Harmon. Colleen reports that Harmon has traveled with her from Florida (where he was adopted) to Boston and then to their home now in Chicago. She also mentioned that he "sleeps all day and yells all night." Precious little weirdo.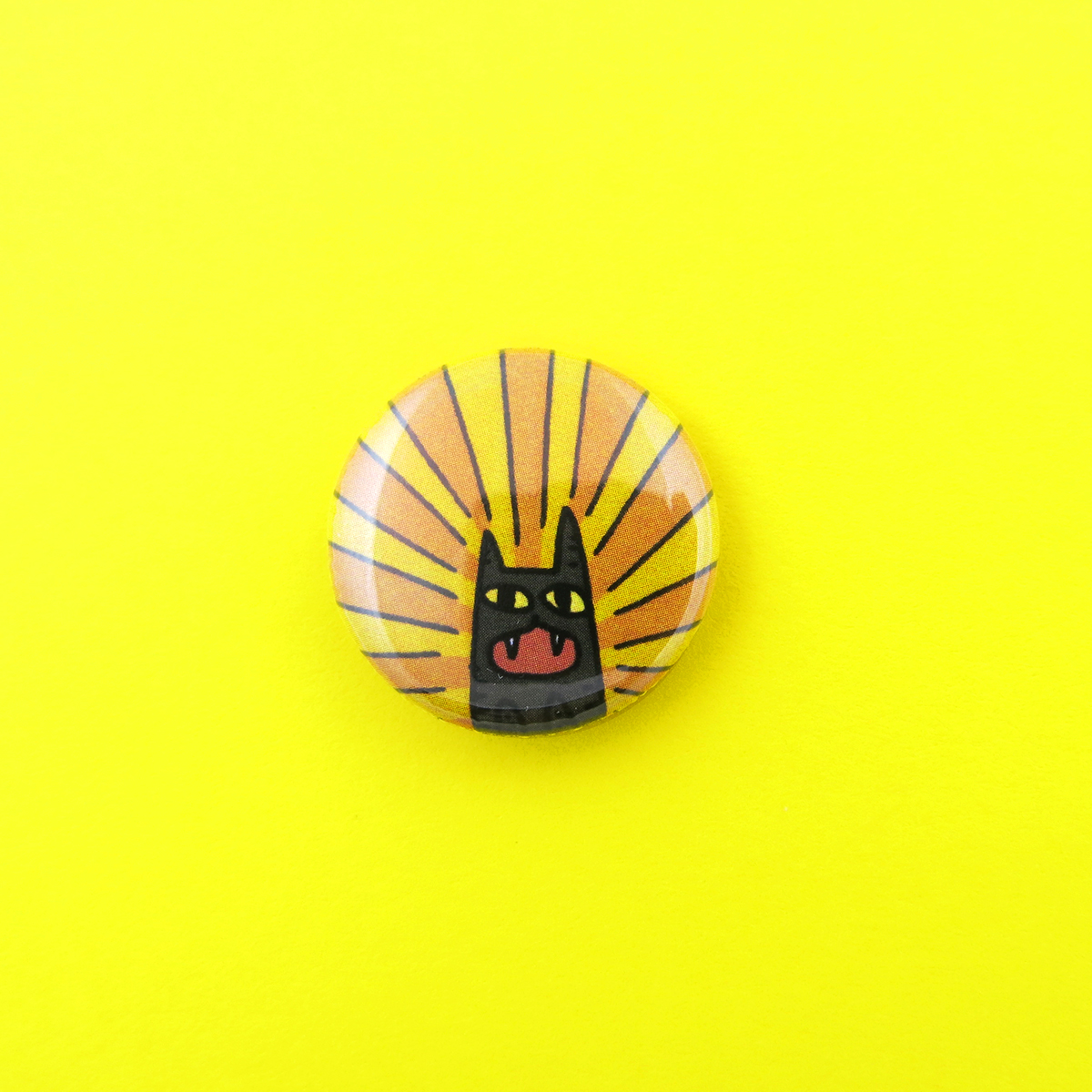 Kevin is a cartoonist, a podcaster, the Print Shop Manager at Cards Against Humanity, and the owner of Steven the Cat. As seen above, Kevin depicted what Steven does best on his pin design, "screaming real loud and constantly." (Maybe Steven and Harmon should have a screaming match?)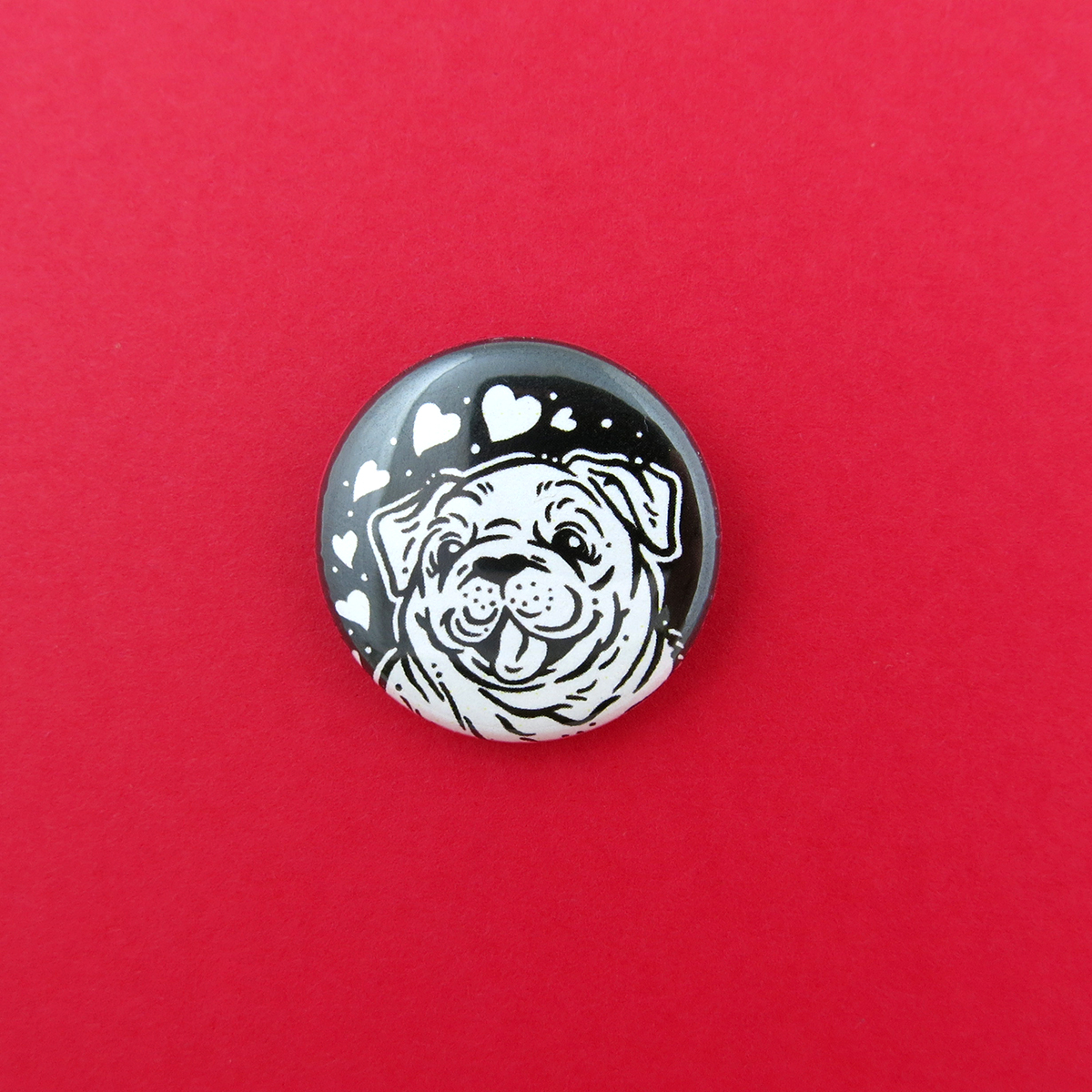 Being a lover of pugs and coffee, we loved seeing Ali's creation for this year's Button-O-Matic Series. She tells, "The design is inspired by latte art, with trailing hearts and a central design— only this design is a fat little butterball of a pupper and therefore cuter than any latte art I ever created during my time as a Barista."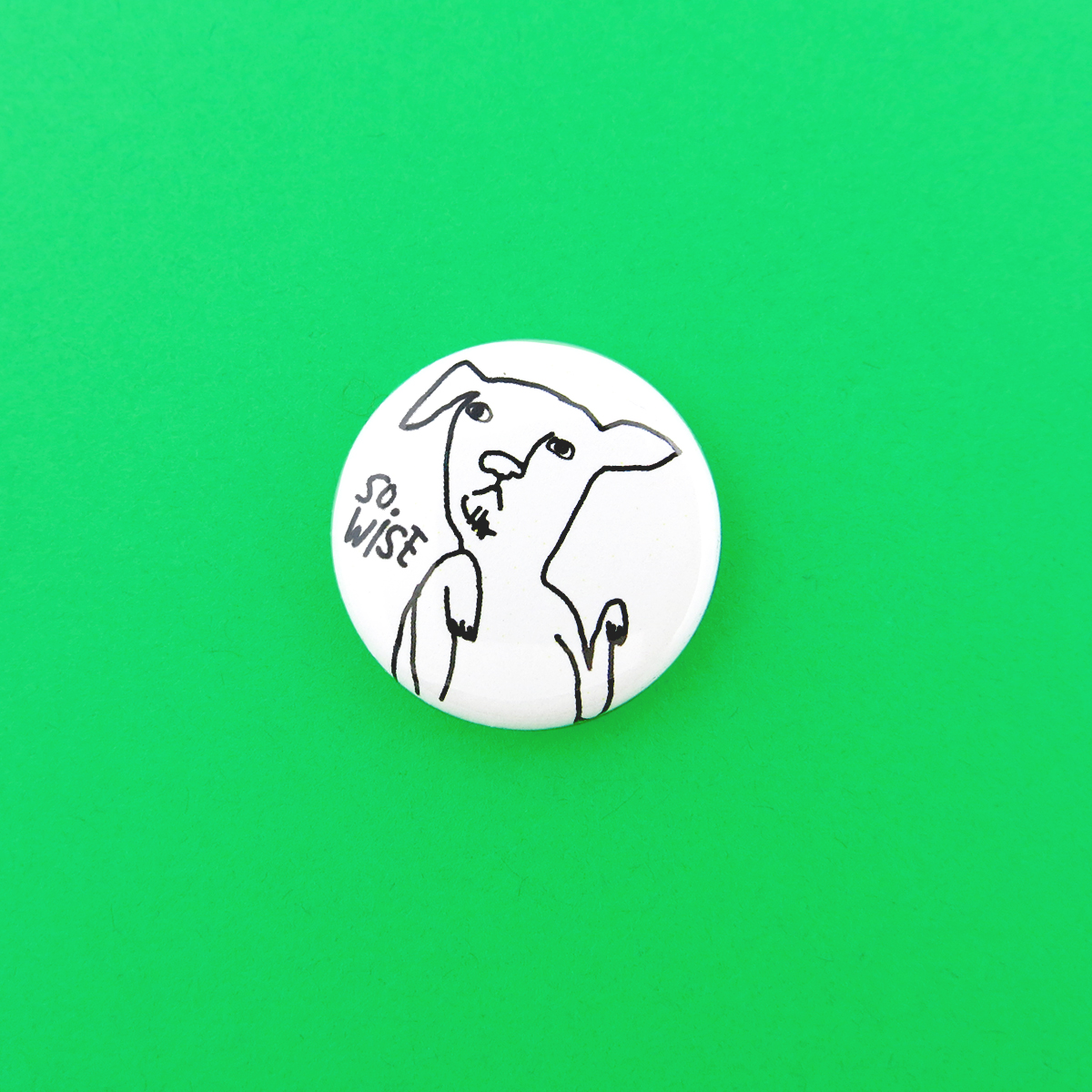 We knew Hallie, a LA based writer and illustrator, would be a perfect fit for this year's series learning about her own experience with adopting her pup Spinelli earlier this year.
"I love this drawing of my dog Spinelli with the words "SO WISE" because it captures how she helps me get out of my head," Hallie told us. She continues that, "Spinelli doesn't know about Trump or global warming or the gender pay gap or nuclear warfare. She's just happy and loves belly rubs and rawhide bones and walks in the woods." This button, and our pets in general, is a great reminder to think less and live more.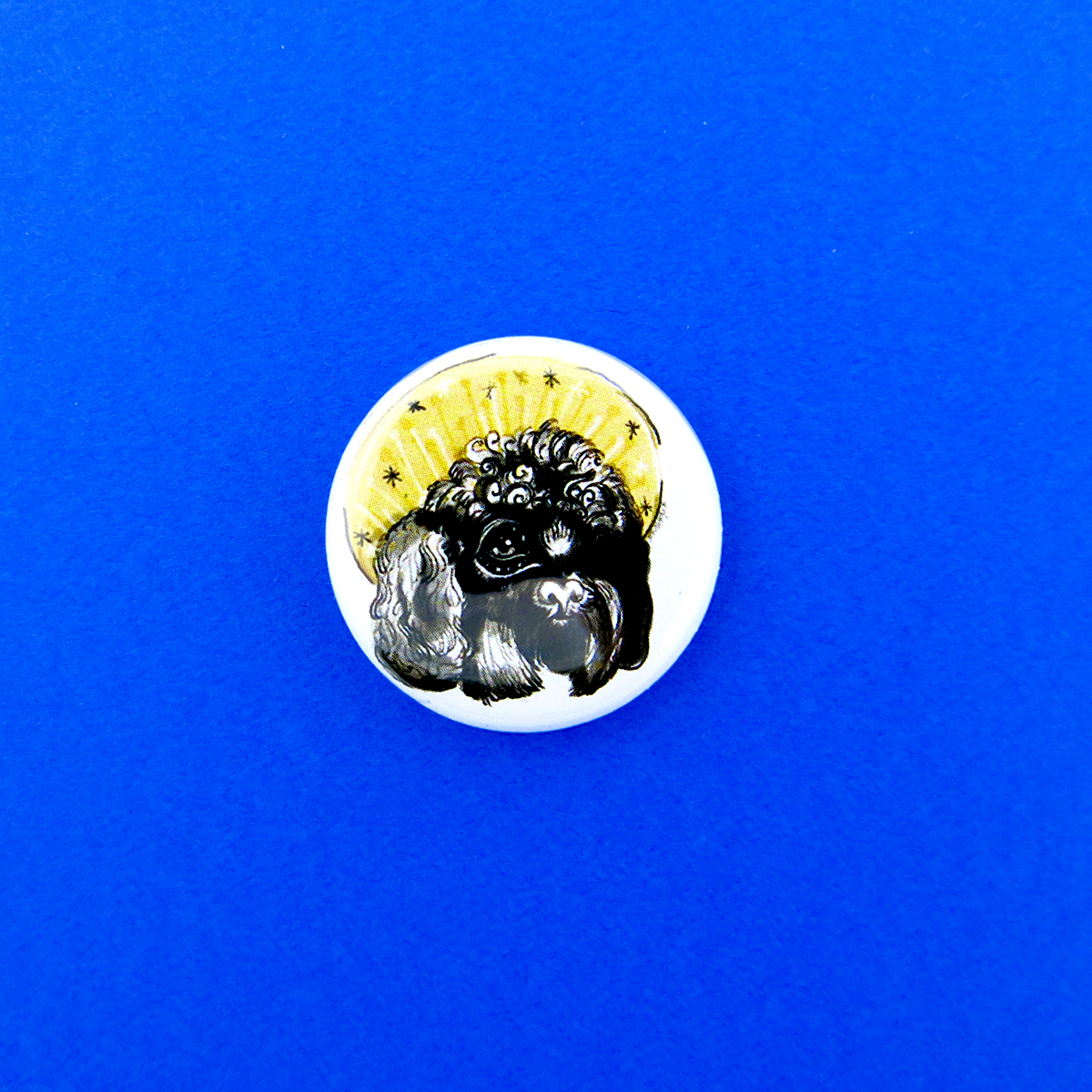 Originally from Ciudad Juárez, Mariel's body of work pulls from mystical animal hybrids and elements of Mexican folklore. In her newest series, Mariel is "sanctifying" these creatures for her button design.
"I have decided to sanctify my dog, Bruno, he is a Labradoodle. Therefore, the pin is called SAINT BRUNO- THE COMPANION. If you get one of these pins, you make sure you will have a companion with you always." Which Mariel made the connection for us, is the same sentiment of adopting too.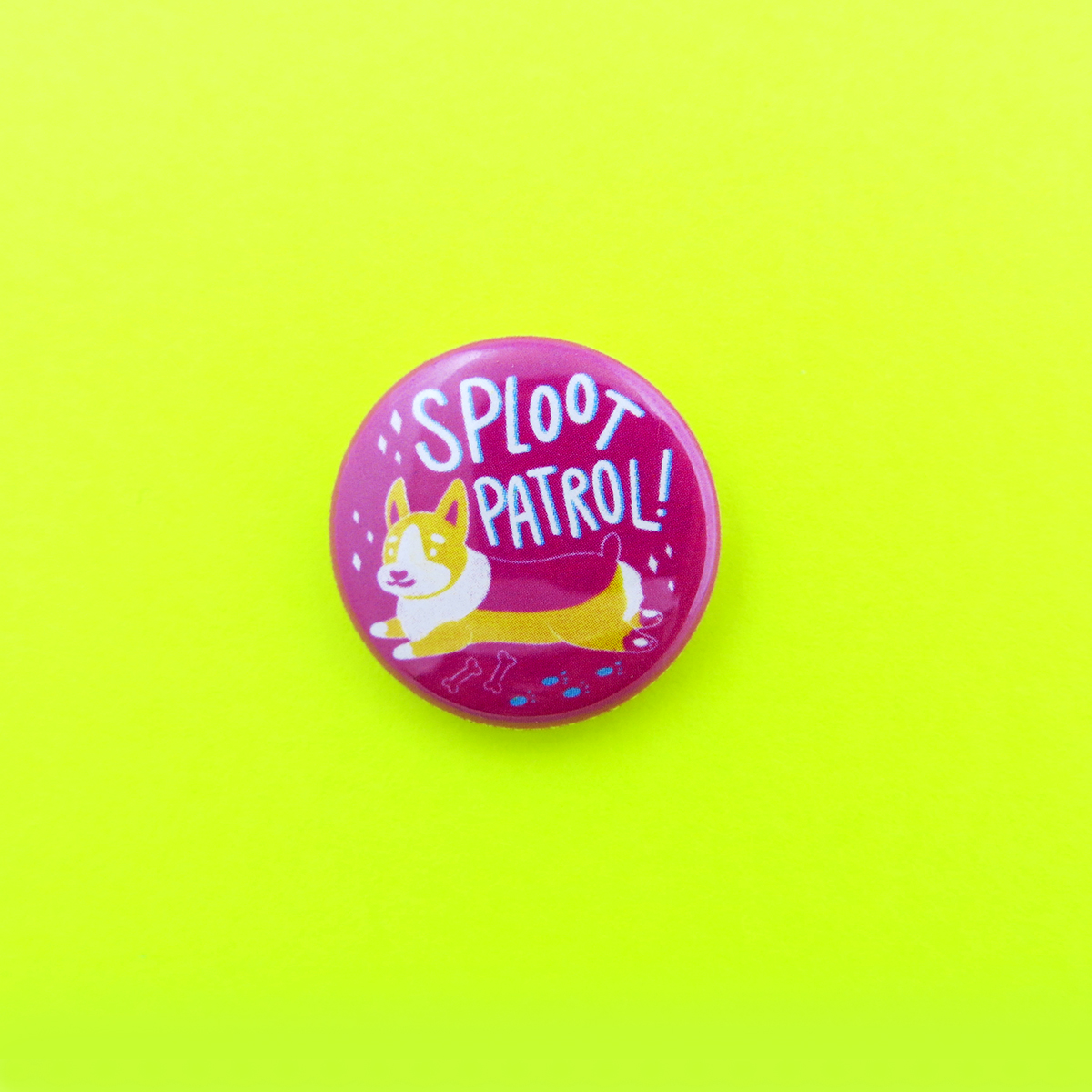 Leigh Luna, a comic artist, colorist, and letterer based out of Los Angeles, is also a prolific animal lover on the internet. Besides her cats Gigi, Hiromu, and Spaz, Leigh chose to capture her Corgi Warlock's butt on the pin for the series—which she mentions IS something that inspires her everyday!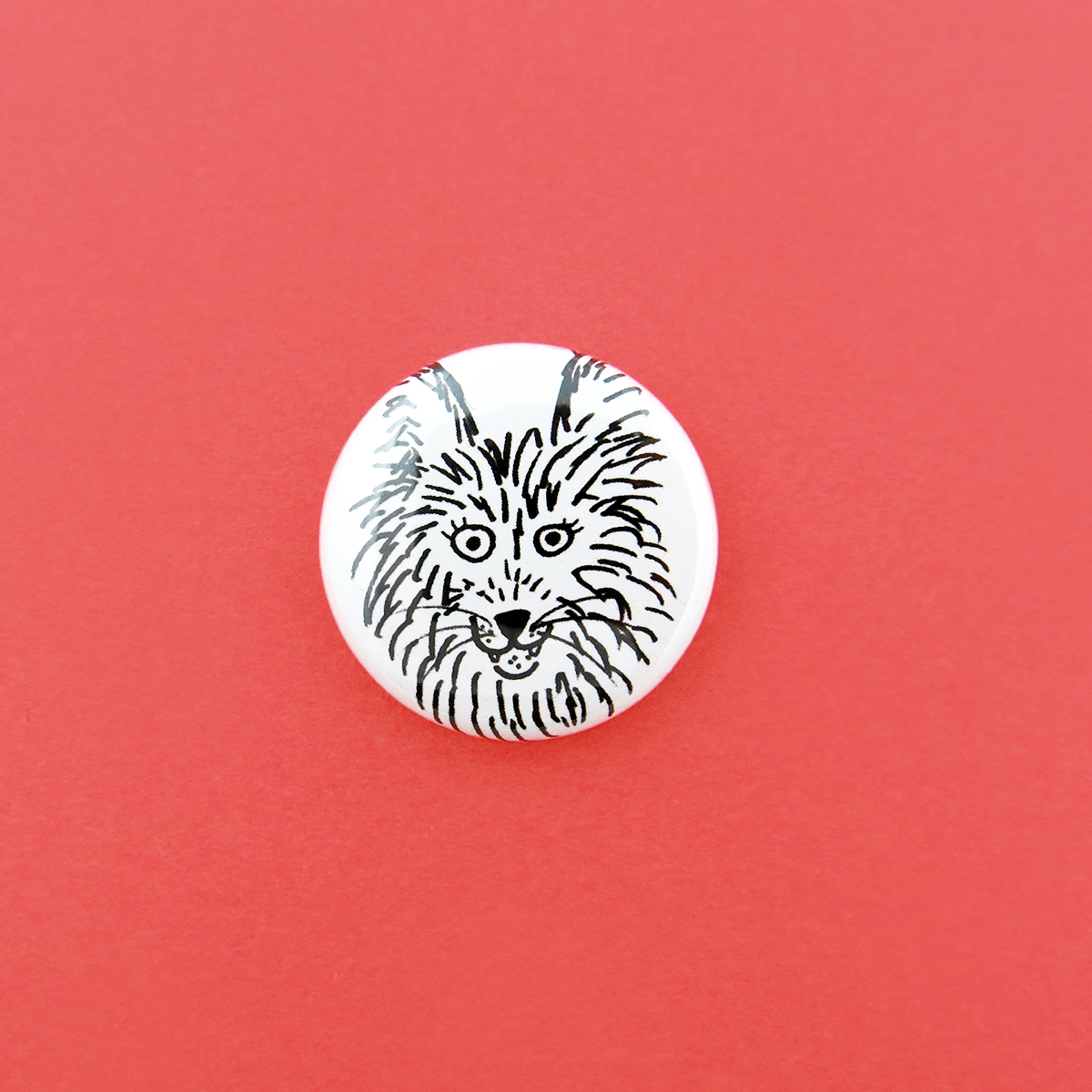 Illustrator, Instructor, and Live-Drawer, Rachal shared with us the story behind her button design. Ducky (originally named Lucky) was rescued by Rachal after the CACC Transfer Team put out a post asking for someone to take the pup in. Rachal tells us that, "when I rescued Duck, she was a shell of a dog. She was sick, covered in scabs, hairless in spots and underweight. After much TLC, Duck has blossomed into the most beautiful, majestic creature and she is living her best life." Amazing how our pets need us just as much as we need them.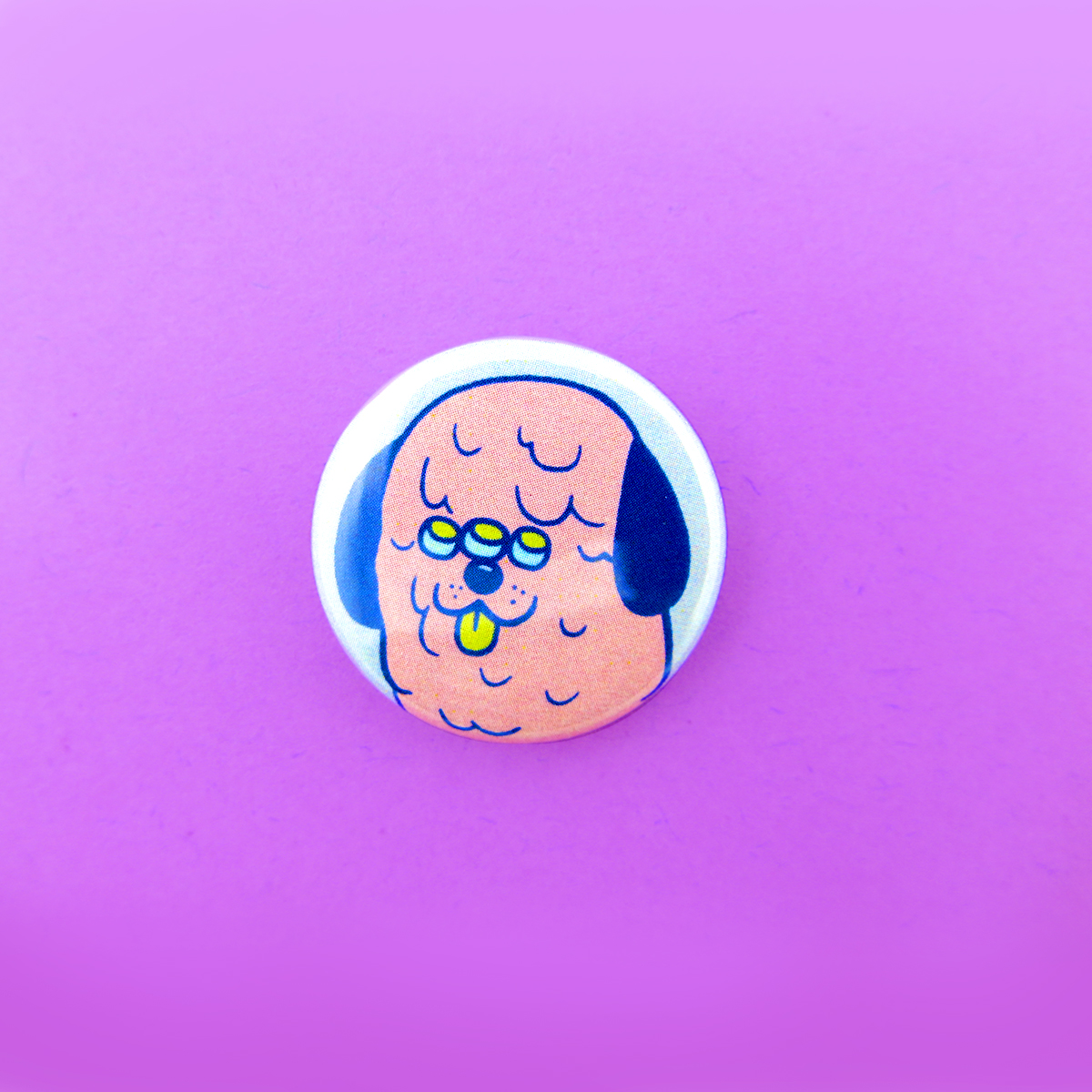 Blake's button design features a redrawing of his English Sheepdog pup, but with one addition. "he has horrible depth perception because his hair grows so fast over his eyes so I wanted to give him a 3rd eye to help with his not knocking his head into tables everyday." A thoughtful and sweet addition.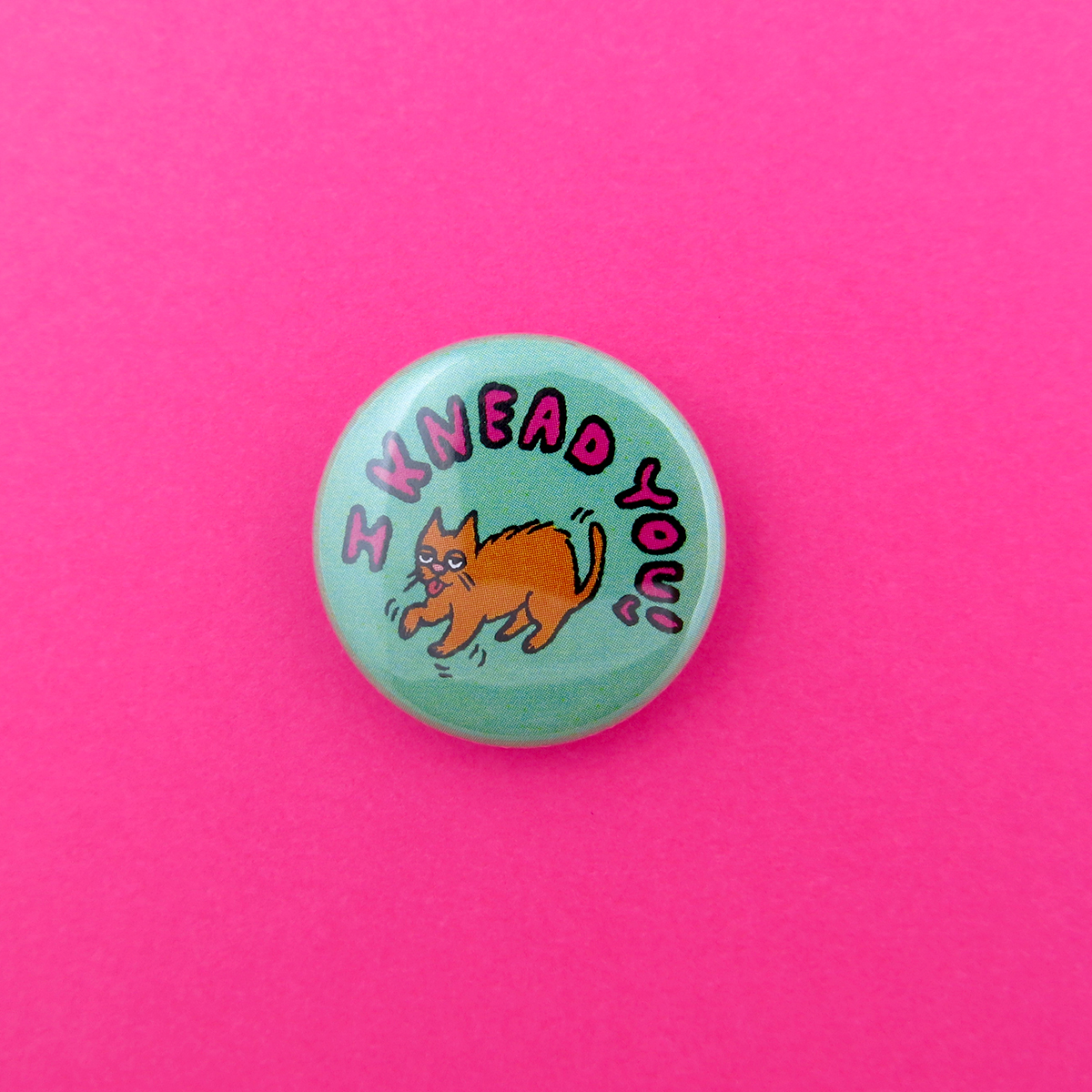 The tale (pun intended) of illustrator Jessixa Bagley's pin is one of her beloved cat Vincent who has passed on."He would always purr and knead my husband and I when he was showing his love (a friend of our said that it was called "making biscuits" )."
In addition to the 2018 Artist Series, Vincent has also been the inspiration for Jessixa's picture book, " Vincent Comes Home" which is about a cat that travels the world on a cargo ship and doesn't know what home is.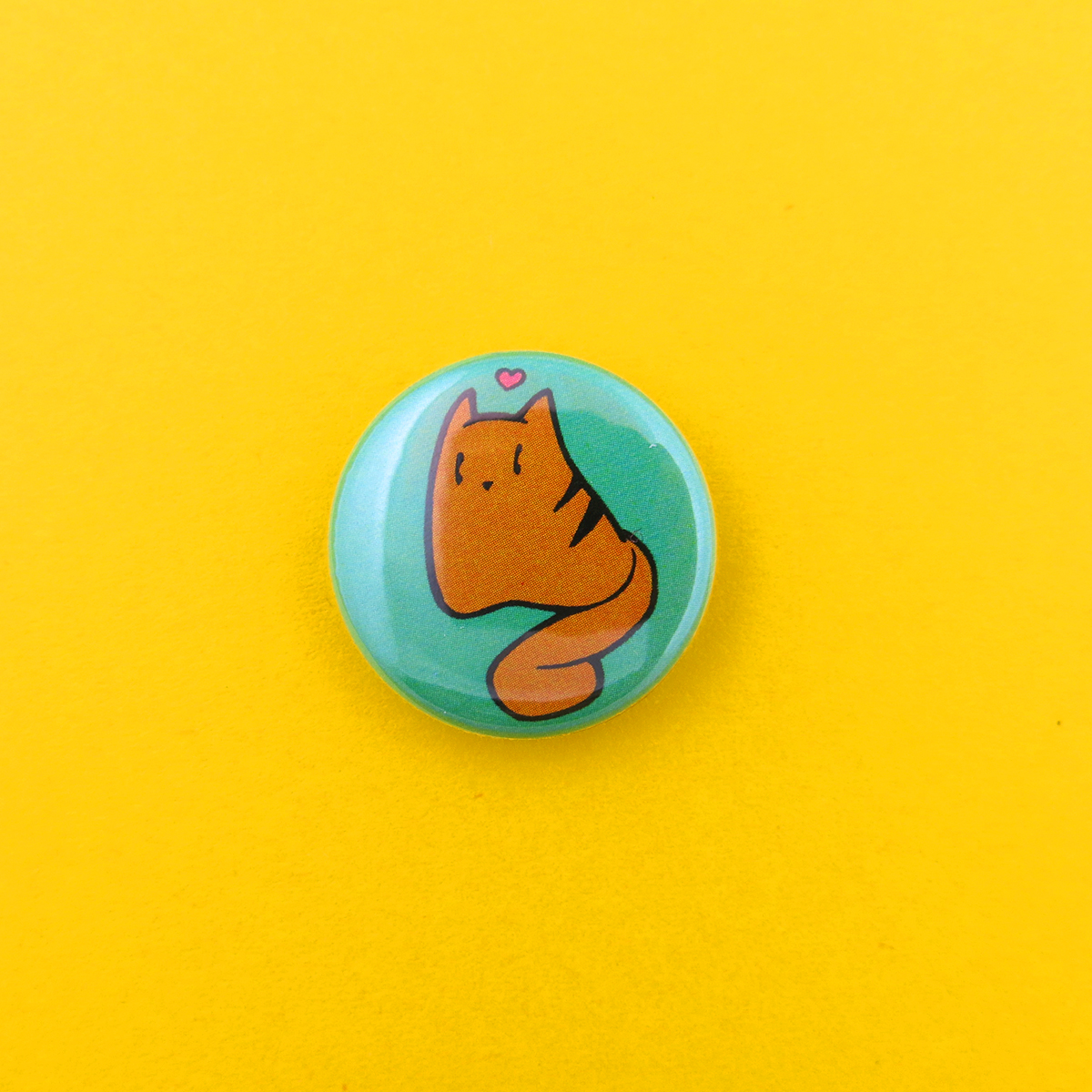 Liz Elston is a cartoonist, writer, notorious doodler, and Busy Beaver's Customer Experience Specialist! For the inspiration for Liz's button design, she recognizes that the love of a pet is an incredible gift. "As a kid my family adopted two incredibly special cats from a rescuer, Tiger and Jenny, and a few years ago I adopted my cat Usagi from a shelter. When you adopt a cat they become family and that bond last forever."

——
This year's theme encourages opening your home and heart to all the animals that need a good home out there. To educate yourself further, collect all the pins in the series, or to just join in the conversation with One Tail at a Time and pet adoption, come to Busy Beaver tomorrow, Thursday November 15th at 5pm. See you there!
Read More