Pizza and Buttons. Busy Beaver has had the opportunity to bring these two seemingly unrelated things together on many of occasions; recently with Dimo's Pizza, there was a slice prominently featured on one of the Button-O-Matic Series buttons by Yollocalli Arts Reach, and there are definitely some buttons dedicated to 'za appreciation floating around. I was fortunate enough to catch up with three lovely folks that have chosen Busy Beaver to turn their pizza button designs into reality: illustrator Alex Eben Meyer, pizza-slinging California native Nick Yapor-Cox of Nick's Pizza, and Jen Strickland of Home Slice Pizza in Austin, Texas.
Alex Eben Meyer
Q: What was your inspiration for the Pizza Lightning design?
A: My wife and I had recently been to Graceland, and this started out as a take on the taking care of business Elvis logo. At one point pizza lightning was called "TCP"...taking care of pizza. Some people got it, but it was a bit subtle for some.
Q: What made you decide on buttons and how to you distribute them?
A: They are just great. I've made a number of buttons with Bust Beaver over the years and it's always great to get a bag full of bright, shiny buttons in the mail. They're great little gifts and giveaways. I never sell them, I just give them away. And people are always happy to get a button. Recently, I gave a bunch of pizza lightning buttons to a friend in exchange for delicious friend chicken sandwiches from his restaurant.
Jen Strickland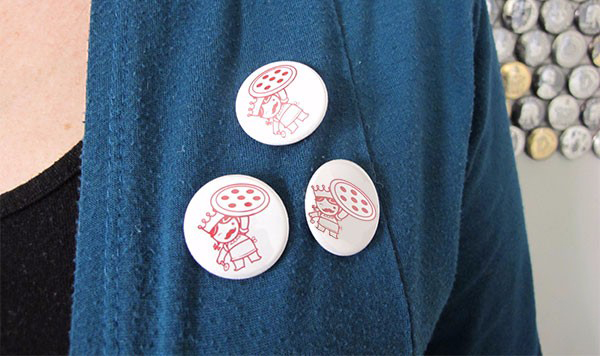 Q: Can you tell us a little about yourself and about Home Slice Pizza?
A: I was raised in upstate New York and spent many of my formative years in New York City, both places where eating really good pizza is a pastime and I became obsessed. After I moved to Texas I was bummed because I couldn't find New York style pizza anywhere, and I was inspired to try to make it at home. It was after I had a few great at-home New York style pies under my belt that I began my journey to opening my own place, Home Slice Pizza. Now open TEN years this month, our mission remains: The mission of Home Slice Pizza is to create an Austin institution based on the original, unfailing goodness of authentic NY-style pizza. No compromise.
Q: What made you think buttons?
A: Buttons are so cool. I grew up in the 80s where tiny buttons of your favorite bands were all the rage and had them all over everything!
Q: How do you distribute the buttons?
A: We give them out with donations and as marketing swag. I love the idea of a gumball machine full of buttons but we haven't done that yet. Maybe for our next location which is in the works!
Q: What was your inspiration for the design?
A: Plain and simple-- it's our logo (that's me.)
Nick Yapor-Cox

Photo from Nick's Pizza Instagram
Q: Can you tell us a bit about yourself and the ethos of your business?
A: I'm a queer, Easy Bay punk-raised chef and baker. I opened up Nick's Pizza in North Oakland, where I was born and raised. Nick's Pizza is dedicated to being a local neighborhood restaurant. We host community meals, where we encourage neighbors in this gentrifying part of Oakland to come together, create community and eat free pizza! I encourage my staff to think about our role in this changing neighborhood and to keep it at the front of their minds that our shop is for everyone in the neighborhood.
We call our pizza "Oakland-style", which is as much about the above philosophy of accessibility as it is about the fact that our pies are made with an organic sourdough crust and awesome fresh local ingredients.
Q: What was the inspiration for the button designs?
A: I love my staff— the "Made In Oakland" design is from a larger collage that one of my old bakers, Davide, made for the shop. The pepperoni pizza button was the one that I've been wanting to make for the longest, but it's hard to snap a good pic of a perfect pepperoni pie before a slice of it gets snagged!
Q: What made you decide on buttons?
A: I've been wanting to make them for the shop for years! Who doesn't want a pepperoni pizza button, c'mon.
C'mon is right— pizza buttons are the best! Thank you Nick, Jen, and Alex for sharing your time and thoughts with us. Even buttons with pizza on them have a story; whether they started as a joke and turn into an awesome piece of design, tie us to our roots and home state, or are used to reflect the values of our businesses and neighborhoods. Pizza and buttons have proven to be a powerful combination!
Read More