If you've ever been to the National Stationery Show in New York (or any exhibition or trade show) you'll know that getting your brand noticed in a field of colorful and unique products is a difficult feat. Especially at the NSS, which houses over 800 exhibitors from the paper goods industry to show off their new and fresh lines of stationery products, greeting cards, party goods, gift wrap, and so much more.
Having a booth at this show (even if it's your first time) means that you could be showcasing your work next to the most popular brands in the industry. We reached out to our button friends and stationery lovers to hear how they incorporate buttons, magnets, and mirrors into their brand to cut through the crowd at these big events.
Smarty Pants Paper Co.
Bright colors and a vintage style, Kate of Smarty Pants Paper Co. has created a line of hand-printed greeting cards, pins, prints, coasters, and so much more. This year at the NSS (this will be her fifth year exhibiting) Kate will be releasing a entire new line of ice cream and piñata themed products including mirrors and magnets.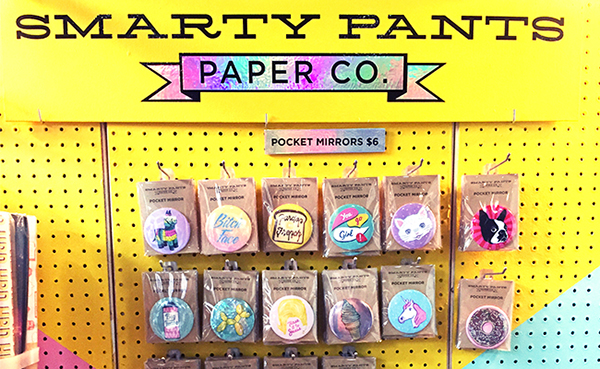 Smarty Pants Paper Co.'s mirrors have been a huge hit at shows in the past. Kate's brand features a lot of retro-inspired designs, which she says is complimented perfectly by having mirrors in her product line. "I always had a pocket mirror and I loved them" Kate says, "I try to incorporate things I was obsessed with when I was younger in a way that is relevant today."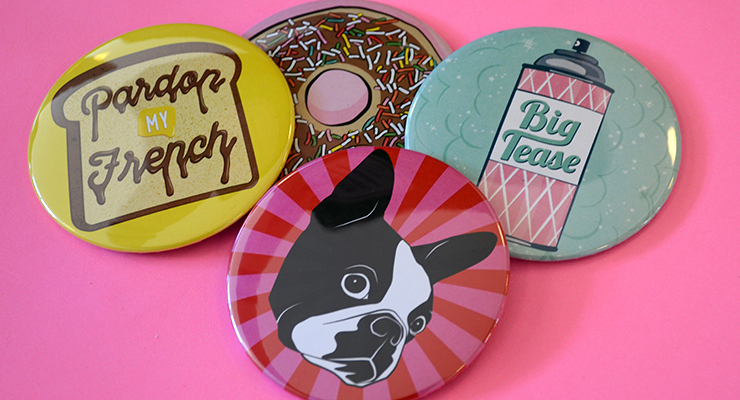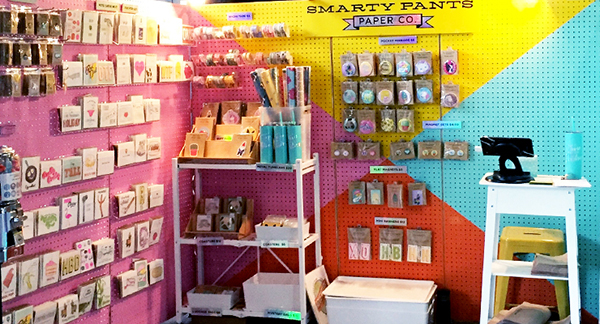 Rifle Paper Company
You may already be familiar with Rifle Paper Company from our blog post, but every year Rifle releases new products at the NSS to get excited about. Last year at the show Rifle debuted their classic floral designs on pencils, bags, and even fabric, and we're eagerly awaiting what will be shown off on this, their eighth year at the convention.
Rifle Paper Company's customers and retail partners love their button pins. Since they're not a part of the product line, the custom made buttons that are created for each event are individual and collectible.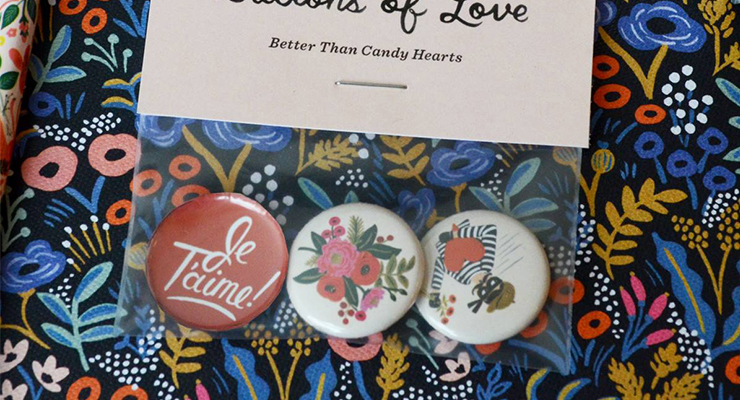 "They [buttons] are a great way for us to give people something special and unique to the event" says Helena Salles, Marketing Manager, Rifle Paper Company.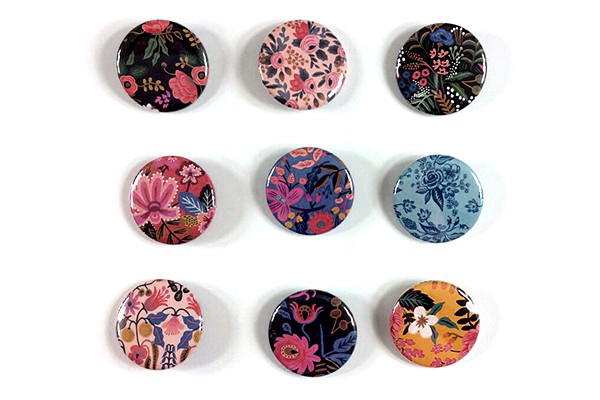 Bash Party Goods
Angela Wator really knows how to make every day a party, even at the National Stationery Show with her line of custom party goods, tableware, buttons, pins, and decor called Bash Party Goods. Bash's first year at the NSS also rewarded her brand with the Best New Product Award. This will be Bash's second year exhibiting which also correlates with their two-year anniversary as well. Bash is setting to release a new line of 70's inspired tableware, party supplies, and gift wrap called Peachy Vibes which uses a mix of retro colors and sparkle holographic foil.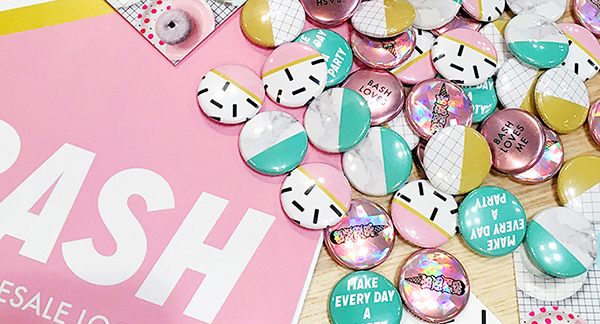 Bash's goods are very pattern and print heavy which are reflected into their button designs. Last year, buttons were made with a variety of Angela's favorite prints and were given away at the show. Since Bash's pin backs are sold in packs, the free buttons were a great way to draw attention to the packaged ones.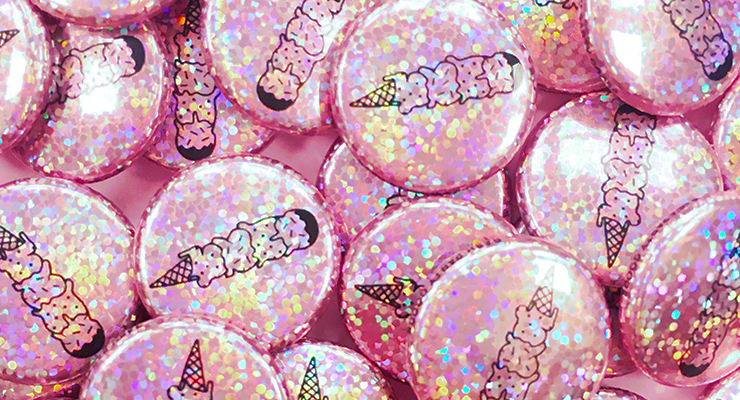 Summit Studios
It's the first year Summit Studios, a stationery brand specializing in organizers, journals, and creative success, are exhibiting at the NSS and they're opening the show up with a bang! Summit Studios has designed these buttons as a fun way to show their special artwork and raise brand awareness. The staff at the booth will also be wearing the pins to be sure to grab the attention of everyone walking by.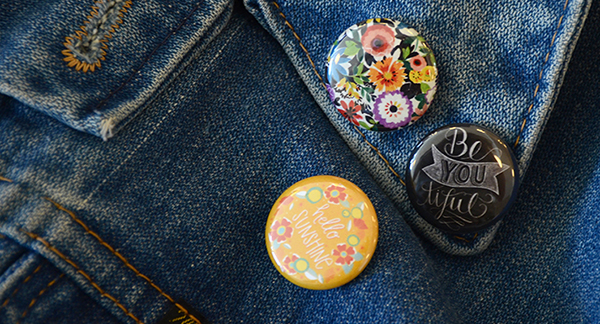 Anne and Kate
Anne and Kate, two best friends who share a passion for screen-printed stationery and bold designs, founded anne and kate in 2015 and just a year later were showing their work at their first National Stationery Show. This year at NSS we can expect to see new products like gift wrap, gift tags and pocket mirrors along with many new greeting card styles.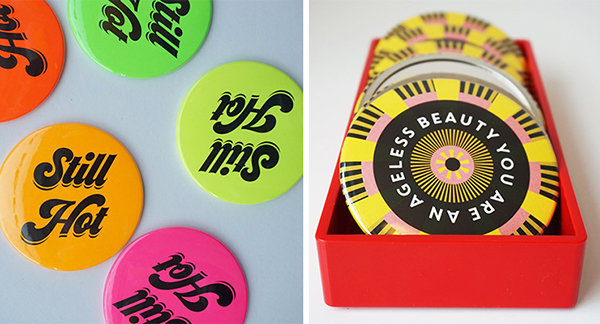 Their pocket mirrors "all have messages of positivity which are in line with the colorful correspondence we're known for" says Kate Jensen. "The sentiments are always upbeat and supportive. These mirrors are a fun reminder to yourself that you're a still hot ageless beauty who looks out of this world."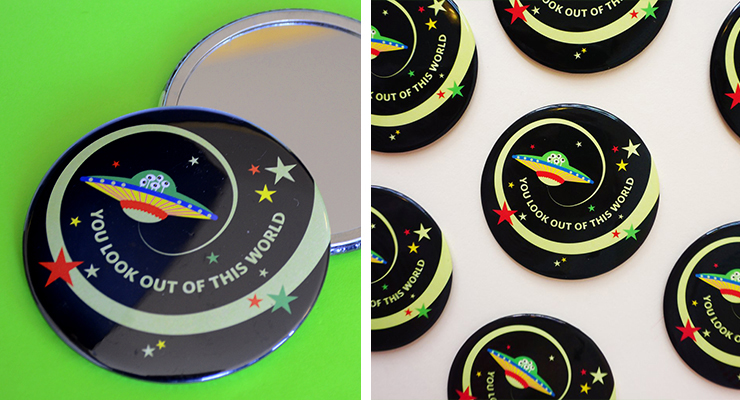 —
Take inspiration from these fine brands and make your own buttons, magnets, and mirrors retail-ready for your next show. Check out our packaging options and remember that the sky is the limit—if you can design it, we'll make it!
Read More