There's no denying the fandom around old horror movies and why we love to indulge in them this time of year. These movies are works of art to a lot of movie buffs, toy collectors, and just spooky memorabilia fans in general. The stylization of these horror movies make them unforgettable and perfect for commemorating on a button.
Take a peek at our creepy collection, if you dare!
Never Watch Night Gallery Alone! - Night Gallery
A horror anthology series that aired on NBC from 1969 to 1973, Night Gallery, hosted by Rod Serling (The Twilight Zone's very same!) this button warns you to never watch it alone. The show was a look through the unusual, the strange, and chilling paintings accompanied by a scary tale. Many of the stories were Serling originals, with some being adaptations by some horror authors such as H.P. Lovecraft.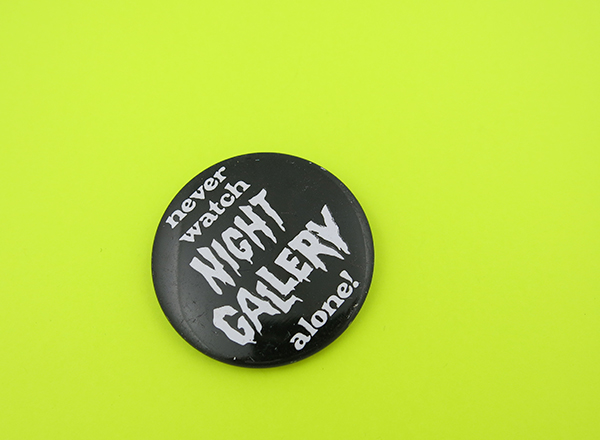 Don't Dream It Be It - The Rocky HorrorPicture Show
Debatably not what you may think of when you think of "best scary movies", it could be argued that Tim Curry's performance is scary good in this 1975 movie musical. The pin reads "Don't Dream It, Be It" calling back to the melody sung at the end of the show. Before the movie, The Rocky Horror Show was a stage show written and created by Richard O'Brien and was a tribute to his love for sci-fi and horror B movies. The play began gaining cult status, in part due to its iconic midnight showings and audience participation.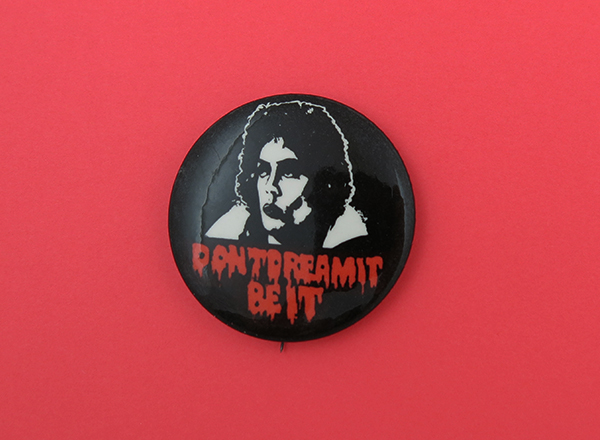 It's All Here - Gremlins
Hopefully you know by now that the three rules to keeping a Gremlin is that you should never expose it to bright light or the sun, never get it wet, and NEVER feed a Gremlin after midnight. Break these rules and you'll soon be looking at the other side of this lenticular button!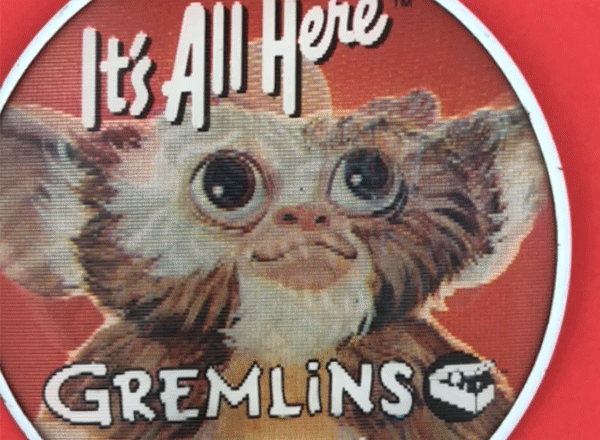 This button as part of the horror film's 1984 release, the fast food chain Hardees teamed up with Disney's Buena Vista Records to release Gremlins Storybooks and Record Sets. Five in total, they were available for 89¢-99¢ with the purchase of a sandwich, fries, and a drink. Each book featured 16 pages including original artwork that coincided with the 10 minute album telling the story of the Gizmo and the other Gremlins.
Pray for Rosemary's Baby - Rosemary's Baby
This pleading pin comes from the film and book of the same name—the 1968 horror classic, Rosemary's Baby. After Mia Farrow's character becomes mysteriously pregnant in the movie, it is soon realized that their suspicious, evil cult member neighbors have cursed her with the burden of carrying the child of the son of satan. Promotional posters and other advertisements for the movie all featured this lingering and ominous request, to "Pray for Rosemary's baby."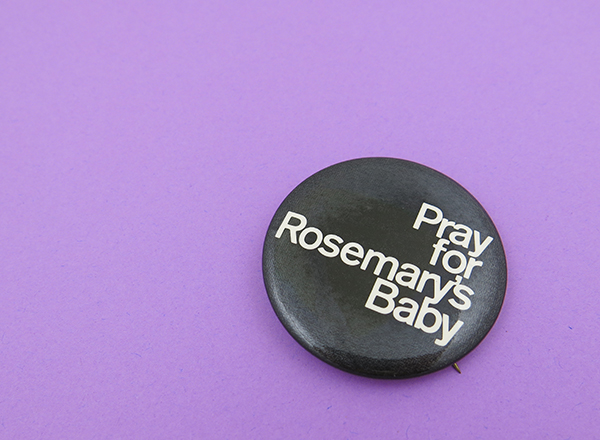 Now that we're all in the mood for the bogeyman, black cats, banshees, and buttons, take a look at these easy glow in the dark tips that will help you make your own pins for this spooky Halloween season.
Read More