A dark bar, late-night music festival, breaking creative ruts, Light the Night Walk fundraiser, midnight madness sale, or perfecting your portfolio—there are a million opportunities to make an impact with glow in the dark buttons. And since making a button is all about getting your message seen, what could be better than a design that does double duty: visibility for day and night?!
If you're considering glow for your next project, we've got you covered with our top tips for making the most of glow in the dark buttons, magnets, mirrors, bottle openers. Read on for all you need to know to glow!
Ready to make your own glow in the dark buttons? Order Now
1. Think White
The biggest thing to keep in mind when creating Glow in the Dark Buttons & Pins is that it's the white areas of the design that will glow. We print your design on a clear sheet, just like our metallic finish. So if your design is overall pretty dark or doesn't include any white at all, glow is probably not the right finish for you.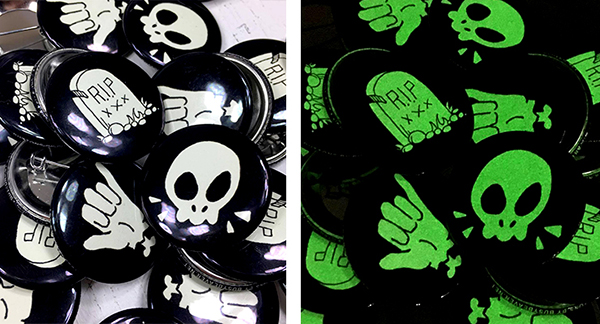 Also consider what it is that you want to have glowing. For a glow background, have a fill color that's white. For glowing text or other details—make sure that those are the white areas of the design.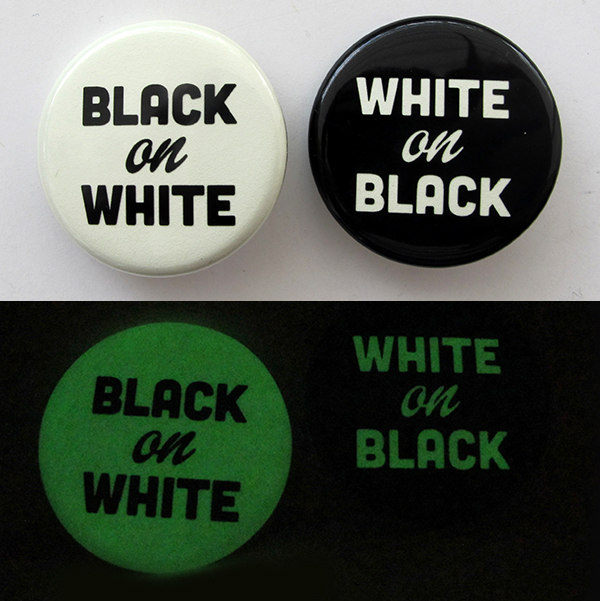 This photo above illustrates glowing background vs. glowing text both in daylight and in the dark.
2. The Bolder the Better
Remember that a design that's glowing will be seen in the dark and, just like anything else you look at at night, details will be harder to pick out. Fine lines, small or thin text or other detail areas won't show up very well, so go bold with your glow in the dark artwork for maximum visibility. Graphic black and white images are the most legible in the dark.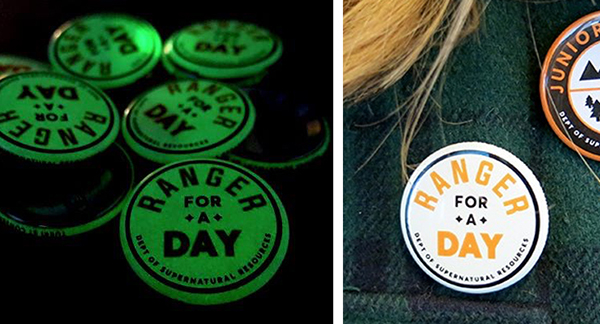 For more detailed designs, considering going with a larger button. It'll insure that the finer detail isn't lost, and bigger glow buttons make more impact as well, as with the jumbo 3" skull design below from Haunt Love.
3. Consider Color
If white areas are the glowing portions of a glow in the dark button, very light colors will also show off the glow effect a bit, too. In the photo below, you can see that the white text is what glows the most in the dark, but the button with a yellow and tan background also glow slightly.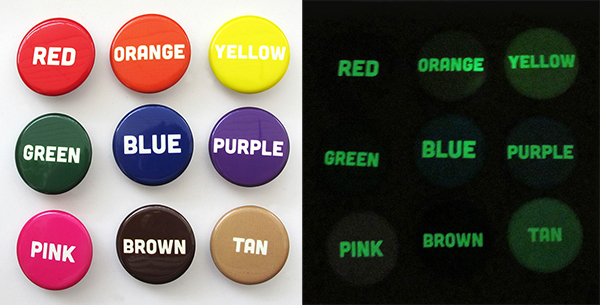 So in a nutshell: Make sure your glow design is graphic, bold and has lots of white or very light colored areas for best results.
| | |
| --- | --- |
| | I Want Glow in the Dark Buttons |
Read More