You've done the work to design a button or create a button. And the custom pins have arrived and you're ready to use them to spread the word about your band, your crafts, or brand. But you have one more issue to tackle: How do I display these buttons?
It's one thing to take an interesting photo of your button to post to Instagram or to sell online, but when you're bringing your pins to the people at events like conventions, concerts, festivals, or craft fairs, you're going to want to make or find a button display case. Having a display that properly shows your buttons can mean the difference between selling just a handful, or selling completely out.
Here are some of our favorite ideas for displaying your buttons for sale—
1. Container
A bin, bowl, jar, etc. is usually the go-to way to display buttons. People love to dig through a big pile of buttons or magnets to see what treasures may be hiding underneath. The trick is to find a jar or bin with a lid, that way the container doubles as storage after you've packed up.
When selecting a bin to display your buttons, make sure the opening is large enough for people to reach into and is clear or has enough open space that people can spot your buttons from a distance.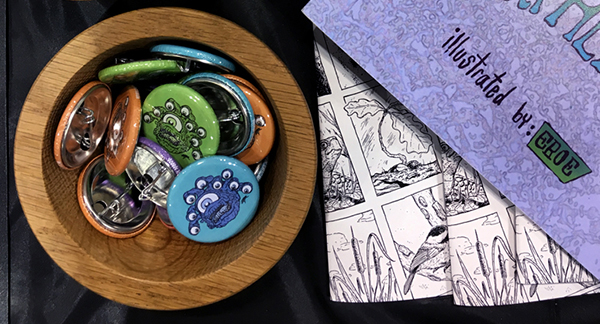 These wooden bowls are compact and easy to travel with for artist Eric Roesner.
2. Trays
A regular old serving tray makes an excellent button display piece, especially if you've got lots of designs you want customers to be able to see. Trays are available in a whole range of styles at Big Box stores, and are plentiful at thrift stores, too, if you want something with a little more character.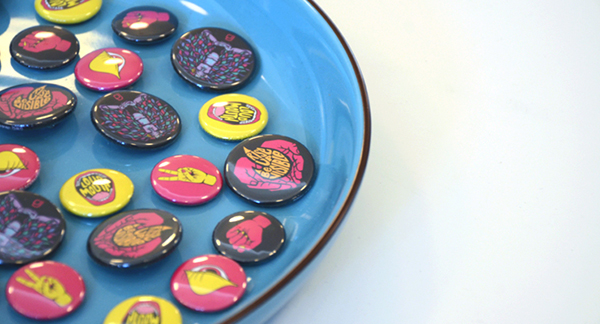 Don't be afraid to think outside the box (or tray, as the case many be) by considering products like desk and drawer organizers for a more compact display, or a vintage letterpress tray for something really unique.
3. Pedestal Stand
These pedestal stands are typically made for desserts to be used as a colorful and inviting way to display treats. Luckily they work the same way for buttons, just be sure not to eat them! Two-tiered dessert stands can add height to your display and catch people's eye, while simpler cake stand pedestals give you a nice elevated surface to display your button offerings. Check out how we used a cake stand to display examples of wedding buttons at Indie Wed.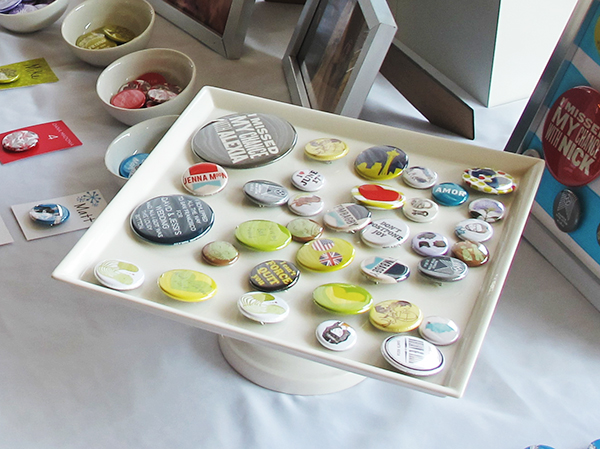 Ceramic cake stand button display used at a Busy Beaver event.
4. Cork Board
Your personal button collection display might be on a cork board at home, so why not use the same idea at your events?
You can display buttons by pressing the pinbacks into the cork of the board and label the buttons by price or name. A button display board is a great way to get your display up off the table when space is at a premium.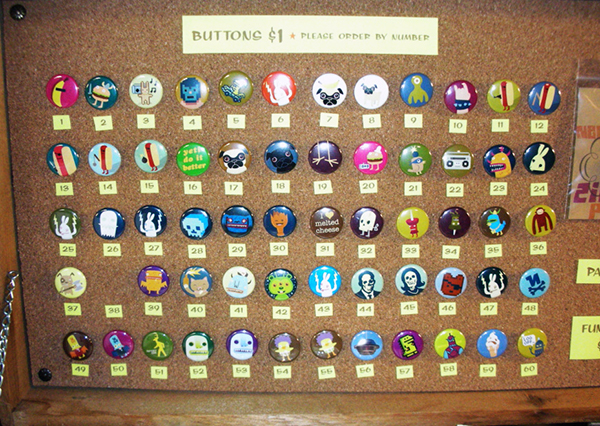 Cork board button arrangement from Nerfect uses numbers to identify individual button designs
While learning how to put buttons on a corkboard is beneficial, what if you don't have a cork board? Sheets of cork are easy to come by at craft and home improvement stores and can be adhered to pretty much any surface for instant pin-ability.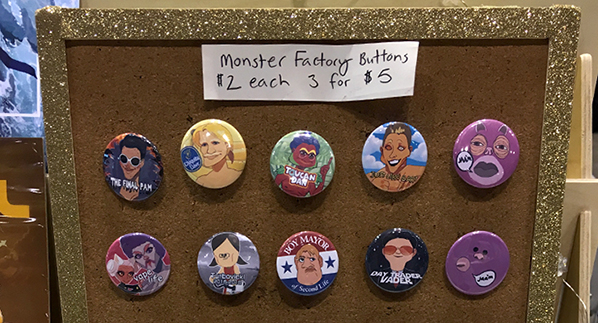 6. DIY Frame Display
While a pre-made cork board or a cute container is a convenient option for displaying your pins, sometimes creating a DIY table pin collection display is exactly what you need to showcase all the types of buttons you have to offer. Take a look at these innovative ideas to help inspire you to make your own frame display.
This DIY button display from Rookie magazine was designed to show off your personal collection, but the frame & fabric idea could easily be updated for a retail display. Since you select the frame and fabric choices, this display can be customized to fit your brand.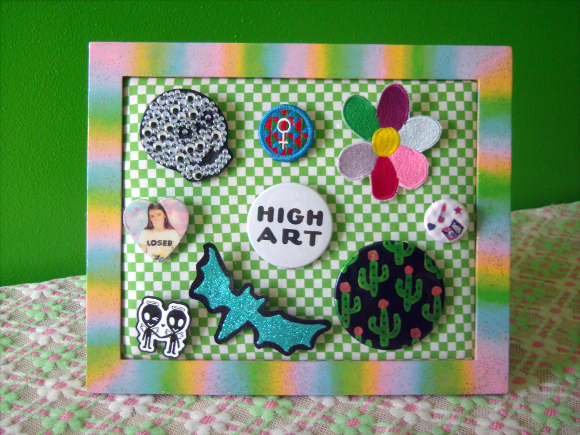 Artist Jackie Croft adds a little variety to her frame by crafting these triangle displays. She used a colored form-core that is able to be punctured by the pins of the buttons so that they can be displayed in any formation. Jackie also integrated another product she sells, by having one of her hand-made plush toys hold the button display.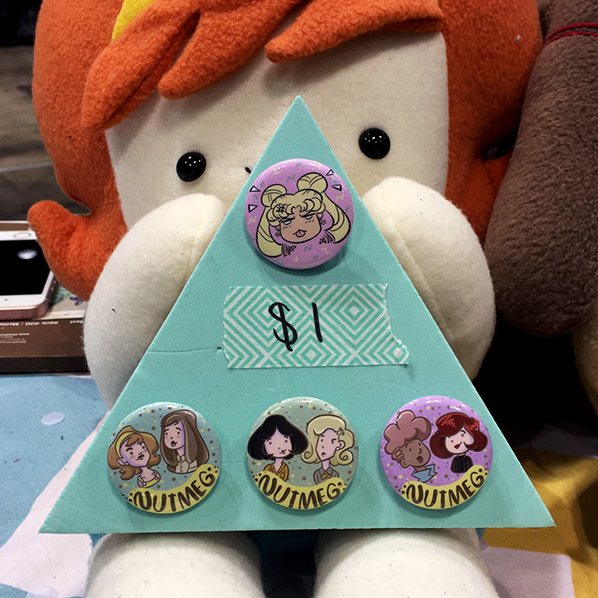 ---
Share with us on social media your creative ways to display buttons! We're always looking for more button display ideas!
Read More