Giving stuff away isn't difficult. Who doesn't like something for free, right? Buttons make great freebies to give away, but handing out swag can be a strategic move when you're promoting yourself or a project. And getting the free stuff into the hands of the right people takes a bit of planning.
But don't worry, we've got you covered! Behold, Busy Beaver's Guide to Giving Buttons Away.
1. Give Buttons Away at Events
Events are the a great opportunity to meet new people and spread the word about your project. Festivals, trade shows, concerts, grand openings and parties are prime opportunities for shaking hands and handing out buttons. Bonus points if you incorporate the button into an aspect of the event, like the designs below that Poetry Foundation used for crowd control at a book signing.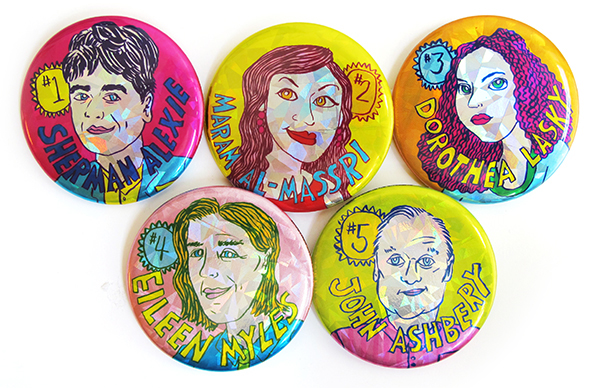 Candy-colored cosmic buttons for Poetry Foundation were used at a Lemony Snicket book signing.
2. Give Buttons Away to Customers
If your customers like you enough to spend money on what you're selling, it's always a nice gesture to reward them with a little something free. Buttons are easy to slip into packages when customers order online, restaurants can put a bowl of buttons at the hostess station, and shops can have a bowl of free buttons next to the register. Consider rewarding your best customers with a custom button gift, like designer Kristin Miaso did with a year-end holiday card and button pack.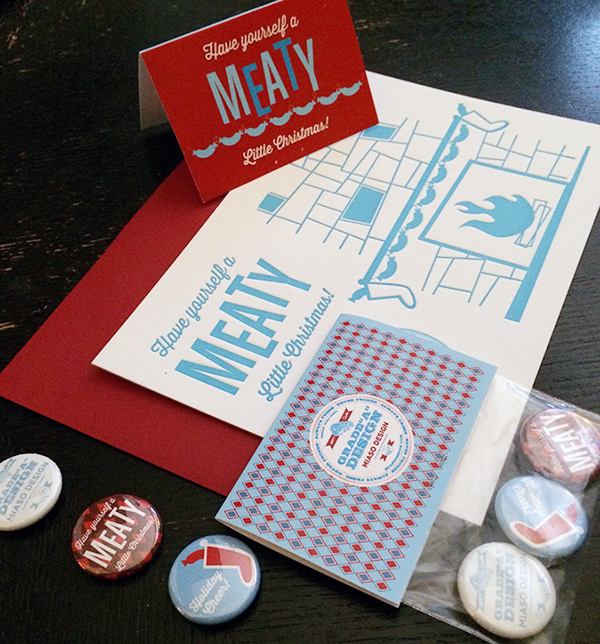 Designer Kristin Miaso's button packs played off of the meaning of her last name: "meat" in Polish.
3. Give Buttons Away at Hot Spots
If you don't have a brick and mortar location-- or maybe you do, but you want to spread the word a bit wider-- strategically placing buttons at other public locations can be a great guerrilla marketing tactic. Think neighborhood coffee shop, bulletin board at the gym, the shelf at the library-- any place people gather can be an opportunity to get your name out there with a free button. Be strategic about where you leave a button (otherwise it's called littering!) but a well-placed little surprise could find it's way into the hands of exactly who you're trying to reach.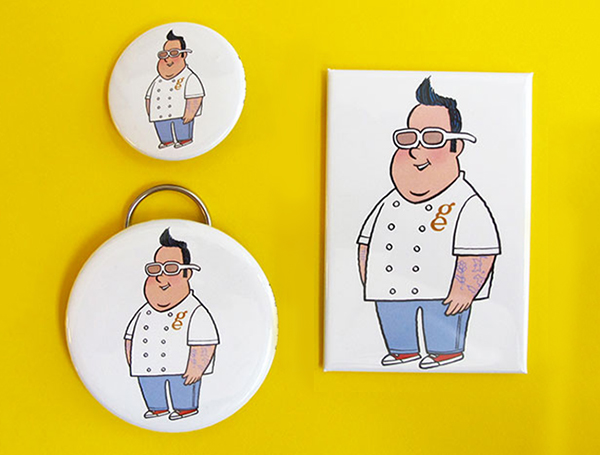 Graham Elliot used buttons, magnets and bottle openers as giveaways at Lollapalooza 2013.
4. Give Buttons Away to Tastemakers (and Friends!)
Ideal customers are the ones who like your product/event/project and want to tell the world about how great you are. First, consider tastemakers, the ones who other people listen to. Impress a tastemaker and they'll spread the word to everyone they know. But don't forget that other source for free publicity-- your loved ones. Giving buttons to people who will talk about you is a great way to get them on your side, and heck, give them their own little supply of buttons and they'll handle the PR for you! Before you know it, the whole world will be banging down your door.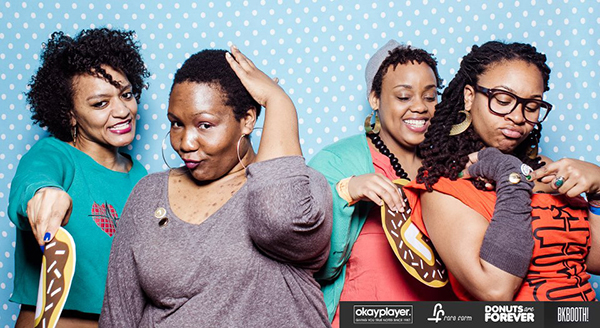 The annual Donuts are Forever fundraiser uses an enticing design to insure that visitors will sport the button all year round.

Got a great tip for giving away buttons? Send it our way at orders@busybeaver.net and we may share it in a future blog post!
Read More