Birthdays only happen once a year, but with custom birthday buttons you can keep the celebration going. Use our step-by-step guide to create your very own happy birthday button for friends, family members, or loved ones. Learning how to make a birthday pin is easy!
1. Use Their "Best" Photo
The key to a memorable birthday button is finding the best photo. And thanks to social media and smartphones, that should be pretty easy! Just check out the birthday buddy's Instagram and Facebook page.
Feel free to interpret "best photo" anyway you please: a cute baby picture, a photo from their awkward teenage years, or even that shot from Spring Break '04. It's all in good fun to show how much they've grown!
Take your custom pin game to the next level by making it a yearly tradition. Not only will these buttons become a friendly, familiar presence at birthday gatherings but they will become instant keepsake and treasured collectible. Plus, those customized birthday buttons will be a record of past poor fashion and hairstyle choices.
Once you have the photo picked out, check out our tips on how to use cell phone photos to make your own buttons .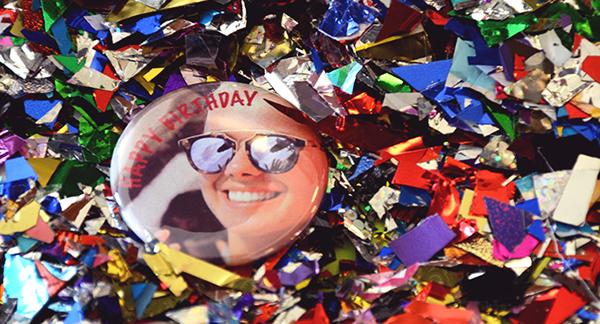 2. Inside Jokes
Personalize your happy birthday pins with an inside joke that only those close to the birthday fun will understand. Every time the birthday boy or girl sees that button they'll be reminded of that silly moment or embarrassing family catch-phrase.
If you're not able to design the perfect one-liner on the button, we'll take care of it! Our in-house designers will perfect your punny pin without asking you about the meaning behind it. No one but you and your friend need to know what "Pickle Princess" means.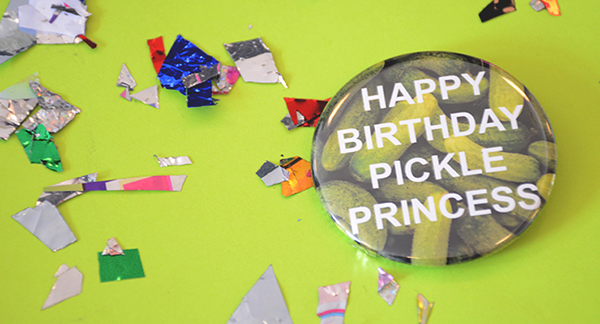 3. Special Finishes Make 'Em Feel Special
Having a themed birthday party? We got you covered! Everybody loves party favors and buttons are a fast addition that can amplify the vibe of any soirée. Our buttons are customizable so they can fit into your theme whether is 90's Throwback, Beach Party, or Tye Dye.
To add that extra flare to the party you're throwing, check out our selection of special finish options. Special finishes will give your design a little extra pop to stand out from the crowd, and choosing the best one suited for the birthday boy or girl can be the most fun part!
Here's an idea, use Glow in the Dark buttons for when you'd want everyone to see your buddy's 21st birthday pin in a dark bar!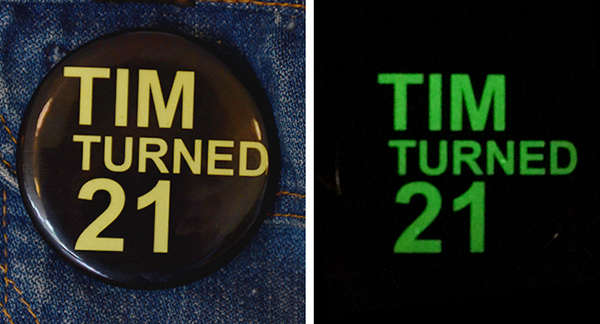 4. Big Birthday Pins!
Birthdays are the perfect time to make big and expressive buttons! Our six inch round buttons offer you plenty of space to paste your the birthday person's face, add that best inside joke, and offer plenty of room to show off those special finishes.
A bonus feature on our 6 inch button: along with the standard pin, the backing also includes a cardboard stand for displaying on a desk or mantel! Be sure to check out our button size guide to find the perfect fit for you.
Standard orders for 6 inch round buttons start at 50 buttons, so you can get a big button for everyone! Or, if you're looking for a special gift just for the birthday guy or gal, you can contact us to ask about our sample rates.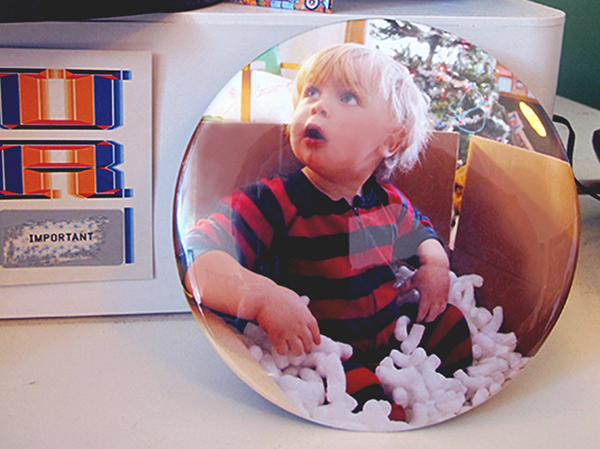 5. Who's Birthday is it?
Whether it's your birthday or your friend's birthday, they deserve an its my birthday pin to make the day extra special. Going out on the town? Everyone will know exactly who to cheers while the person-of-the-day is wearing their its my birthday button.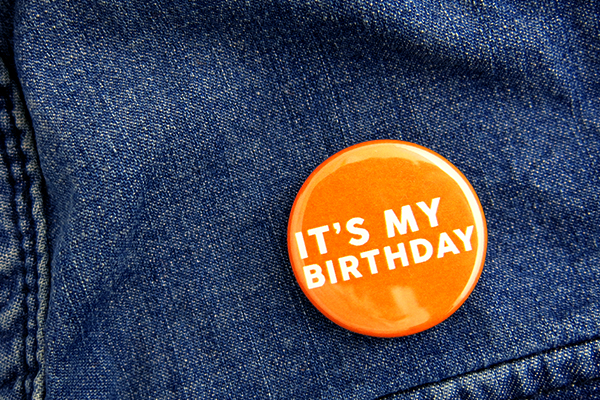 Bonus: Free Birthday Button Templates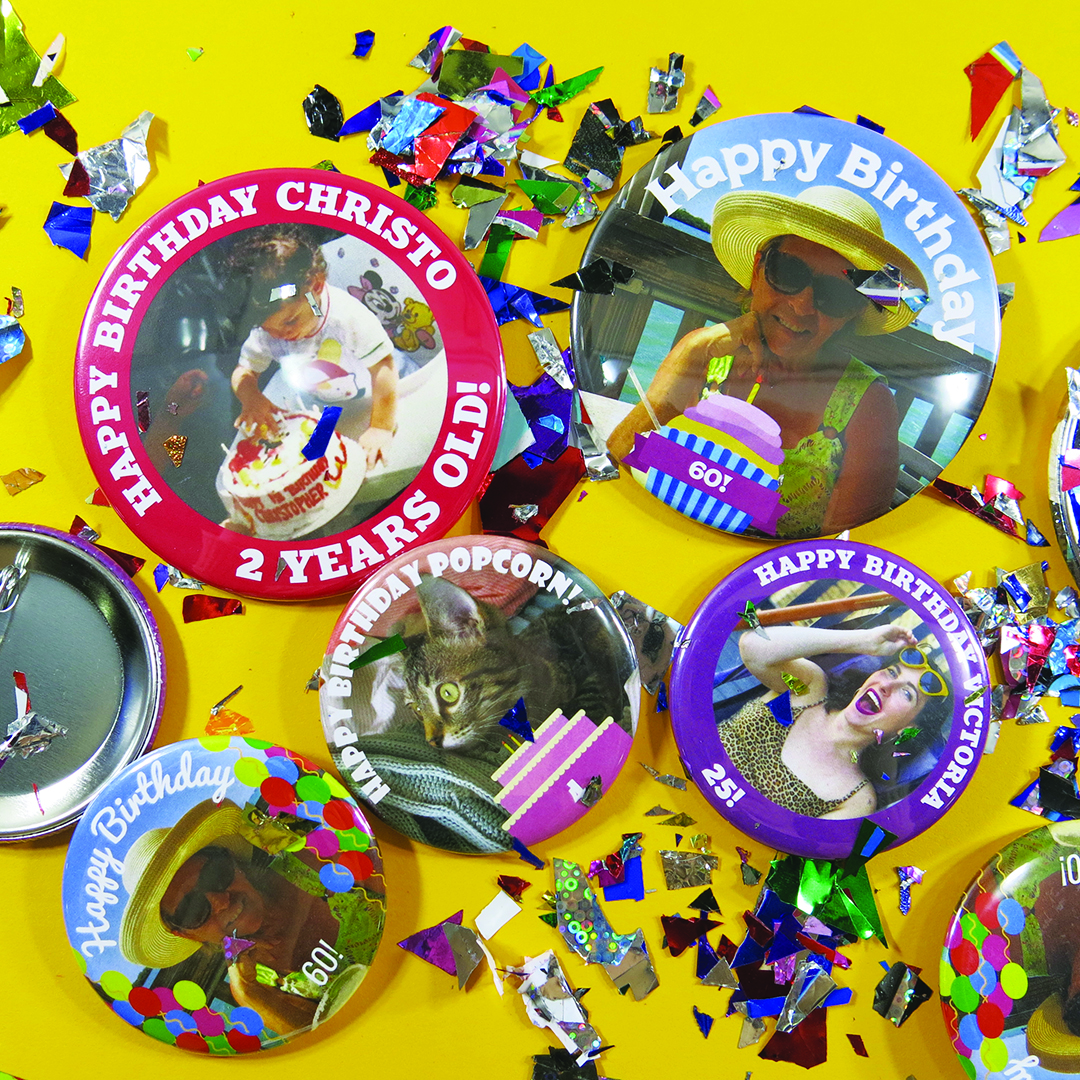 Putting together your own design just got even easier! Use one of the four pre-made birthday button templates that are now available for download. Download by clicking on the images below, drop in the best photo you have, fill in the text, hit save and, voilà, your birthday pin design is prepped and ready for you to order. Don't have access to design software like Adobe Photoshop or Illustrator? Not to worry.You can always reach out to us with your selection and photo. We'll take it from there!
—
Have an idea in mind for an upcoming birthday bash? We're happy to help get the party started with a quote.
Read More