In light of the #MeToo movement, more conversations are being had about appropriate conduct. It can be a difficult to address the topic of sexual assault and harassment, but as OurMusicMyBody recognizes, it's a conversation that needs to be had.
We spoke with Matt Walsh, one of OurMusicMyBody's organizers, as he explained that "no one was having these conversations about harassment at the music venues and festivals."

Starting in 2016, OMMB has been working to raise awareness of sexual harassment in the music scene born from the organizations Between Friends and Resilience. Equipped with knowledge and buttons as a way to spread awareness, OMMB has been making waves of change in the music scene across Chicago.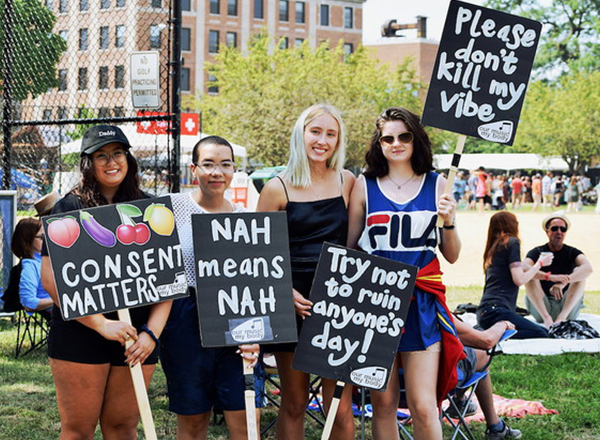 1. Tell me about some of the first venues you all approached/worked with, to now working with large-scale events like Lollapalooza?
As music fans we started by reaching out to our friends Dave & John at Beat Kitchen & Subterranean who were immediately on board. Through that recognition, Riot Fest also was an early adapter to this mission.
After that it felt really organic, we started having media interviews and talking with other industry folks who continued to push out our message. Lollapalooza invited us two years ago to be a part of their Lolla Cares activation as a community partner where we could continue to spread our message.

2. Have you noticed a change in concert etiquette since launching in 2016?
We have been hearing from more and more people about how this campaign has made them feel more comfortable. We believe that it has given some people the power to say something when they are at a venue or festival that we work at. We understand that harassment is not going to change overnight but we have been hearing from people that attitudes are changing for some.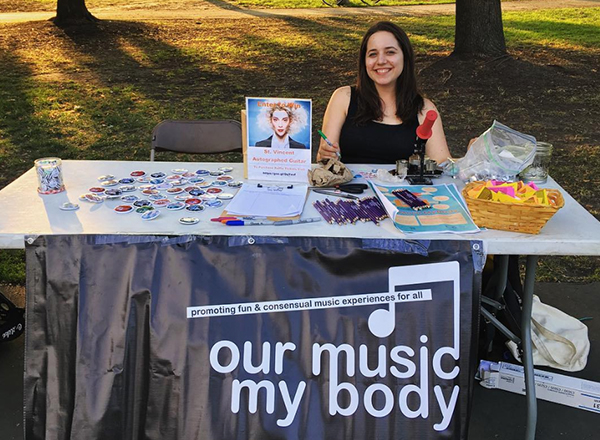 3. Where did the idea to utilize buttons at music festivals come from?
We looked for a way to keep people engaged at our tables. We had been using buttons in our previous engagement work and this felt like a strong fit. We know that these are tough conversations to have sometimes so we want to create a space that is fun and exciting first and foremost so we can then talk about our mission.

4. How do people react to the Button Board?
People love the button board. They love seeing other peoples designs and getting to come up with their own. It is the best when people come back to the board later in the day and see that their button was taken by someone. It is really validating for someone else to see your art or statement and feel that it is worthy to be worn.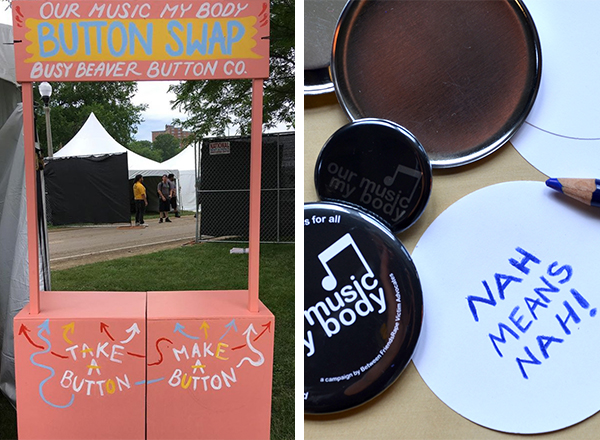 OurMusicMyBody uses a Button Board at music events to raise awareness about Sexual Harassment. To grab a button off the board, you first must create your own pin to replace the one you'll take with you. The messages remind us of solidarity and that if you need help, you can ask.

5. What kind of reach does OMMB hope to achieve in the next 5 years? 10?
We hope that sexual violence just disappears! But honestly, we want festivals and venues to take this issue seriously. We want staff to be trained and we want fans to feel safe. Everyone should be able to go to a festival and have fun.

We want consent at festivals to be a household concept that everyone understands point blank. We don't want it to be a scary subject. And finally we know that violence may still occur but we want everyone to feel empowered and safe to find resources.

Learn more about how you can get involved with the OurMusicMyBody movement.
Read More