When it comes to domestic violence, Between Friends recognizes that the initial call for help can be scary to make. The nonprofit is dedicated to breaking the cycle of domestic violence and building a community free of abuse. Colleen Norton, the Director of Programs at Between Friends, recognizes the necessity becoming involved and communicating and has spoken to us about how their events mimic this supportive environment.
Their most recent event that took place on April 29th at the Junge Gallery previewed the artwork that youth leaders had created for a week-long showcase at the Albany Park Library. Along with the artwork on the walls, there was spoken word, presentations honoring special members of the Between Friends community, and also participatory artworks, one of which Busy Beaver was lucky enough to contribute buttons for. The project was a button mural in which 5 buttons of different colors were labeled with a different program that Between Friends offers. Throughout the night individuals could donate for a button to add to the overall canvas mural while also contributing support.
Have events featuring participatory art projects also been tied in with the Between Friends organization and which projects in the past have you all featured?
Art in general is a natural fit for any event that we do with Between Friends. We utilize art and movement as tools to heal from trauma within our counseling program regularly. Our counselors utilize a program called A Window Between Worlds which gives us a lot of ideas to use art to bring a community together to express themselves, especially when verbal language is not the only or ideal way of expressing themselves.

We have the largest teen dating violence prevention program in Illinois, called REACH, and we also love using art with youth as a way to explore various topics around relationships. Our youth leaders actually thought up the idea to host an art exhibit where other youth create the works on display around the simple theme of relationships.

Finally, we love utilizing interactive & collaborative forms of art as a means of building community. We've created meaningful pieces as a whole staff, at youth events, in counseling groups and more. The projects have been everything from a going away gift for a staff person, to a zine to raise awareness, to a quilt that we have hanging in our building to inspire our clients made by other clients.

We're currently thinking up some new ideas that we can create at booths on site at music festivals this summer.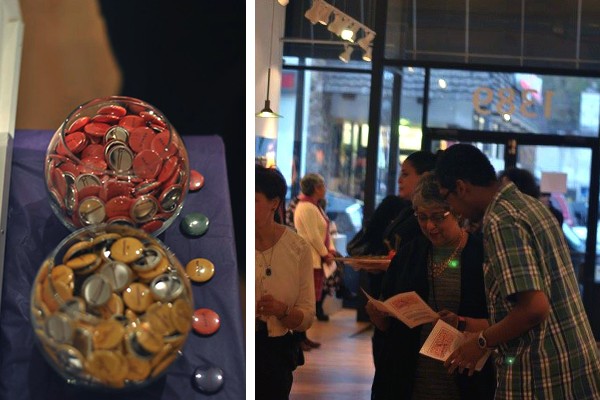 What other types of Participatory art projects will be at the Preview Night?

We'll have another interactive art piece called #MoveTheConvo where, through the art piece, we'll host an intergenerational conversation across space and time. Before the event, youth will write messages to adults about how they'd like to be supported should they ever need to talk to an adult about an unhealthy or unsafe relationship they might be in. At the event, the adults will be able to pick a message to read and take with them.

After taking a queue from the youth's piece of advice, the adult can write a message of support targeting a young person. The following week at our community reception launching the full youth art exhibit, at the Albany Park Library, youth will be able to pick a message of support from an adult and write one back.

The hope is that this process will symbolically create a space where young people are listened to and empathetically responded to in a way that is helpful. Our REACH team often feels like a conduit for these messages when they hear from youth about what they want and need from adults and then they facilitate workshops with adults (parents, teachers, social service providers, etc.) on how to identify and respond to teen dating violence, so hopefully this project will be a means for adults to practice listening and showing support.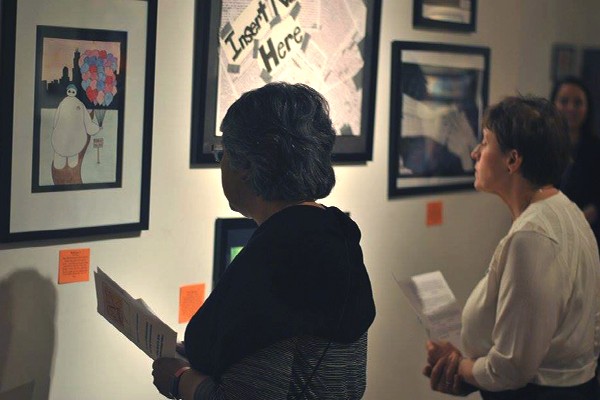 Why is it important to have attendees interact with the art pieces?
Whenever we host a workshop, we usually incorporate an element of role play, or practice. That might mean role playing what you might do if you're a bystander and see a couple fighting, or practicing how to have a conversation with your child about relationships. We know that folks are more likely to actually use those skills if they have practiced them (hence the inspiration for the #MoveTheConvo piece).

Similarly, I feel like the impact of the art piece is much greater if you have taken part of creating it. With the button piece, I think the impact will ripple for years to come as it will be seen by every person who is in our building and understands that a whole community of supporters took the time and effort to create the piece to show their support for our programming.
How did you come up with the Button mural idea? Have you used buttons as an aid for past events?
We use buttons all the time. We make Between Friends buttons to give out at events, we have buttons that we've been giving out during our 20th Anniversary Initiative for our REACH program (where we're getting community to join the to prevent domestic violence by literally moving). We sometimes even use button making as an activity with our youth programming. One time we had a group of high schoolers create buttons with healthy relationship characteristics (i.e. Trust, Friendship, etc.) on them to pass out to younger students. The middle schoolers who got them wore these gifts from the older students with pride.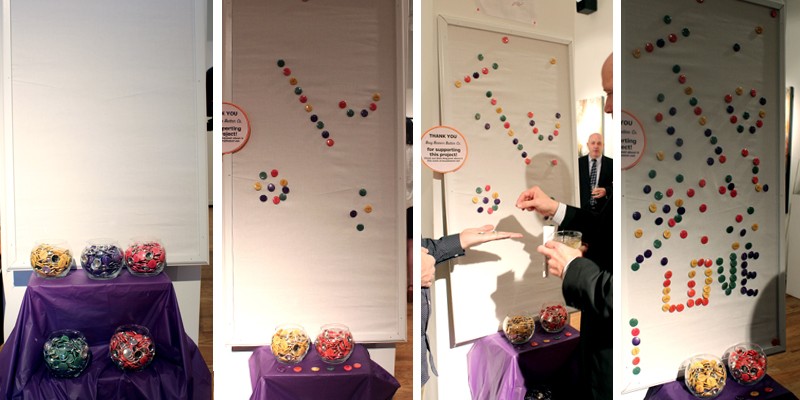 So when we were thinking about the art exhibit, I was thinking about ways that we could engage the participants to physically show their support for our programming. I thought about how much our youth seem to like buttons, and I thought about that art piece that has been hanging up at Lula for ages. So that's that! We'll sell each button for $1. There are five different colors of buttons, one representing each of our programs at Between Friends. Once a person buys a button, (or ten!) they can then stick it on the canvas wherever they choose and there it will stay.
Between Friends' foundation is communication, so it is not a surprise that their events would reflect the same openness. These participatory events allow people to observe and contribute as they'd like while also effectively spending the organization's message. The button mural activity educates participants of all the ways Between Friends can help and assist them or someone they know by labeling each button with a program while creating a memorial piece of artwork.
Read More