Great merch from a great company
Partner with a woman-owned business that manufactures your merchandise in a green facility.
Buttons are an essential merch item— they're affordable, versatile and portable— and Busy Beaver guarantees to deliver high quality and unique buttons when you need them.

One of the many things that set us apart from other manufacturers is our unique special finishes and custom packaging. We can make your merchandise glow-in-the-dark, sparkle, shine with 24k gold, and so much more.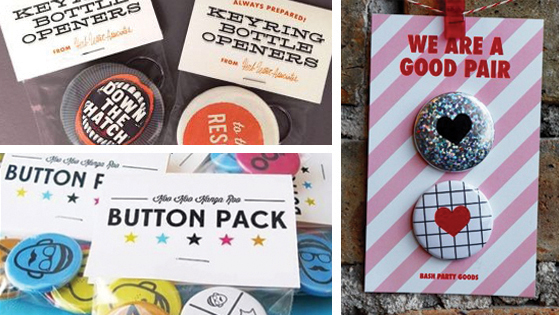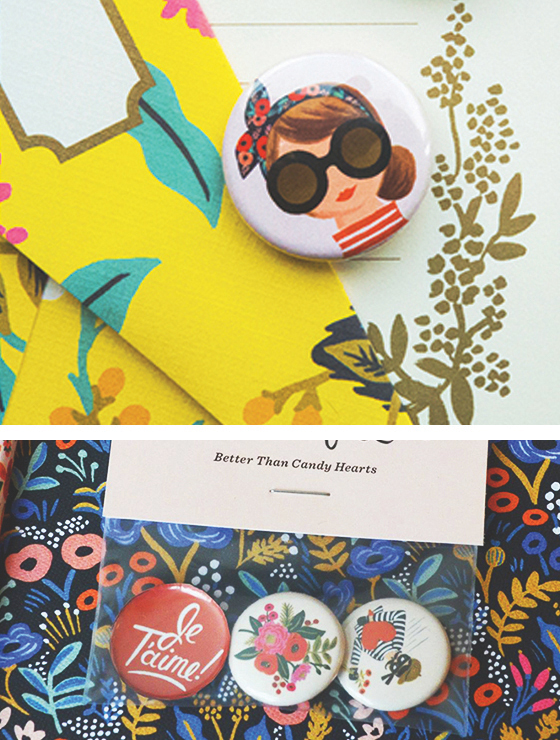 Rifle Paper Co. Buttons Up
We hear a lot about staying "on brand" these days. Creativity is important but consistency can be key to building a brand that's sustainable, recognizable, and sought after. Rifle Paper Co. gets it. Even if you don't know the name, you'd likely recognize their very specific style—colorful, folky, flowery illustrations turned wallpaper, greeting cards, phone cases, and more recently, buttons. We've been fans of Rifle's work for a long time, so we're honored to be the ones making these buttons.
Rifle Paper Co. buttons serve a dual purpose: they're wearable advertisements and elegant, salable accessories in one. Rifle knew this when they brought buttons to the NY NOW design and lifestyle convention. Many companies make trade-show buttons to promote their brand, but Rifle's buttons exemplify it. The floral-adorned designs communicate their brand better than including text or a logo could. Rifle prints a variety of button designs but they're all immediately recognizable as being cut from the same carefully curated cloth.
Learn how other retailers use buttons >