We hear a lot about staying "on brand" these days. Creativity is important but consistency can be key to building a brand that's sustainable, recognizable, and sought after. Rifle Paper Co. gets it. Even if you don't know the name, you'd likely recognize their very specific style—colorful, folky, flowery illustrations turned wallpaper, greeting cards, phone cases, and more recently, buttons. We've been fans of Rifle's work for a long time, so we're honored to be the ones making these buttons.
Rifle buttons serve a dual purpose: they're wearable advertisements and elegant, salable accessories in one. Rifle knew this when they brought buttons to the NY NOW design and lifestyle convention. Many companies make trade-show buttons to promote their brand, but Rifle's buttons exemplify it. The floral-adorned designs communicate their brand better than including text or a logo could. Rifle prints a variety of button designs but they're all immediately recognizable as being cut from the same carefully curated cloth.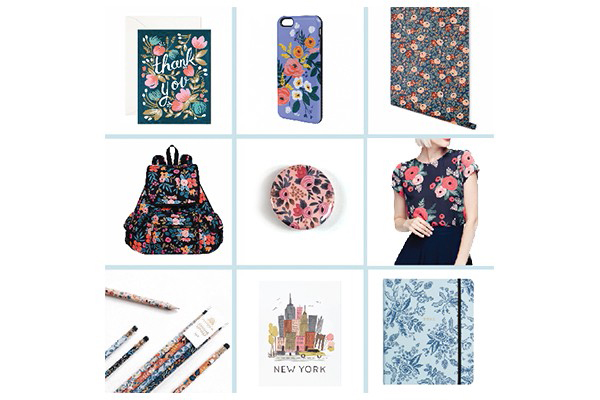 Rifle's aesthetic can be largely credited to co-founder and creative director Anna Bond. Like Busy Beaver's own humble beginnings in a college dorm, Bond started Rifle at home, from her and husband Nathan Bond's garage apartment. They've successfully grown the brand without sacrificing its signature illustrative style. They're a case study in keeping 'on brand' in the most beautiful way possible: by putting their beautiful brand on everything.
Passing out buttons is a simple and cost-effective way for Rifle to spread their visual brand through existing fans and tastemakers, leading to more brand recognition in the long run. We're excited to be involved— here's to many more collaborations with the Rifle team!
Read More