There are certain things you expect to be able to buy at an airport-- magazines, neck pillows, cheesy souvenir t-shirts. But a record player? Nivana album? T-shirt you could actually wear in public without embarrassment? These are exactly the kind of items available at Sub Pop Records recently-opened store in the Seattle-Tacoma International Airport.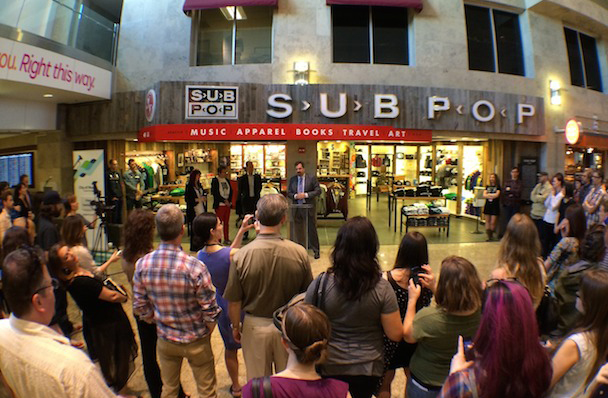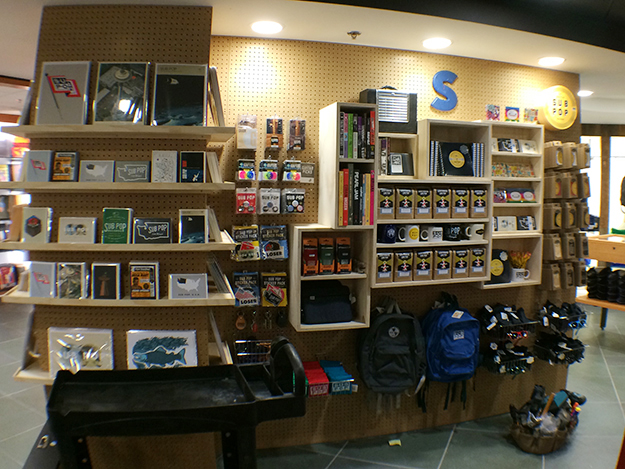 The new Sub Pop store features a number of new items that are specific to the SeaTac location, including brand new magnets and button packs. Sasha Barr, designer at Sub Pop, explained, "We've always had Sub Pop pins in one form or another, and as we were working on all the new merch for the store (of which there is LOTS) we figured some pins were a no brainer."
The buttons Sasha and the team had in mind weren't your everyday bowl of loose 1 inchers, though. With the new store, the label decided to go bigger with a souvenir pack that would catch traveler's attention.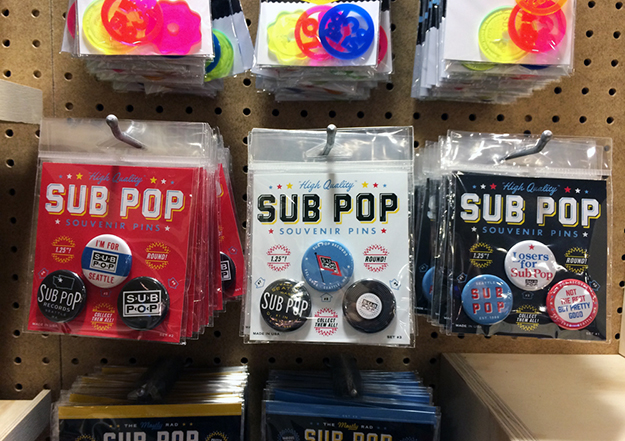 For the new Sub Pop packs, it was important that the buttons look great, but also be assembled in a way that was heavy duty enough to hold up to the demands of retail. With that in mind, we created custom packaging that blends a flat pack where the buttons pinned to card with a hanging display pack bag. The resulting pack of three "Souvenir Pins" are available in three color varieties with nine variations on the label's logo, perfect for the Sub Pop superfan.
Sasha said that, "part of making all this new merch isn't just the individual items but the packaging as well. We really wanted to put small things in packs (buttons, stickers, 45 adapters, guitar picks, etc) as a way to not only let people easily purchase them, but also have an opportunity to make the packaging interesting and a place to put some of that age-old Sub Pop 'personality', a.k.a. snarky copy."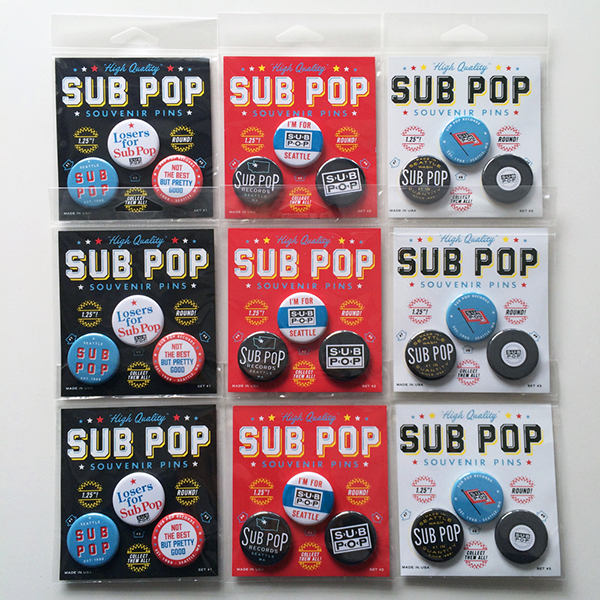 The store also featured a number of exclusive magnet designs branded with Sub Pop's logos and referencing Seattle's Space Needle and a map outline of Washington state. They also brought back a Button-O-Matic that had been used last year for the label's 25th anniversary celebrations. Sasha said that "once we started putting the airport store together, we figured the Button-O-Maticwould be perfect for it. It helps flesh the store out and hopefully helps make it seem less airport-y. We also have a Sub Pop gumball machine in there, too!"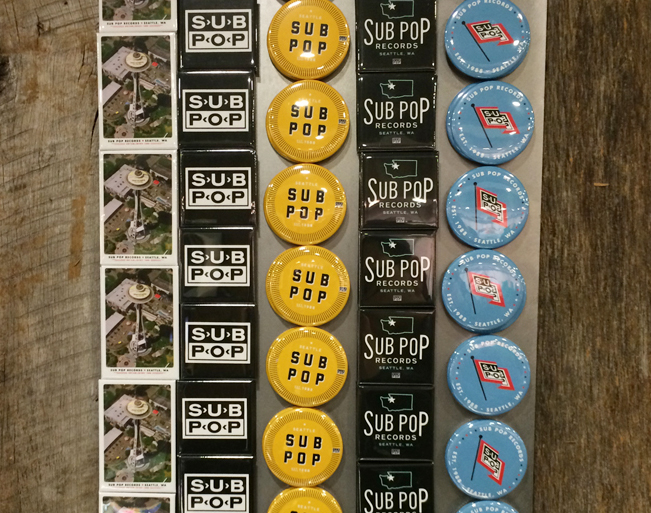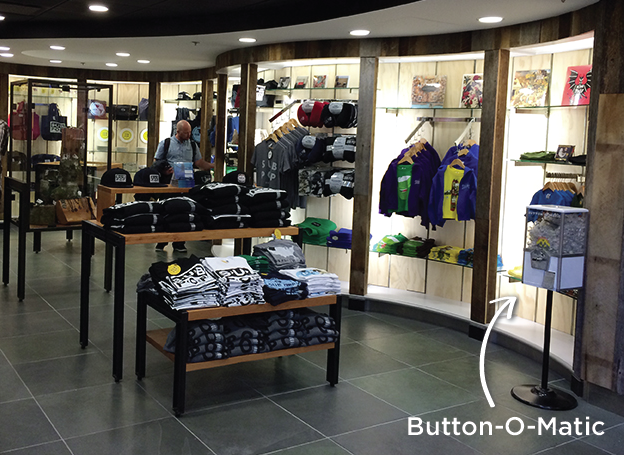 "It's been super fun coming up with new merch and the packaging that goes with it," Sasha said. Sub Pop plans to continue changing up the items for sale at the airport store, so those traveling through will see a variety of fun branded items each time they visit. As Sasha said, the goal is to "keep our offerings fresh."
The Sub Pop airport store is located SeaTac's Councourse C, so next time you're in Seattle, don't settle for the typical neck pillow you can get just anywhere-- grab yourself the Sub Pop branded one and, while you're at it, a commemorative button pack or magnet to impress your friends.
Thinking about making some sweet button packs of your own? Check out our Guide to Button Packaging for the lowdown.
Read More