Establishing your sweets and candy brand amongst the sea of competitor's treats is a lot of work! You have to address customers concerns over where the confections are made, where your ingredients are sourced, and why they should purchase your sweets over your competitors. We're here to show you 3 ways that custom buttons work perfectly to strengthen your sweet brand and keep your customers coming back for more treats!
1. As American as Apple Pie
Albanese Candy has been delivering the world gummies and candies for over thirty years. Just like every Busy Beaver button, Albanese creates all their sweet creations in the good ol' US of A.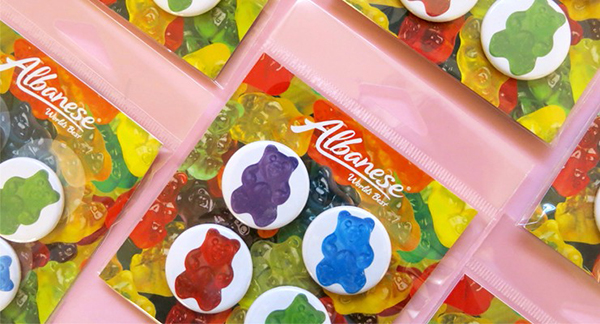 With placing such a high value on their candies being All-American, it was important for Albanese to reflect this in their merchandise as well. Albanese decided to use their classic gummy bears for their Made-in-America button packs which are currently being sold in their retail stores in Albanese's home base of Merriville, Indiana. The store's General Manager, Jennifer Santelik notes that having buttons pins are perfect for accessories to go along with their candies, "They are so versatile, you can rock them on your hat, shirt, or bag!"
2. Extending Past the Big 4
Chocolate Twist was started by The Queen of Twist, Kate Coffey, in 2009. Her business was inspired by growing up watching both of her grandmothers cook and bake. A few years ago, Kate was looking to expand the range of sweets Chocolate Twist offered and decided to make a Kickstarter to call on all the loyal Twistheads (fans) to donate to introduce a line of tasty caramel treats.
The fundraising was successful and Kate was able to introduce caramel sweets from Orange Chipotle Caramels to a Beer & Pretzel recipe. As a way to say thank you, donors received the iconic backwards "S" button to wear on hats, jackets, bags or to give to your good friend who's name starts with an "S." As Kate put it, the buttons "make a much more fun gift rather than a boring ol' pen."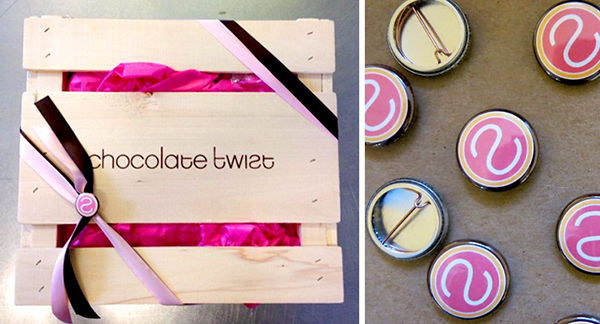 The pin backs became such a favorite that Chocolate Twist began to incorporate the round buttons in new ways to captivate interest in her brand all year long. Any gift box purchased from Chocolate Twist now comes wrapped with a pink and brown ribbon and topped with the memorable logo button; a perfect way to present any sweet gift to the candy lover in your life throughout any season.
By designing a presentation not cemented to any one holiday (Halloween, Christmas, Valentine's Day, and Easter) Chocolate Twist has used buttons as a cost effective way to build brand consistency.
3. Event Exclusives
Sweets don't have to contain milk, eggs, or gelatin; Chicago Vegan Foods has been creating Dandies, a vegan marshmallows, since 2009. The initial product launch was at the Natural Products Expo, but the company has since grown so that you can now find a bag of Dandies in Whole Foods stores all around the country.
Word of mouth was key to the growth and Dan Reed, director of Chicago Vegan Foods, used buttons at events and trade shows to help spread the word. Buttons and magnets were created in a variety of colors and special finishes with the cute (and dashing) marshmallow in a bow-tie mascot which created a "collector-scenario" says Dan Reed. The buttons and magnets are all so different and eye-catching, that anyone would want to collect them all.
"What's so awesome about buttons (and magnets) are that they're not age specific. We see kids, their parents, and grandparents all light up a little bit when they pick up that button and attach it to their shirt or tote bag." —Dan Reed, Chicago Vegan Foods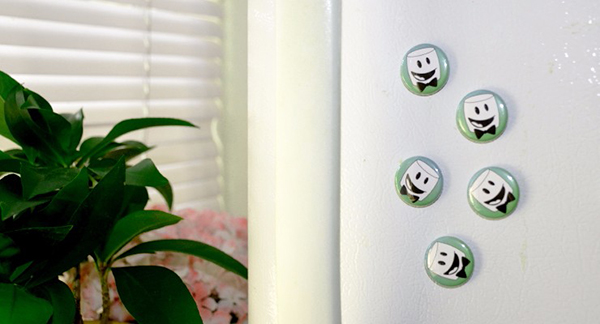 All these brands loved the versatility of the custom button and thought it was a more exciting way to give back to their customers. The buttons could pair up nicely with your made in America sweets that they could be sold right along side them in your retail locations like our friends at Albanese.
If you're looking to make your own buttons and use them in a practical and economical matter, consider incorporating the buttons in your gift packaging all year long or include a button in every online order to reinforce your brand with your customers.
Any way you decide to use the buttons, remember we have SO many sizes, custom finishes, and ways for you to customize your buttons to have your customers coming back to collect them all.
Read More