At Busy Beaver, we're proud to offer a selection of ten special finish options for all of our button, magnets and bottle openers. Special finishes give your design a little extra pop to stand out from the crowd, but we know that it can be hard to figure out the differences between them if you're new to our products.
We're here to help you navigate all our finish choices! Read on for our quick and easy guide to five of our special finishes and tips for making them work for your design.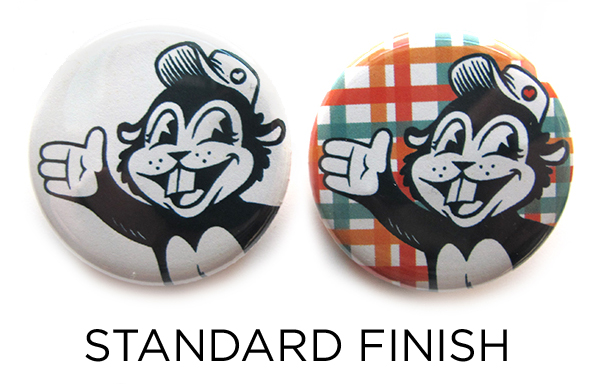 We don't consider any buttons to be just regular (they're all special in our eyes!) but our standard finish is our the most basic option. A standard finish button is printed on white paper (or, with standard black print, the paper color of your choice). Standard finish is the option that will most closely resemble what you see on the computer screen when creating your artwork file.
Standard Finish Tips: There aren't tips specifically for apply specifically to standard finish buttons, but check out our complete How To series for tips on using our templates, adding bleed and other best practices for laying out any button artwork.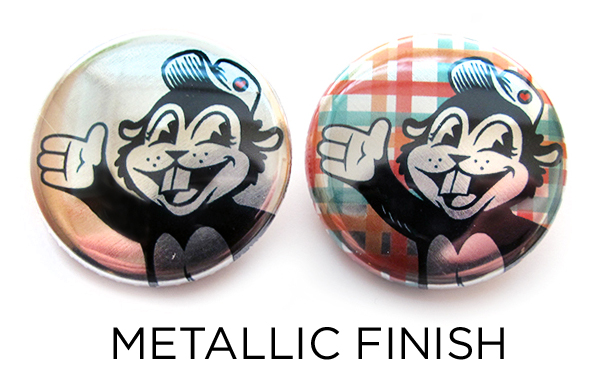 The very first of our special printing effects, Busy Beaver pioneered metallic finish back in the 1990s. With metallic (and all the special finish effects to follow) your artwork is printed on a thin sheet of plastic instead of paper. Anything that's white in your design will show through the actual silver pinback of the button and other colors will take on a metallic sheen as well.
Metallic Finish Tips: When creating artwork for metallic effect, keep in mind that the silver background is darker than the white you see on screen, so metallic buttons will always appear a bit darker than your original artwork. Always err on the side of going lighter and higher contrast with your design when creating for metallic finish. Check out more metallic design tips here.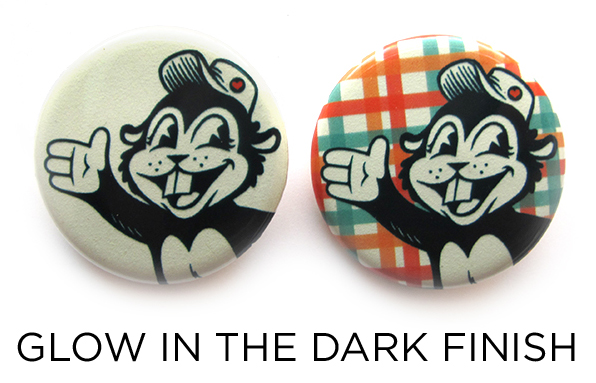 Glow in the dark is the special effect that most resembles standard finish. With glow, your artwork is printed on a layer of plastic and anything that was white in the original design will be unprinted and show through the glowing substrate underneath. The glow layer reads as a little more yellow than just white paper and colors appear just a bit brighter than they do with standard finish.
Glow Finish Tips: Remember that only white areas will glow, so make sure that your design has plenty of white in it to really take advantage of the glow effect. More tips for glow designs are here.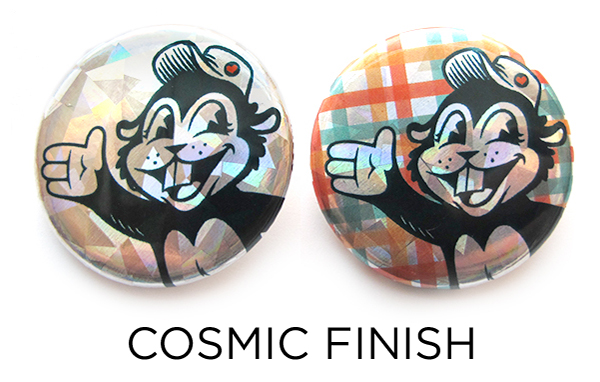 One of two holographic effects Busy Beaver offers, our cosmic finish is an attention-grabbing option. The cosmic finish has a sort of "cracked ice" appearance, showing through a silver/rainbow background in any white areas of your design. Cosmic brightens colors a bit and adds a cool, light-reflecting effect.
Cosmic Finish Tips: Since the cosmic effect has a lot going on, we suggest keeping the artwork you pair with it on the simpler side. Small text and tiny details can get lost against the busy cosmic background-- bold, high contrast and more graphic designs tend to work best.

Our newest special printing effect, sparkle finish has a bit of a disco-ball look to it. The holographic dot pattern that makes up the sparkle effect is smaller than the "cracked ice" background you see on cosmic buttons, so sparkle works with slightly more detailed designs. That said, it's still a good idea to keep artwork for sparkle buttons pretty simple. The ultimate light-catcher, sparkle buttons are reflect a rainbow of colors and are impossible to miss.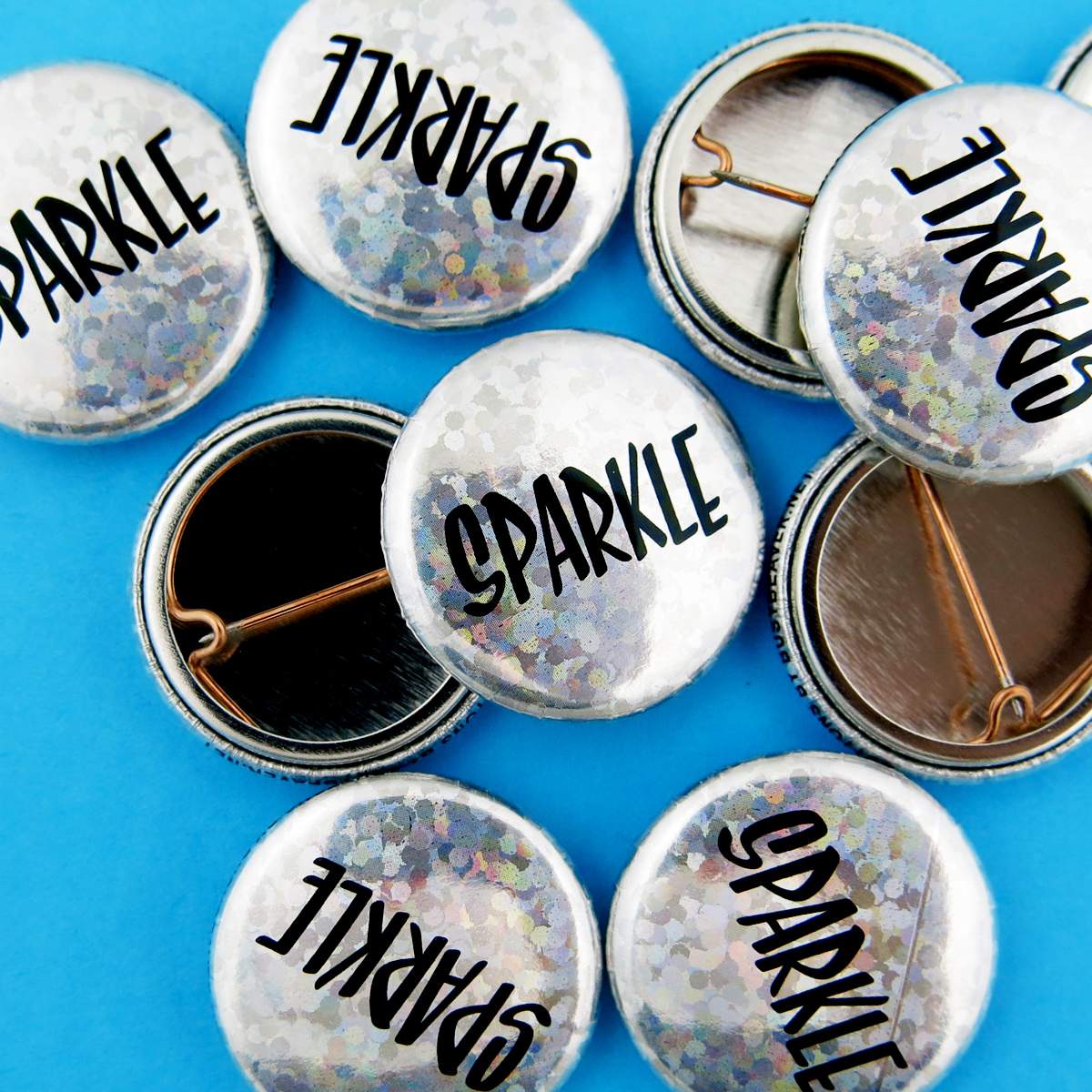 Sparkle Finish Tips: For sparkle finish, it's especially important to pump up the contrast on your design. Subtle color variations and pastel colors on a white background should be avoided. Check out this blog post for detailed tips for when to use the Cosmic finish or when to use the Sparkle Finish.
Read More