Back in February, we showed you 10 Ways Small Businesses Can Use Buttons, Well, we know you're all busy looking for even more ways to promote your businesses so we've highlighted 10 MORE ways creative SMB customers have leveraged our cost effective keepsakes:
11. Reward Loyal Customers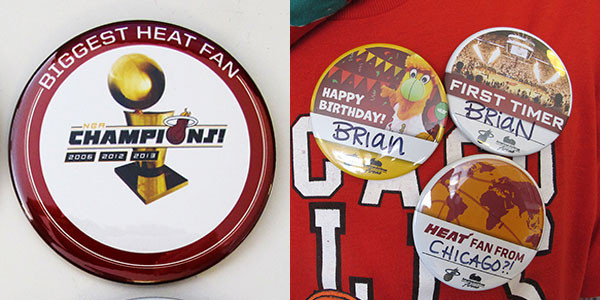 If you attend a Miami Heat home game, there's a decent chance you'll get just that: a 3″ button personalized just for you.
Many small businesses use frequent-buyer cards or digital loyalty programs to keep their customers engaged. Add a business-branded button to the rewards and you've just turned that frequent customer into a proudly-pinned brand ambassador.
12. Reward Supporters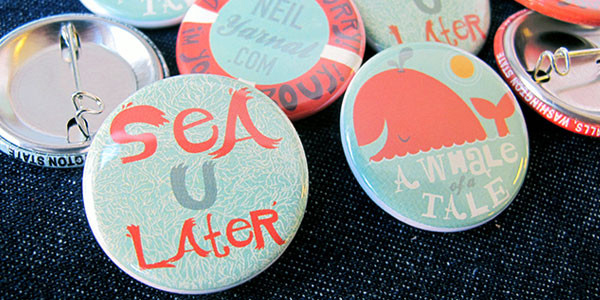 Illustrator Neil Yarnal sends buttons along with other marketing material to try to "hook" new clients.
It takes a lot to get a small business up and running so you likely have a network of supporters and investors who've helped you along the way. Don't only engage your customers; show your supporters a little love too.
13. Promote Product Launches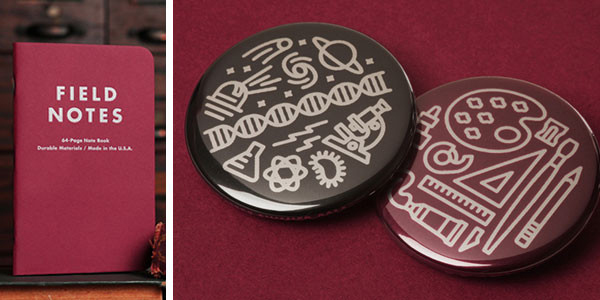 Field Notes created special buttons to accompany their Arts & Sciences edition.
Get the word out about your product through one-inch wearable advertisements. The makers of Field Notes, beloved locally crafted notebooks, both strengthen and spread their iconic brand through buttons.
14. Launch a New Brand
Like in #13, buttons can be used to bring visibility to a new brand. They're also a low cost way to exhibit and create excitement around the brand while your main wares are still in pre-production.
15. Trick Out Your Trade Show Booth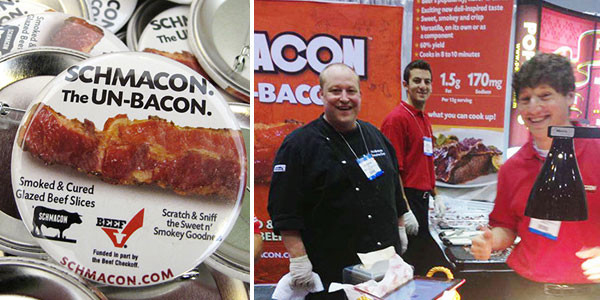 The buttons smelled like bacon! Schmacon gave away scratch and sniff buttons at their trade show.
Industry conventions and trade shows are a great way to meet potential partners and clients, but you'll be hard pressed to attract attendees to your table without a giveaway. So make like Schmacon and have us create some button swag highlighting the benefits of your brand.
16. Not So Exclusive Club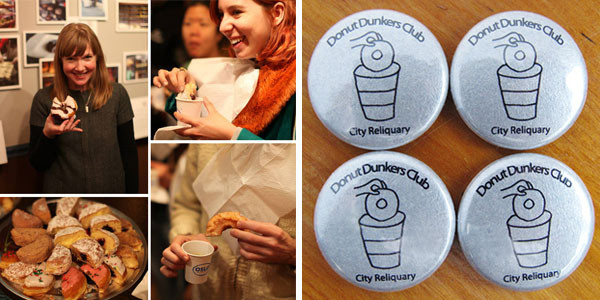 Julie J. Thomson's buttons were inspired by similar designs for Donut Dunkers Clubs across the country, organized by the National Dunking Association, which started in the late 1930s.
Whether you're a restaurant with a special wall for finishers of a special dish, or a coffee shop with a group of not so-regular regulars, you can use buttons to induct these passionate customers into an exclusive, merit-based club.
17. Celebrate Your People
"I became employee of the month and all I got was this AMAZING BUTTON." (The possibilities are endless.)
18. Celebrate Your Quirkiness
Company culture is a HUGE factor in attracting top talent to your SMB or startup. Commemorate your team building triumphs in a way your employees will be proud to share. Remember, we make magnets too so these can double as a way to spruce up the boring ol' office fridge.
19. Celebrate Yourself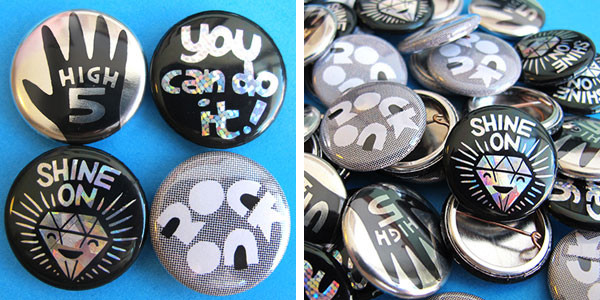 Even the boss needs encouragement! Grinell College used these buttons to motivate their students.
Running a small business is hard work and you deserve a reward too! Celebrate your achievement with custom buttons highlighting company milestones, or simply something that makes you smile on tough days. You've earned it!
20. Insert Amazing Idea Here
Did we miss something? If you've used buttons to promote your business/brand in a creative or unexpectedly successful way, tell us about it!
Ready to button up YOUR business? Check out all of our buttons and magnets options!
Read More