If wooing potential clients is your game, you certainly can't go wrong with a clever self promotional button. Pinbacks stand out against the standard promo postcard, and combined with a winning design, they're sure to get you noticed.
One person making good use of this fact is Neil Yarnal, a California-based illustrator and designer. Check out the fun trio of high seas buttons he recently created—
Neil said of the designs, "I've been using them as promotional material to send out along with other marketing material to try to hook new clients." ( Hook-- get it?)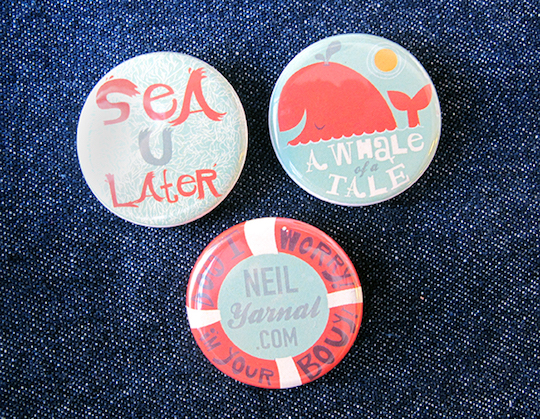 We particularly liked the combination of clever stand-alone designs and one more conspicuously self-promotional button. All three included Neil's contact info in the backrim text, but the "Sea U Later" and "A Whale of a Tale" designs are more likely to be worn again, increasing the button's overall impact. And while contact info buttons aren't as generally as versatile, the "Don't worry, I'm your buoy" text on Neil's third button adds extra charm.
Neil said, "Pins are such a versatile and fun way to share illustrations/art, what better way to promote yourself than with some personal pins?" We couldn't agree more!
Looking for more self-promo buttons ideas? Check out designer Jon Contino's "creative illuminati" designs.
Read More