In design, there are dozens of ways to visually voice your opinion or evoke change. Jenna Blazevich of Vichcraft uses typography, design, patterns, and inspiring imagery to empower her audience.
Vichcraft is an independent and collaborative, multi-disciplinary studio that not only creates these wearables with powerful messaging, but also focuses on client work for other brands dedicated to doing good.
We asked Jenna, the artist and activist, about her process of making custom goods as a means to positively impact the world.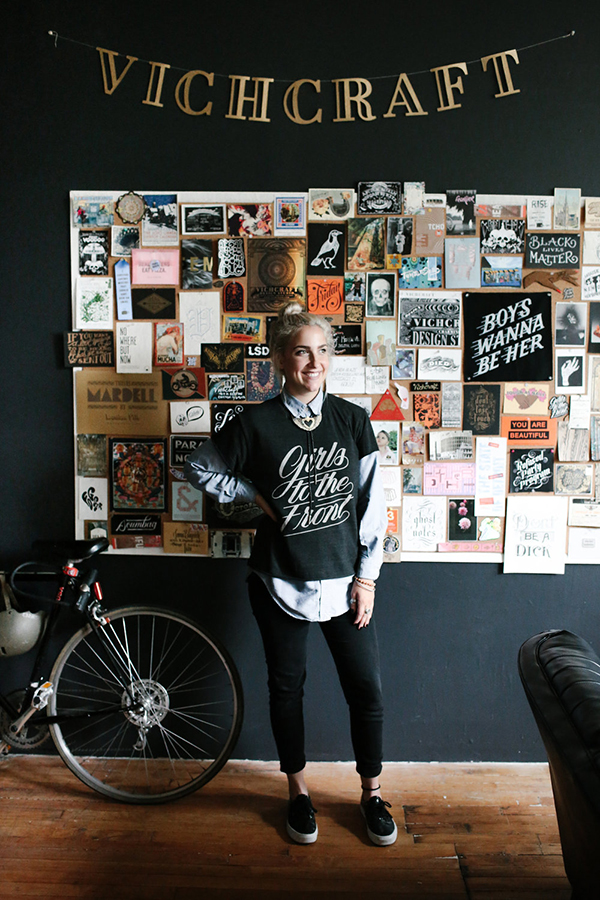 What inspires your design and illustration style?
My art and design style is influenced by Victorian ornament, hand craft, women's work, masonic banners, punk & DIY, screen printed gig posters. These are all things that have interested me since before I pursued a degree in design, and most (if not all) of them were styles and mediums that directly contrasted the Swiss design style that was taught to me in college.
Personal projects and internships that I worked on for years outside of school allowed me to strengthen my understanding of these mediums and hone my craft, and then I ultimately created an outlet for myself to work in these styles by launching Vichcraft.
A lot of the designs in your shop are typography based—what events have influenced the messages you design?
Before I started working under the name and curated aesthetic of Vichcraft, I was always drawn to lettering lyrics and quotes that move me. Once I had officially created an outlet for work that I intended to share with the public, I still continued to draw inspiration from music and books that I love and that have inspired and empowered me along the way. As a result, my portfolio and shop ends up being fairly cohesive and has a unifying theme, and this is because the work is all coming from a place of genuine interest and passion, as opposed to being the result of trend forecasting and market research.
With all of that being said, when Trump was nominated to be the republican candidate, things shifted pretty significantly for creatives already making activist work. From then on, I've consistently been challenging myself to make work that speaks to and empowers more people than I had previously intended to with my (relatively niche) riot-grrrl-inspired shop, and broaden the topics that I chose to letter about without pandering to a crowd.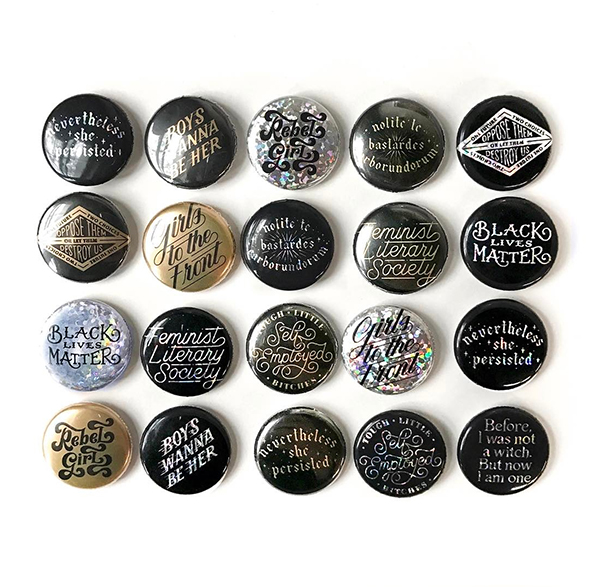 What was the process like for finding vendors you wanted to work with?
Since I design all of the lettering and illustration for my products by hand, it's important to me to create as much of the final work in-studio as I possibly can. Outside of that, I do my best to find local Chicago vendors to do the work that I can't, and finding those vendors required a good amount of research that was absolutely worth it. I love to be able to invest back into the community and city that helps make my business a success.
How do you incorporate buttons into your shop and workshops?
Buttons have been a fun way to try out new lettering styles and quotes that I'm experimenting with but don't know exactly if people will react positively enough to justify putting it on a run of t-shirts. I sell the buttons at in-person events, and it's an extremely useful way to gauge interest on quotes/styles in real time. Also, I send out mail art to around 300 friends and clients twice a year (once for Valentine's day and once in October because it's the best month) and this year I'm going to be sending those recipients a few custom buttons along with a print.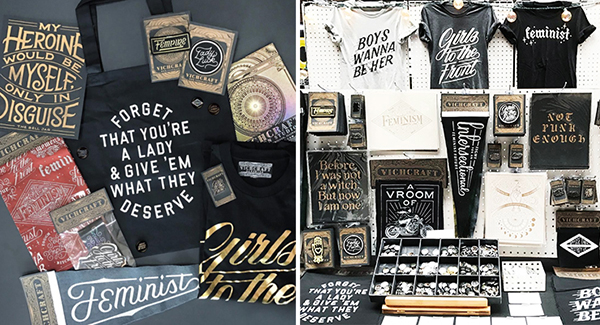 Were you inspired to design for Busy Beaver's special finishes, or was the decision made when you went to order?
Yes! Vichcraft products are generally black and white with some antique gold, and occasionally a holographic finish here or there. Using black ink on top of metallic gold and holographic sparkle was the perfect option to create some fun new things that are very cohesive with the rest of my products.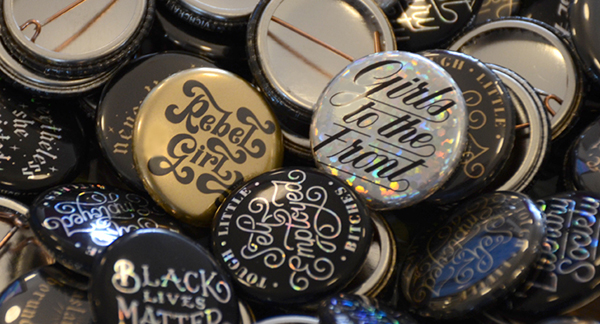 —
By putting these inspirational notes onto custom, wearable products, the typographical work of Vichcraft is beginning to bridge the silence with empowering messaging. As Jenna has realized, there are conversations that our society needs to have, and the work created by Vichcraft is bringing us one step closer to discussing issues.
Jenna is currently working on a number of projects that will benefit organizations like the ACLU, including a new line of wearables featuring Salt N Pepa quotes with proceeds to be donated to the NAACP.
You can keep up with everything Vichcraft to make sure you're a part of the next event or workshop!
Read More