Miranda Harmon currently lives and makes in the city of whimsical land of Los Angeles and is originally from a state far, far away called Florida. Looking through the 25 year old's diary comics and illustrations, you'd find that her drawings and stories give you a peek at the fantastical worlds she's built in her mind.
Maybe it's the drawings of jovial creatures, her use of color, or her ability to use a diverse set of tools to create her consistent drawing style, that make you feel imminently transported into her imagination. We're given the opportunity reading Miranda's work to see the world through her eyes—the playful and the difficult parts of life we can all relate to.
We got in touch with Miranda to hear more about her work, her worlds, and the inspiration behind them both.
Busy Beaver: Can you talk a little about your journey in comics thus far? Have you always been interested in creating and reading them?
Miranda Harmon: I was very lucky, because my family was supportive of me drawing at a young age. They always gave me art supplies and signed me up for classes. The first thing I remember reading and loving were Garfield books! When I was a teen I discovered webcomics, and that was a huge deal to me because that was when I realized that anybody could make comics and put them on the internet.
I didn't go to art school, but I studied art and art history in college. At first I thought I would go into education, but at some point I went to SPX and decided to keep making cartoons. After undergrad, I went through the full year program at the Sequential Artists Workshop in Gainesville, Florida. That was a great place for me!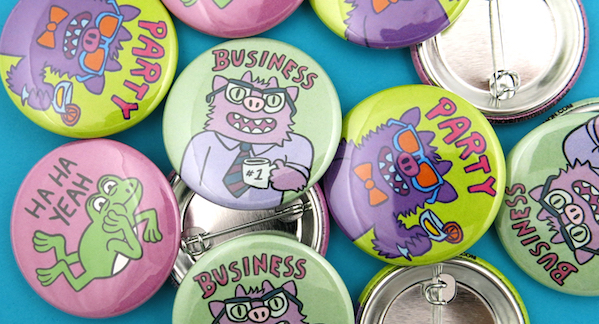 BB: Do you remember some of the creative things you would do as a kid? Have they changed much after attending school, and now that you're working in a creative field?
MH: I drew a lot as a kid, and I remember having a very vivid set of imaginary characters I would draw and make up stories for. I feel like I was most active when I was in middle school, honestly. I had a lot of stories that were eerily similar to the shows, books, and video games I was into at the time. I used to be embarrassed but now I'm trying to get back to that energy in my current work!
I think that since I've become an adult who needs to make money to survive, it's harder to get excited about imaginary worlds simply because I don't have enough hours in a day. I've been working on a webcomic recently, and it's the closest I've come to that feeling again. I think it's really important to feel that way.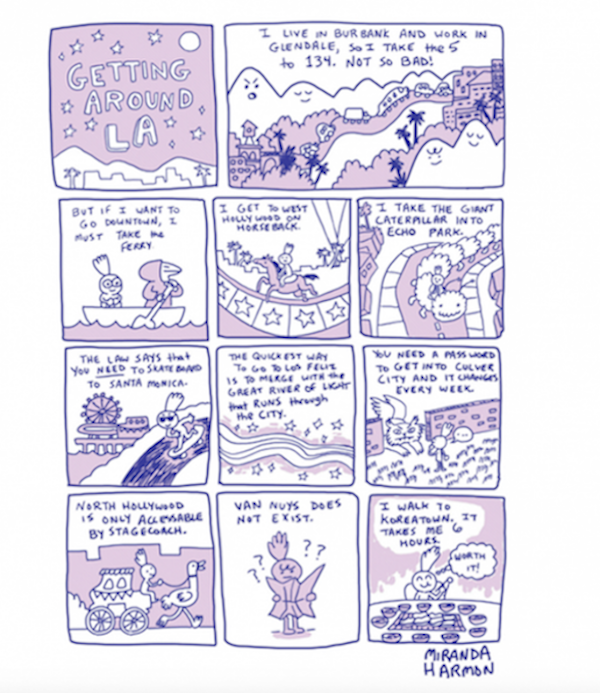 via mirandaharmon.com
BB: What kinds of people/places/things inspire you?
MH: I'm inspired by the people I've met since I moved out west. This is the first time I've lived in a big city, and it feels like I'm constantly in a room with a lot of people at once. I cherish the moments I spend with the people I love, even the most mundane things. I used to think I was an introvert, but now I love going to parties.
I think I could fall in love with anywhere I lived. My grandparents used to live in a big house out in the Texas countryside, in this small town on the coast. I used to go there every summer and Christmas as a kid, and I remember my sister and I being bored. I can't imagine being bored anymore! I wish I could visit that small town more. I still dream about that house a lot.
I'm also inspired by art history. I love going to museums and learning about past lives. I'm obsessed with the Ice Age, probably because I'm also obsessed with climate change. I think it helps ease my anxiety to think about ancient people making art.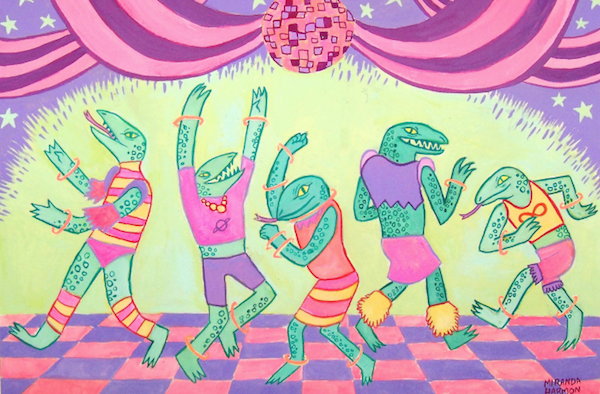 BB: It's so great to see your drawing style depicted across so many different methods and still feel like Miranda Harmon work. What tools do you use to create?
MH: Usually for illustration these days, I'll pencil traditionally and then either ink digitally or make one pass of rough traditional inks. I draw on an iPad and I love it! I use digital tools because they're quick, but if I have time, I prefer to use a light box and ink with either a nib pen, brush, or marker. I also enjoy working with watercolors.
BB: Can you talk about the significance of animal-like creatures in your work?
MH: When I was in college I used to draw myself as a bird. Right out of school, I started to draw myself as a reptile, usually an alligator because I'm from Florida. But now I'm mostly into mammals. I think I'm evolving! But honestly, I've just always loved drawing animals more than people!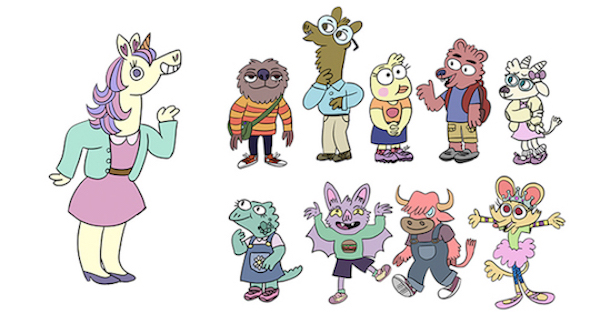 via mirandaharmon.com
BB: What was the inspiration for your buttons?
MH: I designed the "Unsexy Animal Person" button years ago! It was very quickly drawn and didn't mean much at the time, but the more I thought about it, the more I liked it and related to it. A lot of people have told me they like that design! Maybe everyone is tired of sexy animal people, and the zeitgeist is turning towards the more realistic, unsexy variety. A somber image for somber times.
"Haha Yeah" is based off a drawing I made two years ago in my sketchbook. Originally, the frog was in that same position and the text read, "Haha yeah I guess I do feel like shit!" but I wanted to tone down the language for the button! I think the frog is making a face that we've all made at some point.
Keep up with Miranda's work and follow her online on Instagram, Twitter, and Tumblr!
Read More