When it came to honoring the life and work of comic creator Ed Siemienkowicz, his partner Vanessa Walilko recalls having no hesitation to help fulfill Ed's wish—to have his last manuscript completed. The project that was lovingly dubbed F*cking Forty was named after Ed's own description of his 40th year: the "worst year of his life."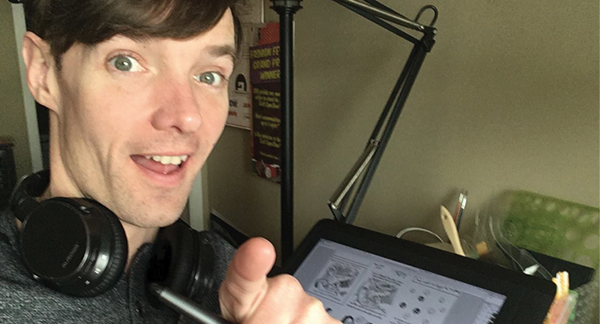 Artist, friend, karaoke performer, Ed Siemienkowicz.
Ed Siemienkowicz was a beloved member of the comics community. Described as outgoing and passionate, Ed made many friends where ever comics, cosplay, and karaoke would take him. Ed's 40th year, 2014, however was a rough time by any measure. It was the year Ed lost his job, bounced around several failed relationships, and was diagnosed with pancreatic cancer.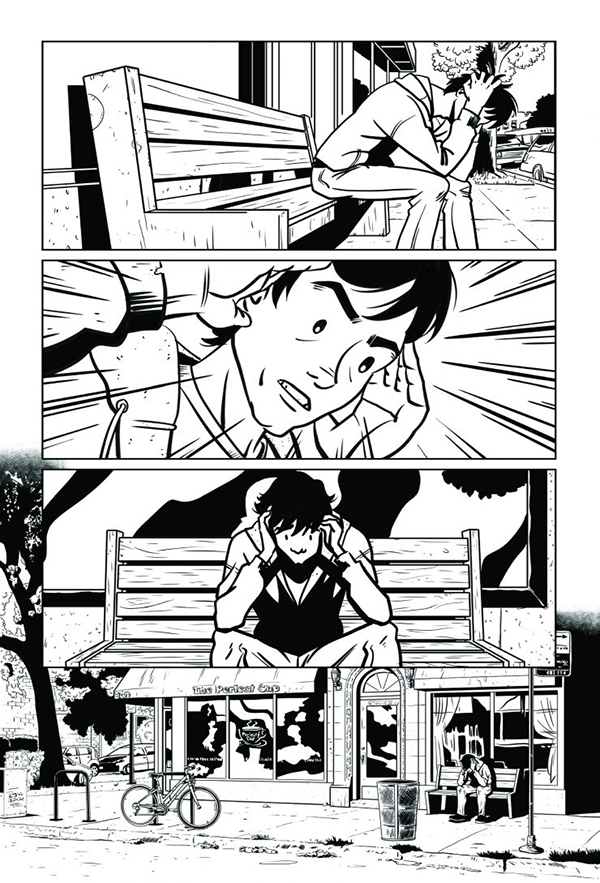 Ed had already written and outlined the entirety of his 246 page script and inked the first page (seen above) in 2015.
During this difficult transitional time, Ed had the idea to create something to help others who may be going through similar hard times. The next year, during a time of remission from his cancer, Ed met the love of his life, Vanessa, and began crafting F*cking Forty. In 2015 he outlined the entire 246 page script and began inking.
Sadly, Ed's cancer returned in early 2017 and later that summer he passed away before being able to complete his book. During an intimate vigil in Darick Maasen's backyard, Ed's friends decided to honor his memory by finishing the book for him. Vanessa, Darick, and other mourners put out a call to members of the Chicago comics community for help with the project. They received an overwhelming response and soon a team of 128 illustrators were excited to be a part of Ed's book.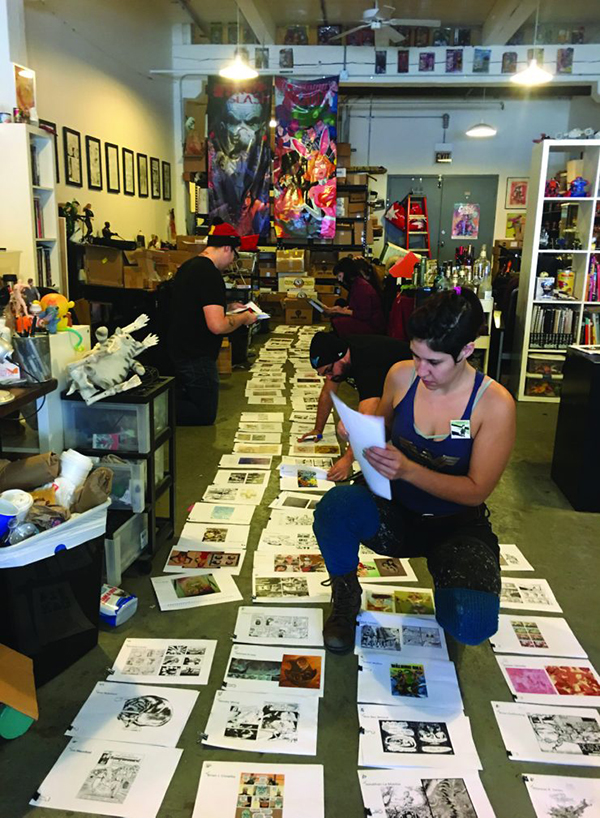 Project organizers Ali Cantarella (foreground), Joel Siegel (top left), Vanessa Walilko and Selena Grodek (top right), and Tim Seeley (middle right) layout the script divided into more than 100 sections and assign them to participating artists at Four Star Studios in Ravenswood, Chicago.
From the beginning, it was of the utmost importance that everyone involved would respect Ed's work. "We tried to play to artists' strengths, or give shorter assignments to artists who weren't able to commit as much time to the project because of other work. We also gave as much preference as possible to the people who knew and loved Ed", says Vanessa.
The team took the already completed script and divided it into 100 acts. Artists were then assigned to an act that matched that particular illustrator's style and tone. While the artists could illustrate their comic pages in their own techniques, the group decided that it would be best to honor Ed's vision by always drawing Ed as he drew himself.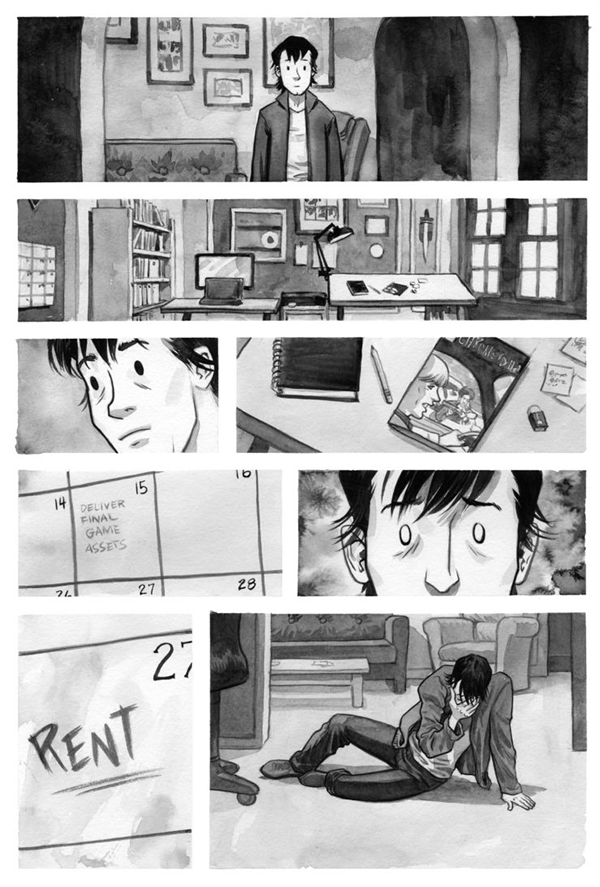 Page 2 of F*cking Forty by Jill Thompson (Instagram: @thejillthompson)
For the cartoonists involved it was crucial for the details of Ed's life to be accurate and evident in the book. No shortcuts were taken; contributors asked about Ed's clothing, what his favorite mug looked like, and for some scenes outside of Ed's home, artists even traveled to the areas of the city to depict the backgrounds Ed had described.
Vanessa adds that, "thankfully, the overwhelming majority of artists were conscientious at a level that I never could have anticipated. Artists have asked the most thoughtful, detail-oriented questions."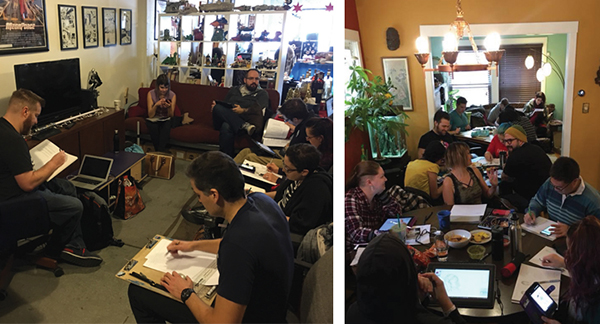 As the team of artists assembled so too did a support group for the loved ones, friends, and collaborators that Ed had forged relationships with in his life. Organizer, contributing artist, close friend to Ed's, as well as a prominent figure in the book herself, Ali Cantarella recalls how vital it was to have an open line of communication for the artists.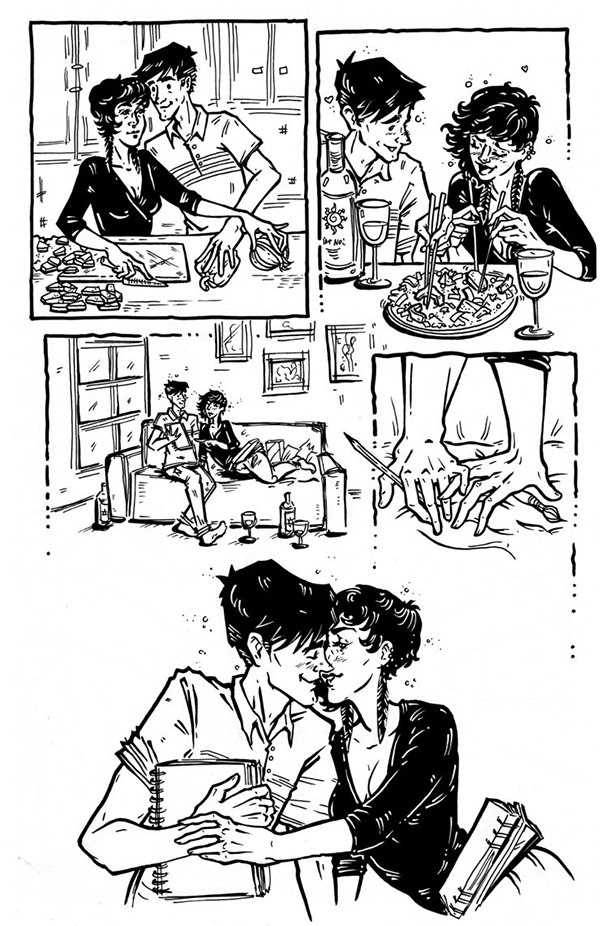 Page 145 of F*cking Forty by Ali Cantarella (Instagram: @cantarella.ink)
"All the support was there—Darick put together amazing internal Facebook groups where we could update, share sketches and process, and lean on one another if we hit roadblocks." The team even created buttons featuring an inspirational panel and quote from Ed as another act of solidarity. "These buttons are gifts to the artists and other supporters. They feature a frame from one of his [Ed's] cancer-related comics that really spoke to his spirit—he always had such a brave face" says Darick.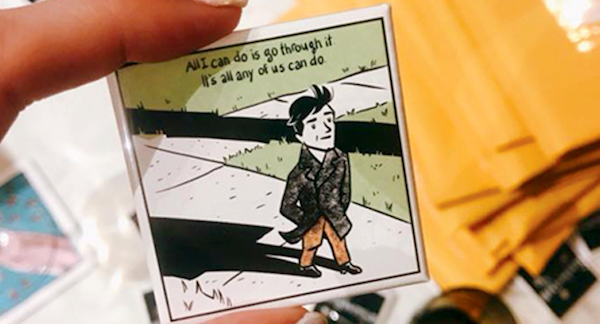 After months of hard work and planning, the F*cking Forty crew is bringing Ed's graphic novel to the public. A Kickstarter will be launching soon to help cover the costs of the project and the book's organizers will have a table and panel at this year's C2E2.
Along with telling his story, Ed's goal in writing F*cking Forty was to help connect to people going through their own difficult times. His friends, loved ones, and the comic community are making sure his goal is achieved. Vanessa plans on bringing F*cking Forty to other comic conventions. She says, "We're hoping to help broaden his reach and let other people who are going through a rough time know that they're not alone."
All the updates for F*cking Forty can be found online:
F*cking Forty Instagram
F*cking Forty Facebook
F*cking Forty Twitter
F*cking Forty Mailing List
Read More