Growing up in the digital age, I believe I'm what you may call a millennial. Though the connotation is typically negative, i.e. self-absorbed kids on their phones, the millennial vote is one heavily sought after in this election race. Them being a little over one third of the population of eligible voters, it makes sense why some political pins are created to catch our interest.
Follow me on this: unlike our parents or grandparents generations, each year of a millennials' adolescence birthed a new way of spreading information and ideas. The fact that this election in particular lives and thrives on the internet in the form of memes, tweets, and Youtube videos should be no surprise. Many of us get our news and start to cultivate our own ideas from the web and a great majority are getting insights from independent sources now rather than your Fox, ABC, CNN, ect. And in this era, millennials are much more likely to share their ideas with more people manifesting in digital ways and also in the tangible like sporting your opinions on campaign buttons.
These campaign pins are doing the talking for us. We've gathered four political campaign buttons from this election and previous years that illustrate our current election's atmosphere and how individuals are using custom buttons to educate.
1. GoVoteMASA


MASA, or Make American Smart Again notes they are a non-partisan voter educational organization that "was created to get people to engage in deeper thought and dialogue about issues, and be less apathetic by participating in our democracy."
The organization founded by artist Shepard Fairey and his wife Amanda use the buttons (created by Studio Number One) to help spread awareness at their live events in both Los Angeles and Detroit. The events help encourage participation in democracy by holding discussions about community issues, how to register, and keeping everyone informed about the topics of this crucial election.
2.Inch x Inch Collaboration with Meg Lewis


With an election year this heated, it's refreshing that our friends over at Inch x Inch,organization that donates its membership dollars to help aid national and local youth art education programs, got a little humorous and political this August with featured artist Meg Lewis' button pack. Her take is more of a tongue and cheek look at political buttons featuring designs like "Cute Buttz 4 Pres", "Warm Bread", and a classic "UR MOM" button letting America know to "get ready."
3.Official Hashtag Buttons for Trump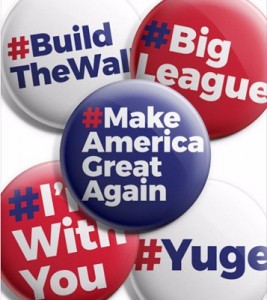 Thanks to the Make America Great Committee, the official Trump store features the key hashtags that Donald Trump has discussed along his campaign on 3 inch large buttons. By highlighting catchy phrases and dropping a hashtag in front of them, the Republic nominee hopes to captivate and engage young voters with buttons that read: "#BuildTheWall, #BigLeague, I'mWithYou, #MakeAmericaGreatAgain, and #YUGE.
4. Love Bernie Voting Hillary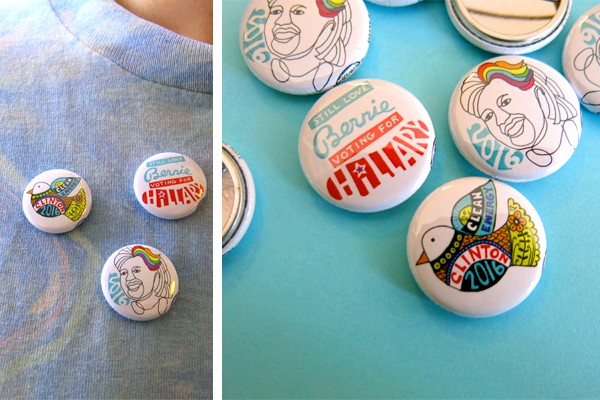 This set of three 1 inch round button set from the Hillary campaign comes from artist Robynne Raye. Her illustrations definitely caught my eye not only for their softer style, but I noticed her buttons were the only ones that mentioned Bernie Sanders. I reached out and asked about her process in choosing the final designs. Robynne noted that when asked to be a part of the Forty-Five Pin Project after Hillary Clinton was announced as the democratic nominee, she recalls she had to think about accepting this opportunity.
There were a lot of issues Robynne wanted to showcase in her buttons to appeal to Sanders supporters like herself. She admits she would have loved for these to be a part of Bernie's campaign, but recognizes the importance of uniting voters in this election.
"I made buttons dealing with LGBT issues and the environment, hoping that Hillary will make progress in these areas."
Prepare yourself by making your own buttons to spread your own thoughts, opinions and ideas. Have questions or need a quote? Shoot us an email, we're happy to help.
Read More