The crew at the Beaver Dam are a creative bunch, often integrating buttons into their endeavors. Alternative comic artist Sophie McMahan has a similar need to create. "I've been doing art for the past 6 years, and I've loved every second of it! I was really lost before I discovered alternative comics and art, I'm so happy to have found my passion in life," she says. Sophie's work is mostly done with pen and ink, then colored with gouache and water colors. "My work is inspired by the 1950's and 60's, old horror movies, beauty pageants, and big hair," says Sophie.
Read on for an interview with Sophie about her artwork and the magnets, bottle openers, and buttons she's created with it.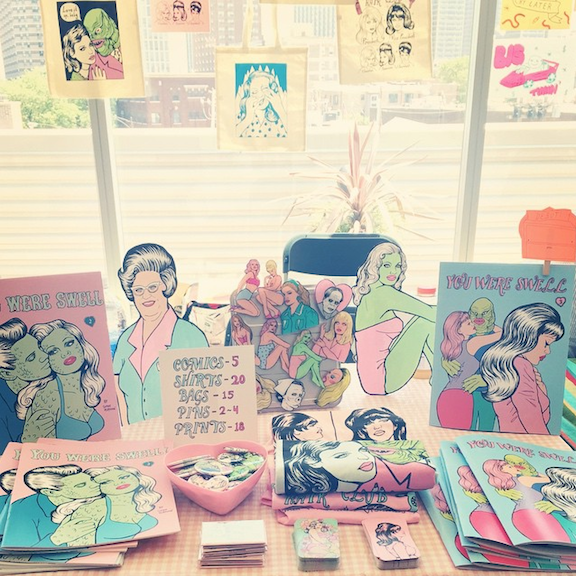 Sophie's set up from CAKE Chicago
BB: It looks like your first order was last year. What made you want to make buttons in the first place?
Sophie: Yeah, I ordered some buttons and magnets back in the fall, I loved them and they were a big hit! I've always dreamed of turning my illustrations into cool products. I realize that most people don't have a whole lot of disposable income to spend on original artwork, so creating affordable products with my illustrations on them is a great way to go. That way people can enjoy my art without having to spend a bunch of money.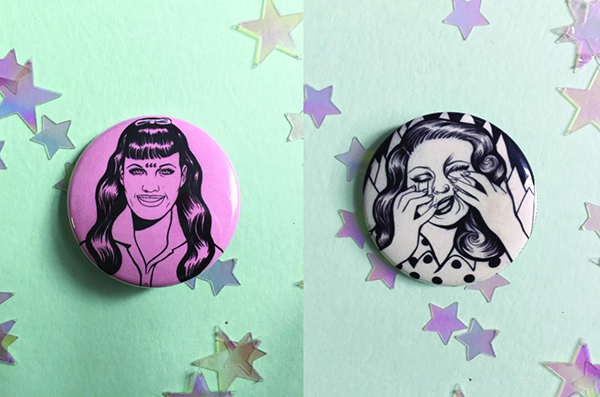 Buttons by Sophie McMahan
BB: You've really embraced some of our other products, which is always awesome to see. What have you liked about the magnets and now the bottle openers and mirrors?
Sophie: The more diversity I have in my products the better! I love that the pocket mirrors and the keychains/bottle openers are functional. I have a couple of Penelope Meatloaf bottle openers that you guys printed, and I use them all the time.
BB: I'm assuming you've been selling these in your shop, but have you (or do you plan on) using them for any other promo?
Sophie: I have all of the products listed in my etsy store – youwereswell.etsy.com. I'm also going to be tabling at art fairs/comic expos in the near future and I plan on selling these products there as well.
BB: What have people's reactions been to the magnets and buttons you've made?
Sophie: The reactions have been great so far! Buttons seem to be very in right now, I've seen a few people around the town I live in wearing the buttons on their backpacks/jackets – so cool! I'm excited to see how people react to the mirrors and bottle openers – I've only very recently listed them in my shop.

Magnet, bottle opener, and button by Sophie McMahan
BB: How do you pick which illustrations to do on different products? Do you go with new ones, or ones that people have been into in the past?
Sophie: I chose some of my brighter, bolder images to use on the products. I want them to be really eye-catching, and they definitely are! I'm so thrilled with the products you guys created for me, thanks so much for everything!
---
Thanks to Sophie for the interview. To see more of Sophie's cool buttons, bottle openers, magnets, or mirrors, go to youwereswell.etsy.com.
Read More