It's not everyday that we have a pigeon as an invited guest at the Beaver Dam. But that's exactly what happened with Camp the Pigeon showed up on our doorstep a few weeks back.
Camp is a "high-class Chicago pigeon," rescued by Mariah Naella and her husband George Keaton when his egg appeared in their apartment after window-installers destroyed his nest. The couple were dog owners already and though they didn't necessarily consider themselves "bird people," ignoring the tiny hatchling that had appeared in their lives didn't seem to be an option. Now approaching his first birthday, Camp lives with Mariah and George, and has even made friends with the couple's dog, Kingston. He flies free outdoors, but still returns home to their apartment, clearly considering it home. Mariah said that Camp is highly intelligent and though she's read that pigeons can be house-trained, Camp wears a cloth bird diaper (visible with the stars print in the photo above).
In addition to his high class life indoors, Camp has become something of an internet celebrity, boasting over 7000 Instagram followers. And what internet celebrity would be complete without his own line of merch? Camp and Mariah's recent visit to the Beaver Dam was to pick up his new buttons and magnets, illustrated by Rachelle Latain, a Camp fan from Toronto.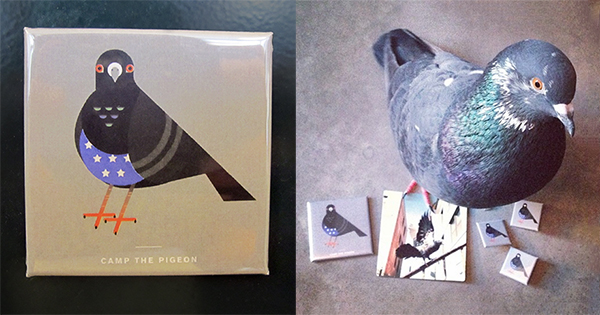 The Camp merchandise is actually part of a fundraiser Mariah and George have put together to help to grow their family beyond just a dog and pigeon-- They're raising money to help fund the cost of a gestational surrogate. Supporters can give directly through their YouCaring page, or check out their online shop where, in addition to the Camp-themed items, there's work from George and Mariah themselves (a painter and photographer, respectively).
Though it's easy to hate on pigeons when you live in the city, it's a nice change of pace to see the species, and one special bird, getting some love.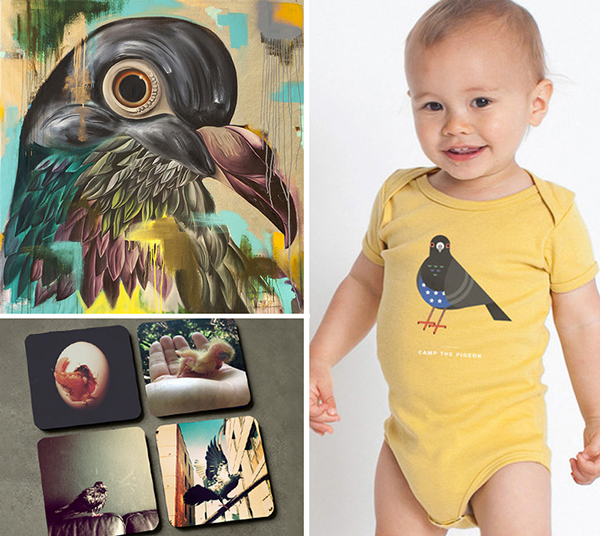 Buttons are a great option for fundraisers of all sorts. Check out how these donut buttons make sweet donor incentives.
Read More