Everyone knows that Chicago's creative scene is top notch. We've got vibrant arts, design, food, music, and performance cultures. Busy Beaver works with many great creative agencies throughout the city, but Land & Sea Dept. is certainly one of the most diversified of those companies.
From restaurants to fine art exhibits to community projects, Land & Sea Dept. has worked on projects across many disciplines. As their website states, "our work has focused on actualizing concepts, partnerships and projects that we find engaging." In other words, anything they find interesting and fun. And luckily, they've included Busy Beaver buttons in most of their endeavors.

Projects that Land & Sea has created buttons for include Lost Lake, Parson's Chicken & Fish, Thank You, Longman & Eagle, their annual Adult Easter Egg Hunt, the From Good Stock dinner series, and of course Land & Sea Dept branded buttons. Kristianna Smith, Director of Business Affairs, says they try to make buttons for most of their projects and event series. "They're a fun and popular giveaway, " says Smith. "People really seem to like them." Regarding the design of the buttons, she says, "we try to make the button designs as interesting as they can be in such a tiny space! We design them to be fun and to really 'pop'— we try to boil down the brand or concept into one representative square inch."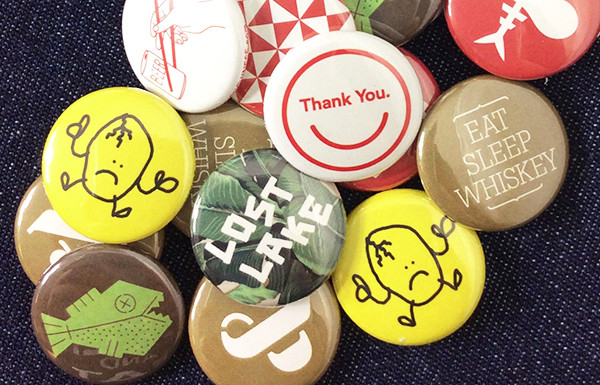 But Land & Sea's marketing ideas don't stop at buttons. "We've made pens, postcards, matchbooks, coozies, cups, mugs, pencils, custom liner paper, hats, and t-shirts," says Smith. "We also occasionally work with local printmakers to make custom prints for events or projects, like the Franklin BBQ dinners we produced in July. Ryan Duggan of Drug Factory Press made limited edition prints that we sold during the events. A lot of people had Aaron Franklin, the chef, autograph them."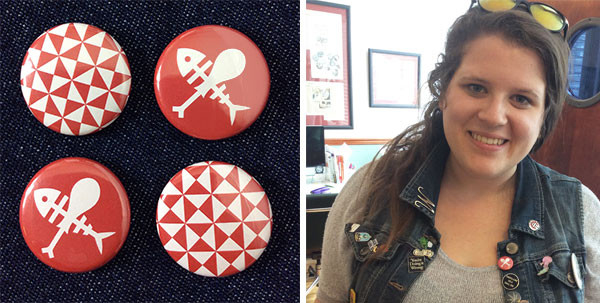 Left: Buttons from Parson's Chicken & Fish, Right: Steph Krim, Land & Sea Dept.'s Office Administrator, wears the company's button series.
And with each unique promo item comes an equally unique marketing campaign. For example, Parson's Chicken & Fish celebrated the sale of their 100,000th Negroni slushy (their signature drink) by giving away commemorative buttons to every patron that weekend. And the lucky person who purchased number 100,000 got a Publisher's Clearing House-style celebration complete with a bouquet of balloons. How fun!
Read More